Bringing home the harmony
In the third of a five-part series on unique or unusual jobs, staff reporter Gavin Phipps looks at the fengshui master, who will reorganize your apartment or office and set you on the path to good fortune
Are you frequently tired and drained of energy? Are you experiencing financial woes? Does your toilet continue to stink regardless of how many times you clean it with acme strength bleach? \nIf the answer to any, or all of the above questions is yes then your problems could respectively be resolved by simply moving you bed, rearranging you sitting room and placing a rose next to the throne. \nIt might sound like mumbo-jumbo to some people, but earth wisdom, or the study and manipulation of the surroundings in order to provide a more healthy environment -- commonly referred to as geomancy or fengshui (風水) -- has been practiced for well over 4,000 years. \n"We're like doctors. People come to us when they are sick," said Chang Hsu-Chu (張旭初), chairman of the Chinese Geomancy Research Association (CGRA, 中國地理風水研究協會). "We don't give out medicine, but instead prescribe better living and working environments for our patients." \nA science rather than the product of a religious credo, fengshui was once a closely guarded secret and was used to ensure the good health, prosperity and power of successive imperial Chinese \ndynasties. \nOriginally only practiced by revered fengshui masters (風水師) employed by the royal courts, the science is based upon a set of calculations using a lopan (羅盤), or compass, that takes in to consideration the building, its immediate environment, the time of year and -- most importantly -- the people who inhabit the domicile under examination. \nBasic examples of bad fengshui include a front door that is in line with the back door, a bed that is placed under a load-bearing wall, a toilet bowl that faces the front door and an apartment that faces a T-junction. Problems that arise because of bad fengshui, which, according to the experts are caused by the chi moving in contradictory directions, can be remedied by moving the furniture or by the placement of carved stone talisman at key locations. \nThe complex rules and guidelines that govern the execution of fengshui may appear archaic and sound like the rantings of a shaman, but geomancy continues to play a major role in influencing people's everyday lives even today. According to Chang more people than ever are turning to fengshui to bring order to their complicated modern-day lives. \n"Economics are very important and people have money problems, the concept and values of the family have been altered, there are more health worries and society has changed. People want stability in their lives and one way to ensure that one's living and working environment is perfect is through fengshui," he said. \n"The more complicated everyday life becomes the more people will turn to fengshui for their financial, physical and mental wellbeing," Chang said. \nAs a third generation fengshui master and chairman of the largest fenshui association in Taiwan, Chang is considered by many to be one of the nation's leading purveyors of the ancient science of "earth wisdom." \nIn the 20 years he has practiced the discipline he has rearranged the furniture and sorted out problems ranging from stinky bathrooms to marital disharmony in hundreds of private households. Seventy-five percent of those who request his home service are women. \nChang's most difficult surveys are those he undertakes for corporate clients and these make up 65 percent of his annual caseload. Over the years he has fashioned offices in order to correct the flow of chi and ensure the prosperity of dozens of companies both in Taiwan and abroad. \nThe cost of a fengshui reading depends on the size of the apartment or office and fengshui masters can charge as much as NT$30,000 and upwards for a reading. Chang and other members of the CGRA, however, feel that such exorbitant fees undermine the true meaning of fengshuig. \n"We don't do it for the money. [Fengshui] is a social science and should be treated as such. For private apartments I'll measure the size of the place and the wealth of the owner and charge a fee based on that," he said. "Offices and companies are obviously different and I usually charge somewhere in the region of between NT$10,000 and NT$30,000." \nNot all fengshui masters, however, are as pious as Chang. The veteran fengshui master has been forced to eject quite a few unscrupulous practitioners from the association over the years for what he considered to be cases of malpractice, bordering on fraud. \nWhen he's not working in Taipei Chang can often be found in Shanghai, where the development of the city's business district has kept him hugely busy in recent years. His grandest project to date, and one he gladly undertook free of charge, was the fengshui survey of the world's tallest building -- the Taipei 101. \nInvited by the architect to survey the building after a series of accidents, Chang feels that his survey and recommendations saved the building and construction contractors from further \nembarrassment. \n"There were many problems with the building in its early days. Pieces fell off cranes, there was a fire and accidents happened all too regularly," said Chang. "After I surveyed it and made my recommendations, building continued at the 101 without incident." \nCorrecting the flow of chi at the Taipei 101 may have been Chang's loftiest project to date, but his most prestigious took him to the corridors of power and beyond. Chang organized the office equipment, furniture and other trappings in the Presidential Office for the current administration and has also been asked for his input on important matters of state, such as what attire President Chen Shui-bian (陳水扁) should wear and how and where he should stand when addressing the public. \nWhile much of Chang's work takes place within the confines of apartments and offices, he has on occasion been called out to survey roads and streets before construction and groundbreaking at new development sites. Such surveys have enabled Chang to record some interesting and, at times, frightening situations regarding the harmony of several of Taipei's major roads. \nChang said the most harmonious road in Taipei, and one at which the chi flows unhindered is Zhongshan North Road, sections one through three. Other well-balanced roads include Hoping and Nanjing east roads, Renai, Xinyi and Bade roads. \nIt is bad news for those who live near the Yuanshan traffic intersection at Chungshan north,section four, Jianguo, Xinhai and Xinsheng North Road. Any road with either a bridge or express way on top, or dissecting it, is cursed with bad fengshui. And the prize for the road in Taipei City with the worst fengshui goes to Guandu Road, in Beitou. \nNext week, we look at the job of the clog maker.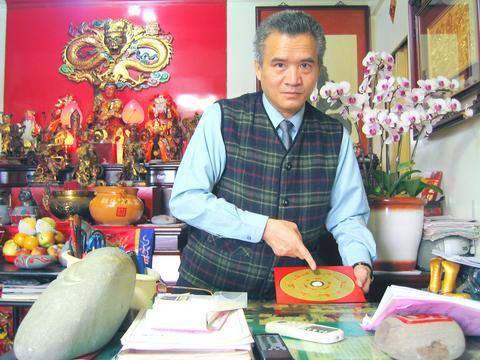 PHOTO: GAVIN PHIPPS, TAIPEI TIMES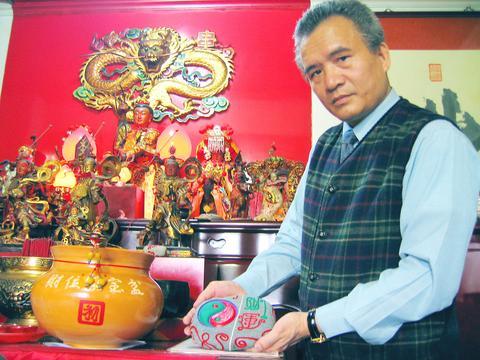 Chang Hsu-chu, chairman of the Chinese Geomancy Research Association and a fengshui master believes more people request his services because of the complications and diversity of modern day life.
PHOTO: GAVIN PHIPPS, TAIPEI TIMES
Comments will be moderated. Keep comments relevant to the article. Remarks containing abusive and obscene language, personal attacks of any kind or promotion will be removed and the user banned. Final decision will be at the discretion of the Taipei Times.