New window opened on the Silk Road
Odd bits of history connected with the Silk Road -- running from modern-day Iran to the west through central Asia and into China -- have given fresh insight to historians
The felt slipper in the glass case looks somewhat worn and dusty, but still serviceable. Hence the shock of its caption -- which reveals that its owner once pounded the Silk Road, the great ancient trade route, more than 1,000 years ago. \nThe Tibetan shoe, dating from the 8th or 9th century, is among a wealth of astonishingly well-preserved treasures from the Silk Road which have just gone on show at the British Library in central London. \nRunning from modern-day Iran to the west through central Asia and into China, with branches into Tibet and South Asia, the Silk Road -- a series of trading routes rather than a single highway -- saw commodities such as fabrics, spices and precious stones carried along its length. \nMore importantly for historians, with their passage came a transfer of ideas, technologies and beliefs. \nMuch of the route, especially that lying in what is now far-western China, is arid desert, meaning that a huge amount of usually perishable materials such as papers and fabrics have survived the centuries, often buried in sands. \nThe British Library's exhibition is largely drawn from items discovered by famous Hungarian-born explorer Marc Aurel Stein, who trekked along the Silk Road a number of times between 1900 and 1930. \nHis most astonishing discoveries came from caves in the ancient Silk Road town of Dunhuang, now in the western Chinese province of Gansu, which had been sealed in about AD 1000. \nAmong the thousands of documents and letters was the so-called Diamond Sutra, a Buddhist text translated in Chinese from AD 868, which is the oldest definitively-dated printed book in the world. \nThe exhibition mixes such treasures with many objects and documents giving a taste of ordinary people's lives along the great trade route, \nOne letter, found in Sogdiana, in modern-day Uzbekistan, was written by an angry woman to a husband who had abandoned her, forcing the woman to work as a servant for a Chinese household. \n"I would rather be a dog's or a pig's wife than yours!" reads the curt missive, a domestic dispute which happened in the early 4th century, only to be rediscovered by Stein more than 1,500 years later. \nThis emphasis on the everyday was central to the exhibition, said curator Susan Whitfield of the British Library, who has been working with the material for a decade. \n"The accidentalness of it all is what interests me. As a historian you work a lot with official histories, the great empires, the great courts, emperors and military campaigns," she said. \n"But that's deliberately preserved history, it's been through several periods of interpretation by court historians. What's so fun about what we have from the Silk Road is that it is purely accidental. \n"It's a window that would normally be completely closed off." \nThe items preserved in the desert sands were an arbitrary snapshot of life, Whitfield explained. \n"Quite a lot of what is left is what you leave behind when you move house: broken bits and pieces, things you were given by somebody that you never really liked and never got around to throwing away," she said. \n"That gives such an interesting view of human life, the detritus of human life. I very much wanted to show that." \nBesides the ancient artefacts are a series of photographs and documents chronicling the exploits of Stein, who became obsessed with the region after reading as a boy about the campaigns of ancient conqueror Alexander the Great. \n Last month plans were even agreed to build a so-called "new Silk Road," with 23 nations signing up to a scheme to build a vast network of highways running from Japan to Turkey. \nThis new focus on the region was helping to draw people into the exhibition, Whitfield said. \n"By happy accident it's a good time to hold it," she said. "It's worked out very well."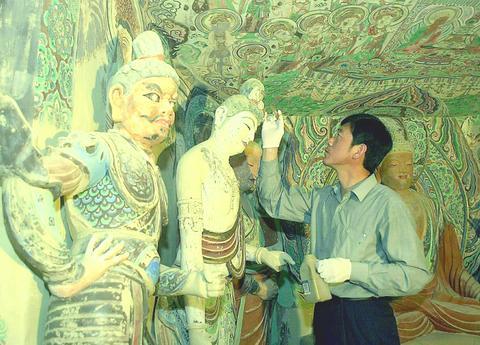 A Chinese painter working on a statue from the Chinese Silk Road site in Dunhuang, at a new exhibition gallery of The British Library in London. Four highly skilled technicians and conservators brought this giant object (8m x 5m) from China, where it was painstakingly copied from the original, and are in the final stages of reconstructing it.
PHOTO: EPA
Comments will be moderated. Keep comments relevant to the article. Remarks containing abusive and obscene language, personal attacks of any kind or promotion will be removed and the user banned. Final decision will be at the discretion of the Taipei Times.