'Comes the Black Dog' fails to deliver
What happens when you have a merciless but superstitious gang leader, a group of religious fanatics and a street-smart gambling addict, who, in order to run away from debt collectors, makes up up a series of lies and jokes?
Normally, such elements might make for a decent black comedy story. But in the case of Comes the Black Dog (黑狗來了), the movie looks as if it has been made so hurriedly that it has killed off most of the good comedy.
Black Dog (Tsai Cheng-nan (蔡振南) is dumb gangster leader who is chasing Jih (Tai-bao (太保)) for a gambling debt. Jih makes up a story that he needs money for his father's funeral and Black Dog fall for it because Jih's father Da-de (Lee Bin-hui (李炳輝)) was a good friend and benefactor who once saved Black Dog's life.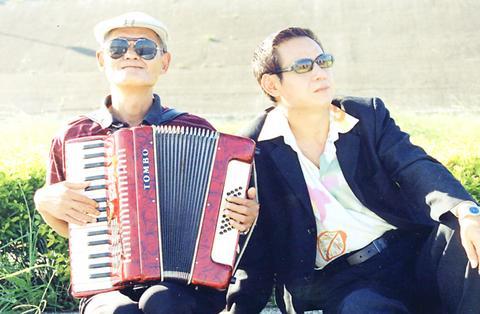 Popular Taiwanese singer Lee Bin-hui, left, and Tsai Cheng-nan have been recruited for the Taiwanese-flavored comedy Comes the Black Dog.
PHOTO COURTESY OF CMPC
As a result of this situation, Jih has to make bigger lies just to keep Black Dog off his back. He even hires Taoist monks for the "funeral."
He also quickly sends his blind father to his younger brother Lih (Chen Mu-yi (陳慕義)) in the countryside, who is a policeman, but dreams of becoming a Taoist cult leader and owning his own temple. Lih's wife Bao-ju (Lin Mei-hsiu (林美秀)) owns a cheesy dance troupe that performs pole dances at local bars and funerals.
The film mocks contemporary Taiwanese lifestyles, such as local gangster culture, entertainers, Taoist freaks and their rituals, and betelnut girls. These images may serve to add color to the story, but in general they are not very funny and look cliched.
Among the actors, Jih is the most convincing and Tai-bao does well playing a habitual liar and irresponsible husband. Lin Mei-hsiu, who won a Golden Horse for Best Supporting Actress, is reasonably good as the non-stop nagger and her lines (in Taiwanese) are quite funny.
The biggest problem is that there are too many other storylines and none of them are handled particularly well. As a result, no-one actually cares happens what happens when Black Dog attends the absurd fake funeral.
Publication Notes
Film Notes
Comes the Black Dog
Directed by: Stan Yin (尹祺)
Starring: Tsai Cheng-nan, Tai-bao, Chen Mu-yi, Lin Mei-hsiu
Running time: 115 minutes
Taiwan Release: Tomorrow
Language: in Mandarin and Taiwanese with Chinese subtitles
Comments will be moderated. Keep comments relevant to the article. Remarks containing abusive and obscene language, personal attacks of any kind or promotion will be removed and the user banned. Final decision will be at the discretion of the Taipei Times.