Street fashion sold out of a black case has its place
They may not have designer labels, but goods sold by local artisans on the streets can be top quality
There's an irony that occurs every day across Taiwan as consumers stream into shopping centers in search of designer merchandise -- walking right past local designers and artisans selling their hand-crafted wares on the sidewalk.
"Most people aren't interested so much in the actual design of something as they are the name of its designer," said A-Fu, who designs and hand-crafts leather accessories by day and sells them in crowded shopping districts by night. The brand he has created, D. Hammer, can't be found on store shelves -- at least "not yet," A-Fu says -- but the quality and construction of the billfolds, clutch bags and cellphone cases he makes rivals more famous brands. Each item is cut and stitched with exceptional skill and the soft Cordoba leather he uses ages gracefully. He shows his own wallet, which he made several years ago, and compares it to a similar new one. It's shown little sign of wear and the chestnut leather has taken on a polished luster from daily use.
"It just doesn't have `LV' stamped all over it," he said, referring to the Louis Vuitton accessories so adored by local couture enthusiasts.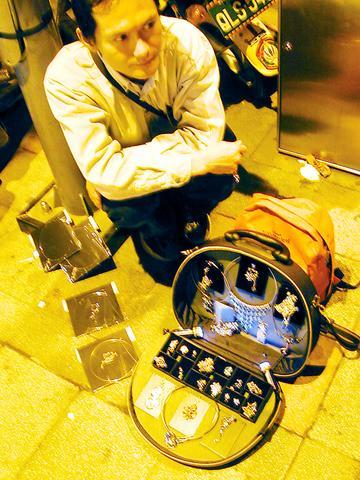 Chang Yao-ming at his ``boutique'' in front of Eslite bookstore on Tunhua South Road. Besides the police, Chang's biggest headache is the many shoppers who prefer famous name-brands to locally designed and crafted wares. Inset, one of Chang's creations, a copper ring with inset gemstones.
PHOTOS: DAVID MOMPHARD, TAIPEI TIMES
But not all of the designers who create top-selling brands like Louis Vuitton were born into fashion royalty. Others could even be considered pretenders to the throne. Tom Ford comes from Texas and Calvin Klein and Ralph Lauren both grew up in the Bronx; hardly design capitals of the world. Miuccia Prada has a Ph.D. in political science. Lauren, for his part, started out selling his ties on the road, not unlike the many artisans toting their black cases around Taipei.
Chang Yao-ming (張耀明) is one of them. He crafts jewelry from copper and silver. Many of his pieces are studded with gems he has imported from Austria. While he has a fondness for large designs -- rings the width of two fingers and sprawling broaches -- each piece is staggeringly intricate. He can be found most evenings knees-up outside the Eslite bookstore on Dunhua South Road with an overnight bag he's converted into a display case. Two tiny flashlights help bring a sparkle to his creations.
Asked why he prefers peddling his wares on the street rather than indoors he answers with a word: "Rent." He explains that he's able to make NT$30,000 to NT$40,000 each month working in Taipei's high-rent districts without paying a rent of his own. By keeping his overheads to a minimum, he's able to pass on the money he saves to his customers. Most of the pieces in his case this past week cost around NT$500 or NT$600, not expensive considering the materials and craftsmanship involved.
The fact that he currently works under a streetlamp has not dimmed his ambition. "I'll
eventually use the money I save to market my designs, either by opening a store or by selling the pieces to other jewelers," he said.
Right now, though, there is a bigger concern which he, A-Fu and other artists selling their designs on the street all share: police. As we talk, Chang glances left and right for red and blue lights. Eventually our conversation is cut short as he and a dozen other peddlers quickly close their cases and walk to the shadows. Getting caught, Chang later explains, is an automatic NT$1,200 fine. What's more, you can be fined several times in a night and even have your case and all your merchandise confiscated by the authorities.
But the pressure of selling without a business license and the fact that most potential customers pass them by en route to brand-name boutiques hasn' t driven either Chang or A-Fu off the street.
The payoff, each explains, comes with those customers who value the work they do.
"When you see someone fall in love with something you made then it's worth it," A-Fu said. "You almost want to give it to them... almost."
Comments will be moderated. Keep comments relevant to the article. Remarks containing abusive and obscene language, personal attacks of any kind or promotion will be removed and the user banned. Final decision will be at the discretion of the Taipei Times.