Carving out her own niche in the world of art
Mary Leu is an uncompromising multimedia artist with a fast-growing reputation
Mary Leu's (呂美麗) style of art is perhaps as unconventional as the location of her art gallery. Situated in the remote town of Sanhsing (三星鄉) in Ilan County (宜蘭縣) the gallery is an approximately 45 minutes' drive south along the eastern coast from Ilan City (宜蘭市). Inside the gallery, her collection of art and crafts varies from fine wood carvings, to exquisite work in gold and elegant lost-wax cast glassware. All are made by Leu personally.
The art gallery opened its doors in 2000 and now stays open from 9am to 6pm every day. It attracts around 1,500 visitors per month from all over Taiwan and abroad.
Her favorite raw material for art creation seems to be wood, from which she seems to derive a tremendous amount of energy and which is expressed in her art.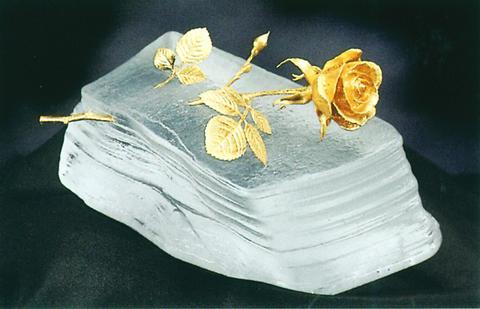 Mary Leu showcases her multi-media talents in this piece of artcraft titled True Love. The rose and its stem and leaves are made from gold. The glass base for the piece was made by the lost-wax cast process.
PHOTO COURTESY OF MARY LEU ART GALLERY
One of the marks of Leu's work is the amount of detail which she puts into her work. She refuses to follow any of the art styles or standards set up by many traditional woodcarving artists in Sanyi (三義), Miaoli County (苗栗縣). She even took legal action against one of them for copying one of her works.
She has mastered the woodcarver's skills on her own, in an area which has been traditionally dominated by male artists.
"Well, I did not have any big -name master to teach or guide me," she says of this achievement. "Everything I do depends entirely upon my own observation of nature and real objects. My persistence has helped me to sail through a sea of setbacks and frustration. That is how I acquired my experience as an artist."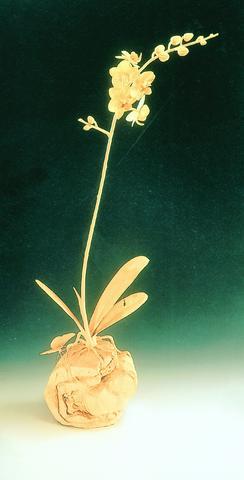 Butterfly Dream is hand carved from one section of a box tree. It is 56cm high, 12cm wide and 24cm long.
PHOTO COURTESY OF MARY LEU ART GALLERY
Driven by her dedication to excellence, she hopes to create art objects which possess a certain quality that exert the power of life.
Leu, now in her late 30s, was trained as an art designer and took a two-month woodcarving training course at the Taipei City Art Museum in 1989. After spending a few months with her teacher at his workshop, she left and pursued her own career in art. She then settled down with her husband, who helped her with the administrative work of the gallery back in Ilan.
One of the boldest moves she has made is refusing to sell her woodcraft to private collectors, no matter how much they offer. She would prefer her work stays in her gallery so that the public can appreciate them.
She and her husband are also against price-fixing in art deals. They said they'd rather close their gallery than swap their pride and sense of achievement for money. This attitude to business is one reason the couple decided to leave the big city and lead a somewhat humble life in their secluded hometown.
Her favorite raw material for woodcarving is box tree (黃楊木). This locally grown tree is very hard and dense in texture and has been used to make musical instruments as well. One of her best-known art pieces, (see right) Butterfly Dream (夢蝶), depicts a butterfly resting as insects are attracted to a nearby flower of the Formosan orchard moth plant. The entire piece was carved out of one big lump of tree trunk and took her 200 days to complete.
Leu says she has three principle noes for her artwork. She tolerates no paint, glue or the application of sandpaper on her works. All details of her woodcarvings, even the villi, or small hairs on the stem of each plant, are done by hand with a knife.
Leu says that she plans to retire from woodcarving creation when she gets to 45, reasoning that her hands may not be steady enough then to handle the fine carving work any more.
For your information :
Mary Leu Fine Carving Art Gallery(呂美麗精雕藝術館)
18 Sanhsing Rd, Sec 8, Sanhsing Town, Ilan County (宜蘭縣三星鄉三星路八段18號)
Phone: (03) 989 5585,
Website: www.lml.com.tw
Comments will be moderated. Keep comments relevant to the article. Remarks containing abusive and obscene language, personal attacks of any kind or promotion will be removed and the user banned. Final decision will be at the discretion of the Taipei Times.