Addicted to SMS
Psychologists say cellphone overuse is an obsessive-compulsive disorder and one of the biggest non-drug addictions in the 21st century
Emma would be just another Spanish teenager, if it were not for her mobile phones. She has nine of them, and develops a severe anxiety if she has to enter a place where they have no coverage. \nShe has forsaken her friends for the sake of unknown chat partners to whom she sometimes sends more than 200 messages in one night. Her mother says she has not slept sufficiently for three years, runs up huge phone bills and has become irritable and prone to lying. \nPsychiatrists say cellphone addiction is an obsessive-compulsive disorder which looks set to become one of the biggest non-drug addictions in the 21st century. \nCellphone addiction can totally isolate its victims, ruin them economically and even turn them into criminals. In Spain, a country of 41 million people which has nearly 35 million cellphones, users are estimated to spend more than 500 million euros (US$590 million) on unnecessary cellphone costs annually. \nThe majority of the addicts are teenagers, whose shyness and low self-esteem make them succumb to aggressive publicity marketing a means to get in touch with people without having to meet them. \n"I liked to chat on the mobile phone, because the chat partners told me nice things that I did not hear in real life, as I am a bit fat," one female former addict told the daily El Pais. \n"Mobile phones give young people prestige," Barcelona psychologist Andres Gonzalez explains. "The person who gets the most messages is the most valued." \nMany Spanish teenagers get their first cellphone at age 13. Young addicts may spend so much time making calls, receiving messages and logging into the Internet that they fail at school and drop out. \nAddicts can easily run up phone bills of 800 euros a month, and some turn to crime to pay them. \nOne Spanish psychologists' association, for instance, has received hundreds of queries about mobile phone addictions, the daily La Vanguardia reported. \nGonzalez estimates that up to 15 percent of Spanish teenagers sleep with their mobile phones at hand to be able to answer messages at night. \nAddiction should be suspected if a person feels an irresistible need to use the cellphone for more than half an hour daily. \nCellphone addiction is not that different from any other type of addiction, ranging from drugs to compulsive shopping, according to El Pais. \nA person's vulnerability to addictions "depends largely on a small number of genes", addiction specialist Carlos Alvarez-Vara said. "If a parent is obsessive-compulsive, the children have a 30 percent chance of developing similar characteristics." \nThe modern addictions to mobile phones and the Internet are, however, paradoxical in that their victims use communication technologies to become isolated. \nIn societies where family ties have loosened and urban solitude has increased, people become addicted to "long-distance communication because they no longer find human relations through traditional means," psychologist Jaume Almenara said. \nAdolescents get access to technologies, but little advice about how to use them, Gonzalez said. \nSpanish specialists treat mobile phone addictions with three-month therapies. Experts stress that addictions can sometimes be pre-empted, if parents or teachers spot them early.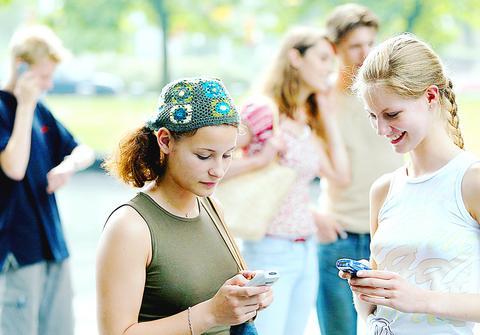 The younger generation in particular enjoys using mobile phones to send short messages (SMS) and photographs. But some experts are worrying that, like everything else, too much of a good thing can become damaging or even addictive.
PHOTO: DPA
Comments will be moderated. Keep comments relevant to the article. Remarks containing abusive and obscene language, personal attacks of any kind or promotion will be removed and the user banned. Final decision will be at the discretion of the Taipei Times.