Kicking off at the Tavern
Will Manchester United minus its `Golden Balls' win the Premiership? Will it be a New Zealand and England showdown in Sydney? And will the Germans continue to dominate Formula 1? \nWhile sports fans will continue to wait on tenterhooks for all these answers and more, they can now do so without fear of missing one second of the action thanks to Tavern proprietor, Michel Blanc. \nForking out NT$2.5million in renovation costs earlier this year, along with expanding the bar area and adding much less backache-inducing seating the televised sports action is now impossible to miss wherever you are in the bar. \nBoasting 40 television screens of varying sizes, Taipei's Tavern, or "Theatre of Sports" as it's now being billed, is the only bar in which sports fans need not fear the numskull with the erratic and annoying head movements. \nWith TV screens on walls, along the bar and hanging from every alcove, problems with the chap who persistently manages to get his cranium in the way just as the action is heating up have been eliminated. \nBlanc's refurbishment means that for the first time copious amounts of non-Premiership action will also be available in Taiwan. Which has made at least one Welsh football enthusiast very happy indeed. \n"It's fantastic," said the Cardiff City fan and regular Tavern punter. "They've set out to please everyone instead of only focusing on pleasing fans of the big teams." According to Blanc supporters of German Bundesliga, Dutch Eredivisie and Nationwide Division 1 teams are now guaranteed at least two live matches per week. \nThe first real test for the Tavern comes this weekend when it will be screening four Premiership matches, two German Bundesliga games, one Eredivisie game, an Ireland verses Wales rugby match, one Division 1 game and the England South Africa Test Match simultaneously on various TVs around the bar. \nAnd with 150 cable and satellite channels available including news in German, Spanish and French it's not only sports fans who'll be able to find something of interest on one of Blanc's many boxes. The Tavern is located at 5, Lane 380, Keelung Rd Sec 1, Taipei (基隆路一段380巷5號). Telephone (02) 8780 0892.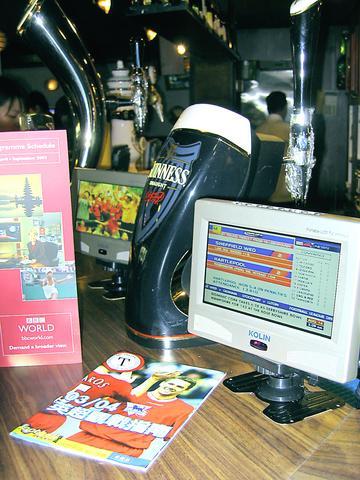 The Tavern offers plenty of television to help the beer down.
PHOTO: TAIPEI TIMES
Comments will be moderated. Keep comments relevant to the article. Remarks containing abusive and obscene language, personal attacks of any kind or promotion will be removed and the user banned. Final decision will be at the discretion of the Taipei Times.