Protecting ancient giants
The Formosan cypress of Smangus are some of the largest in Taiwan, but are the center of a dilemma for locals
Eco-tourism hasn't yet taken root in Taiwan, but for the Atayal tribe of Hsinchu County's Smangus (司馬庫斯) the roots were put down some 2,500 years ago -- a grove of Formosan cypress trees that spent its first two millennia in utter isolation has become something of an economic boon for the remote Aboriginal village since being discovered in 1991. \nThe grove stands silently beside a stream high in the mountains near Tapachienshan, the mountain sacred to the Atayal as their place of origin, which graces the back of NT$500 notes. The trees are not only among the oldest on the island, they're among the biggest. According to a 1996 report by Taiwan's Forestry Bureau, the grove is home to the nation's second and third largest trees, respectively 20.5m and 19.7m in girth. \nNo wonder then that these giants are known in Chinese as divine trees (神木) and that they attract tourists undeterred by the grove's difficult access. Smangus is a three-hour drive out of Neiwan -- much of it on a dirt road that clings to cliffs -- and the ancient forest is another two-hour hike from there. \nKnotted history \nThe irony is that the Atayal of Smangus have long benefited economically from hardwood trees, albeit in a less ecologically-friendly fashion. The Japanese relocated many Atayal tribes from their ancestral home in Nantou County in part to disband them into smaller groups that would not pose a threat to the colonizing forces and in part to conscript their help in felling the acres of hardwood that once crowned Taiwan's mountaintops. \nAlthough hardwood trees traded at a premium, the Atayal, like many other Aboriginal groups, refused to cut down the oldest of the trees, believing each possessed a spirit that would haunt them if the trees were felled. \nTheir refusal to do so -- and the fact that this particular grove of majestic giants had purportedly never before been seen -- means that many remain standing today. \nThat's not to say that Atayal reverence for the trees is beyond reproach. Long after the Japanese left Taiwan and conservationists began demanding curbs on logging, the Atayal of Smangus continued felling the highly prized trees to earn a living, although they never touched the ancient giants. \n"We had no option," said Masay (曾玉智), a tribal elder in Smangus. "We'd been producing mushrooms, but when farmers in China began producing the same mushrooms there was no longer any profit." \nMasay tells a story of KMT officials in Hsinchu County demanding that the residents of Smangus stop harvesting hardwood. "They would come up here and become very angry at us, yelling at us to stop cutting down trees," he said. "This was before there was a road to Smangus, only a [15km] trail. So we said: `you build a road and we'll stop cutting down trees.'" In 1994 they got their road, and with it the start of a burgeoning tourism industry. \nBut, as Masay tells it, the government's ultimate willingness to carve out a road on a mountainside and build bridges where there was previously only trail was not so much to see an end to logging as to see the ancient trees themselves. "After we found the trees, it didn't take long for interest in them to grow and for people to want to come see them. The government knew that without a road that would never happen." \nSearching for the past \nAccording to the story that has now become legend among the residents of Smangus, the discovery of the ancient grove and the subsequent development of their local economy was hardly happenstance, but the product of a visit to another Atayal tribe and ancestral intervention. \nAs the story goes, in 1991 a Smangus village elder traveled to see friends in an Atayal community in Bali, Taipei County. There he saw that the local economy prospered modestly from growing peaches and from an influx of tourists, who traveled from all parts of Taiwan to see that area's grove of ancient trees. \nThat same night the elder's ancestors came to him in a dream, saying that Smangus had it's own ancient giants located near red waters en route to Yuanyang Lake (鴛鴦湖). He returned to Smangus and immediately dispatched a team of young men to search for the divine trees. Nearly three months later they were found beside the stream whose bed is lined with brightly colored red rocks. \nBut the discovery of the trees was only part of the windfall. The residents of Smangus began planting peaches just as the Atayal in Pali had done. The peaches from the Lalashan area near Smangus are today widely considered the best in Taiwan. \nAnd so fortunes have changed both for the Atayal of Smangus and the ancient cypress rooted in their land. "We owe a debt to the trees," Masay said, intoning that his tribe now has a vested interest in seeing that the trees remain standing. "We used to kill them for profit, now our livelihood is linked with theirs." \nIt's quite a haul into the hinterlands, but seeing Smangus and its ancient forest is well worth the effort. For more information on how to get there, you can contact the tribe at 0928-804-983 or visit their Web site at www.smangus.org.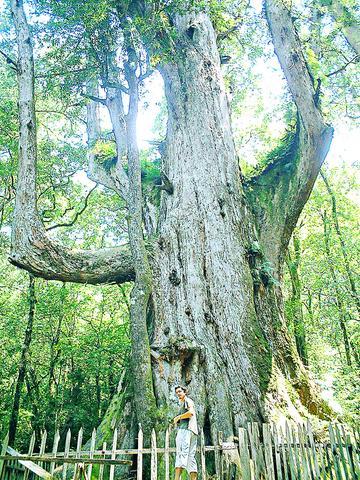 According to Taiwan Forestry Bureau research, this is the second biggest Formosan cypress on the island. It has a girth of 20.5m.
PHOTO: DAVID MOMPHARD, TAIPEI TIMES
Comments will be moderated. Keep comments relevant to the article. Remarks containing abusive and obscene language, personal attacks of any kind or promotion will be removed and the user banned. Final decision will be at the discretion of the Taipei Times.