Racing toward democracy
For the first time in a national election in Cambodia, voters are getting a chance to question their candidates
From a microphone on the muddy lawn, a student complains to the politicians on stage about rising joblessness. \nAn older man asks what they will do about Cambodia's entrenched corruption. \nA young mother, memories of war and destruction still fresh in her mind, demands to know if any of their parties will instigate violence if they lose in the upcoming election. \nIt's democracy in action, as Cambodia prepares for national polls on July 27 to select who will lead the country as it continues to claw its way out of the wreckage of decades of strife. \nUp for grabs are 123 parliamentary seats. Some 6.2 million people -- out of a population of 12.5 million -- are eligible to vote for the party they believe should lead the government for the next five years. \nPolitics here is often regarded as a spectacle to break the everyday routine, with rallies heralded by noisy loudspeakers on cruising trucks. \nBut for the first time in a national election -- the third since multiparty democracy was restored in 1993 -- voters who are getting a chance to grill the candidates in debate-style at public forums. \n``Such an event is absolutely important in helping me make my decision,'' says Yeang Bun Yol, a 24-year-old student. \nThis particular debate in Battambang province, 250km northwest of the capital, is being held on the grounds of a Buddhist temple, a traditional community gathering place. It is one of a dozen planned for several provinces with candidates from 14 of the 23 contesting parties. \nMonks chant blessings for the three candidates before they climb onto the stage. About 2,500 people sit on the surrounding lawn, defying light rain followed by blazing sunshine to hear what the candidates have to say. \nDebating policy is encouraged, attacking personalities is out of bounds, according to the rules set out by the debates' organizer, the US-based National Democratic Institute. \n``Personal attacks here are cause for concern; they could make bad things happen here,'' says Kelley Jones, a senior official from the institute, an arm of the Democratic Party in America which is intended to encourage democracy worldwide. \nViolence has marred past Cambodian campaigns, and seven political activists have been killed since the current campaign started last month. \nWhile both the National Democratic Institute and a visiting UN delegate have complained about intimidation fom some of the candidates in the campaign, the institute said the situation had improved from past elections. \nAt the Battambang rally, candidates from the election's main contenders -- the ruling Cambodian People's Party, its junior coalition partner Funcinpec, and the opposition Sam Rainsy Party -- take turns fielding questions from a moderator, each other and finally, three members of the audience. \nFuncinpec candidate Nhek Bun Chhay says that should his party win, it will deal decisively with illegal immigrants, meaning primarily ethnic Vietnamese whose presence historically causes nationalistic resentment among many Cambodians. \nPlaying the race card is an ugly but familiar -- and usually productive -- tactic in Cambodian politics. \nEng Chhay Ieng, the candidate for the Sam Rainsy Party, makes sure to mention ``corruption'' in his answer to almost every question. \nParty leader Sam Rainsy, a former finance minister who once was with Funcinpec, made his name as an outspoken foe of corruption. It's a good fit for his party, whose position as the sole parliamentary opposition already makes it a natural magnet for the disgruntled. \nMuy Chat, the candidate from Prime Minister Hun Sen's Cambodian People's Party, reminds the audience that the party guided the country from the murderous wreckage wrought by the communist Khmer Rouge in the late 1970s to today's peace and stability. \nFor Cambodia, where poverty is just a fact of life, this is the crucial issue for some people. The final embers of the 18-year civil war were extinguished only in 1998 when the Khmer Rouge movement collapsed. Battambang province had been a front-line area vulnerable to guerrilla attacks. \n``I wonder if any of your parties will do anything to cause bloodshed again if it loses the election?'' Khi Meng Lim, a 29-year-old mother, asks the candidates. \nAs a former refugee who spent most of her childhood in a border camp, she says later that she's nervous about the uncertainty that might come after polling day. \n``I used to run from war. And I don't want to have to pack up and run again without enough rice to eat,'' she says. \nOne by one, the candidates assure her that their parties will respect the people's will and won't unravel the hard-won peace. \nDaeng Ly, a 62-year-old carpenter who enjoyed the novelty of politicians being held at least temporarily answerable to the people, compared the event to buying gems. \n``If there is only one gemstone in front of you, you cannot tell if it's really the best. But when there are several on offer, you can make the best choice to pick,'' he says.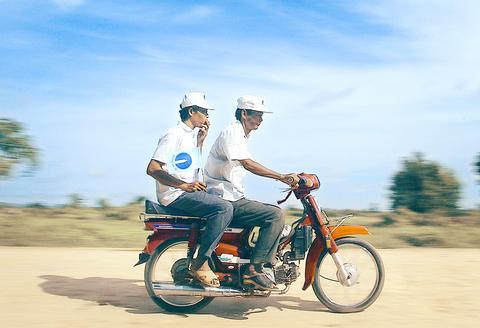 Activists from the opposition Sam Rainsy Party ride a motorcycle to drum up support, through Bot Sala village in Battambang province, 250km northwest of Phnom Penh. Cambodians go to the polls on July 27 in only the third national election in the war-ravaged nation's history.
PHOTO: AP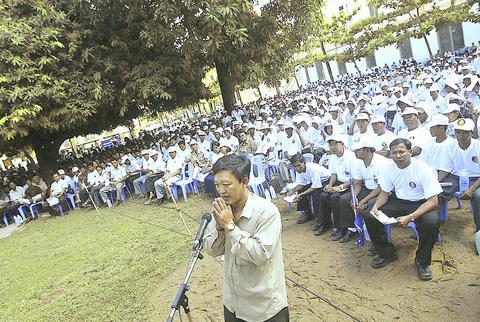 A Cambodian man asks a question during a political debate in Battambang.
PHOTO: AP
Comments will be moderated. Keep comments relevant to the article. Remarks containing abusive and obscene language, personal attacks of any kind or promotion will be removed and the user banned. Final decision will be at the discretion of the Taipei Times.