Pushing toward a broader idea of family
Recent changes to laws in Canada to allow same-sex couples to wed could create conflict with the laws of other countries, including Taiwan
One in 10. That's the number often cited as the percentage of gays and lesbians in society; in any group of people -- employees of a company, passengers on a bus or even politicians elected to office -- one-tenth are likely to be homosexual. While several surveys conducted in the last decade have estimated the figure to be lower, it has nonetheless served as a rallying point for activists who demand to know why the law can deny such a significant percentage of society the rights and benefits accorded by marriage. Increasingly, their point is being heard. \nSome 14 years ago, Denmark became the first country to create a parallel marital status for same-sex couples. Two years ago that separate status was removed to allow homosexuals to lawfully wed. Belgium also has a similar marriage law and, most recently, Canada. Last month, Ontario enacted a law that allows for gays and lesbians to wed and on Tuesday of this past week, British Columbia followed suit, with two men tying the knot on the courthouse steps immediately afterward. Even in the comparatively puritanical US, Vermont provided a legal status for gay unions. \nThe changes in the Canadian laws might have a particularly far-reaching impact and could well challenge the marriage and immigration laws of other countries. Whereas Denmark has a lengthy residency requirement and Belgium will only marry foreigners from countries with similar laws, a gay couple from, say, Taiwan can now get married while vacationing in Vancouver. \nOf course the next question is if the hypothetical honeymooners will still be married when they return home to Taiwan. The unsurprising answer is that the Taiwanese government does not recognize same-sex marriages, either of its own citizens or of foreign nationals in the country, despite the efforts of local rights groups. \nAmong the most prominent of these groups is the Gender/Sexuality Rights Association Taiwan (GSRAT, 台灣性別人權協會) and its secretary general, Wang Ping (王蘋). Wang was last year made an Honorary Taipei Citizen for her activism on sexuality and gender issues and was an attendee to President Chen Shui-bian's (陳水扁) Human Rights Tea Party. GSRAT has been lobbying the government, if not for recognition of same-sex marriages, then for the same kind of legal rights Denmark initially accorded same-sex unions, including inheritance rights, the ability to jointly buy property and insurance policies, the ability to adopt, etc. Wang is buoyed by the strides GSRAT has made since its founding in 1999 and is cautiously optimistic about what progress can be made in the future. "The government is far away from recognizing same-sex marriages," she said. \nChanging the law is one thing, changing people's minds is another. The greatest obstacle Wang faces in her battle is the members of a reticent gay and lesbian community who would like equal rights under the law, but wish to keep their secret from friends and family. \n"One of our main objectives is to provide a community for gays and lesbians in Taiwan," she said. "You don't see gay couples walking down the street. If you do, it's not something you talk about. Getting people to talk about it is necessary before getting the support of the government." It's hard to gain recognition without first revealing your identity. \nThat few of the people interviewed for this article were willing to have their full name printed is an indicator of the muzzle Confucian society places on homosexuality. Webster Chen (陳文彥) was one exception. He's the owner of The Source, a restaurant and bar popular among Taiwan's gay community, and was a candidate for the legislature in 2000, running on a gay-rights platform. \n"Culture is the biggest obstacle. Being gay isn't considered normal. Your parents think you're sick," he said, explaining why having friends and family know your sexual orientation is anathema to most gays in Taiwan. \nOne of his customers, who asked to be called Ryan, agreed. "For parents, it's a very selfish thing if their children don't have children," he said, "Many gay men get married and have kids in order to make their parents happy, then get divorced when their parents die. ? Some hope their parents die soon." \nThe notion that homosexuality is a sickness is well documented in Taiwan. In December 2001, the Ministry of Defense declared persons with "sexual identity disorder" unfit to serve in the military police. GSRAT protested the decision outside the ministry's headquarters and presented military officials with information concerning the improvement of conditions for gay men serving their compulsory military service. The ministry later revoked the decision but kept its use of the term "sexual identity disorder." \nNotwithstanding discrimination and the stigma attached to homosexuality, Taiwan's gay community enjoys a vibrant, open culture relative to neighboring Chinese communities. Films and books about homosexuality that would likely be banned in China are accepted into the mainstream in Taiwan. Chu Tien-wen's (朱天文) Notes of a Desolate Man (荒人手記), in which the gay narrator recounts his life, won the China Times' Novel Prize in 1994, not to mention being voted one of the best books of the year by both the Los Angeles Times and New York Times. \nThe Wedding Banquet (喜宴), by Taiwanese director Lee Ang (李安), tells the story of a Chinese landlord in America who arranges a marriage of convenience with a female tenant in order to keep his relationship with his boyfriend secret from his parents. It won numerous awards at Taiwan's Golden Horse Film Festival and garnered several honors overseas. More tellingly, it also became Taiwan's highest grossing film. \nOutside the art world, Taiwan's homosexual community has been courted by several candidates for elected office, even if their voiced support hasn't translated into actual support for legislative reform when the politicians won office. During the 2000 presidential election, independent candidate Hsu Hsin-liang (許信良) staged a mock gay wedding ceremony and promised equal rights under the law for same-sex unions. \nThe ceremony was likely in response to a front-page fiasco four years earlier when then Taipei Mayor Chen Shui-bian promised to attend a "wedding" between popular Taiwanese author Hsu You-sheng (許佑生) and his partner, Gary Harriman. Chen was at the time rallying for re-election against Ma Ying-jeou (馬英九), but when he failed to show, the 300-odd attendees to the ceremony, which included dozens of journalists, took him to task. In his own campaign, Ma had also pledged his support for gays and lesbians but has done little more than establish a small fund for gay-related programs since winning office. \nPopular culture, politicians, even the pulpit have blessed Taiwan's homosexual community, though, again, to little effect. The nation has at least two churches whose members and clergy consist largely of gays and lesbians. Five couples were "married" in October 2000 by Elias Tseng, pastor of Tong-Kwang Light House Presbyterian Church (同光同志長老教會). \n"The ceremony has allowed them to leave their original families to share residence with their loved ones under the testimony of Jesus Christ," Tseng was quoted as saying at the time. \nThat's all fine and well, but Jesus isn't going to ensure their property and inheritance rights -- only legal recognition of their union will. \nUnfortunately, none of the couples in Tseng's ceremony, nor Hsu and Harriman, attempted to register their marriage. Had they done so, it might have created a basis to challenge the laws. Taiwanese law does not require that couples register for marriage (ironically, you must register if you later wish to divorce). What is required, according to Article 982 of the Civil Code, is that a marriage "be celebrated by open ceremony and in the presence of two or more witnesses." It goes on to state, however, that "persons who have registered for marriage in accordance with the Household Registration Law shall be presumed as married." \nThis law was most famously challenged in 1986 by Chi Jia-wei (祁家威) and his partner. After the notary office of the Taipei District Court rejected their application to wed, Chi took his case directly to the nation's highest court, where it was rejected on a technicality. The court said that the notary public's rejection was not considered an "administrative sanction" nor a "disciplinary sanction" and that because Chi didn't follow the proper procedure of the Notary Law in filing his complaint, the case did not fall under the jurisdiction of the Supreme Administrative Court. \nIf that sounds like a lot of legalese masking blatant discrimination, it's at least being masked; other articles in the Civil Code are more openly discriminatory in other ways. Article 987 says that a woman may not remarry until six months after the dissolution of her first marriage. Men aren't bound by any such statue. \nOf course, many such rules and regulations are completely ignored when couples marry, except when the couple are gays or lesbians. And although the changes to the Canadian law brings hope to activists like Wang, bringing similar changes to Taiwan seems, for now, a remote possibility. The best possibility, Wang says, is for gay Taiwanese couples to get married in Canada and return to challenge existing marriage laws, or for gay Canadian couples to come to Taiwan and challenge existing immigration laws. "It might not effect change," Wang says, "but it would at least get our message across that the laws are unfair." \nIn the mean time, how can same-sex couples protect their common property, secure a future together and ensure that their partner will be financially solvent after they die? Chen and Ryan at The Source both shrug their shoulders. "Give them everything before you die," Chen says.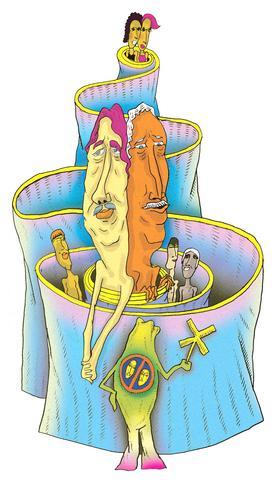 ILLUSTRATION: MOUNTAIN PEOPLE
Comments will be moderated. Keep comments relevant to the article. Remarks containing abusive and obscene language, personal attacks of any kind or promotion will be removed and the user banned. Final decision will be at the discretion of the Taipei Times.