Restaurant: Hindustan
Opened by Kolkata (Calcutta) born Nelson Yeh (葉友強) six years ago for the simple reason he got fed up with taking his business clients to Taipei's other Indian eateries, Hindustan has since built up a solid reputation as one of the nation's leading and, more importantly, authentic Indian restaurants.
There's not much to write home about when talking about the joint's interior, which is designed to be simple and homely, yet possessing of a certain subcontinent-styled elegance. But then diners don't come here to look at the walls they come to eat.
And eat you certainly can at the Hindustan. Its large menu is packed with everything any curry-munching devotee could possibly want and should expect to find in an Indian eatery in Taipei.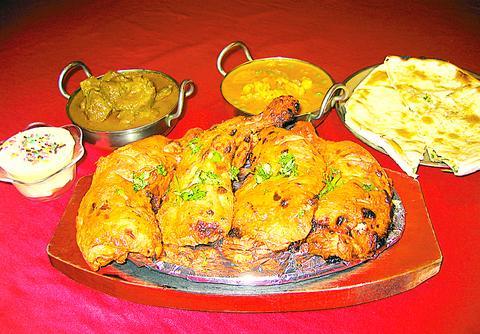 It's a curry lover's heaven at Taipei's Hundustan.
PHOTO: GAVIN PHIPPS, TAIPEI TIMES
There are enough kormas, koftas, masalas, paneers, vindaloos, do piazas, makhanwalas, naans and basmatis to keep you coming back for more for quite some time.
Over the years Yeh has managed to create a menu that caters to all and sundry when it comes to curry. The joint boasts 16 vegetable dishes, all of which can be enjoyed by even the staunchest vegetarian without fear or trepidation -- all of which are priced at NT$220.
Be it a nutty potato based malai kofta, a spinach loaded sagg paneer, a feast of okra in the form of bhindi masala or a simple vegetable curry that packs a spicy punch, the Hundustan's menu oozes healthy curries.
The joint doesn't disappoint when it comes to feeding the carnivorous either. Dishes such as the ginger laden rogan josh, creamy chicken and mutton kormas, onion heavy mutton do piaza and house specials such as jhinga masala, a dry spicy prawn dish, are all reasonably priced at between NT$310 and NT$480.
As Yeh makes his vindaloos for all palates, diners who wish for more fire with their traditional Goan sweet and spicy dish only need to ask and it shall be done.
For the truly ravenous, the tandoor mixed grill (NT600) has enough meaty sustenance to feed an army, with masses of chicken tandoor and tikka and piles of mutton reshmi and seekh kebabs. The gajar halwa (NT$65) -- a carrot-based dessert which is made with milk and sugar -- is a fantastic after meal treat. Also recommended is Yeh's homemade kulfi (NT$85), or Indian ice cream. Only available in mango flavor, the frosty mild masala dessert has a real fruity zing to it and is the perfect finale to any meal, be it large or small.
Yeh is also proud of his chutney dip and makes no bones about how he feels when he compares it to the green substances that passes for the pickle found in other Indian eateries. "It's the best chutney in Taiwan," said Yeh with a grin. "And that's no bullshit!"
Publication Notes
Address: 43, Fuhsing N Rd, Lane 313, Taipei (台北市復興北路313巷43號) Telephone: (02) 2718 5608 Open: Lunch 12pm to 2pm, dinner 6pm to 10pm. Sundays open 6pm Average meal: NT$800 for two Details: English menu. Major Credit cards accepted
Comments will be moderated. Keep comments relevant to the article. Remarks containing abusive and obscene language, personal attacks of any kind or promotion will be removed and the user banned. Final decision will be at the discretion of the Taipei Times.