Taipei's 'Fight Club' knocks 'em out
The city's sugar-coated entertainment based on the Brad Pitt film takes place every Saturday night in a downtown basement nightclub
Hsiao Ma's (小馬) left hook caught Wu Kun (吳坤) on the cheek just well enough to send him stumbling to the ground. His lip bleeding slightly, Wu got back on his feet and readied himself for the next onslaught. \n"Hit him. Hit him, motherfucker," a bald man screamed from his vantage point standing on a stool by the bar. \nSeemingly oblivious to the strobe lights and pounding beats of Wu-Tang Clan's Gravel Pit, the two men flailed wildly at each other, frequently losing their balance and crashing into the spectators. After another minute of grappling, the referee leapt in to prise the fighters apart. \n"I think we have a winner," the MC bellowed into his microphone as the referee raised the hand of Hsiao Ma, victor in Taipei's sugar-coated version of the Brad Pitt film Fight Club. \nEvery Saturday night, at a basement club on Fushing South Road, a dozen men, and sometimes women, cast off their social restraints and yield to their primal desire to exact violence upon others, albeit in an environment with hip-hop based music, chattering MC and a cheering crowd comprised of beautiful people. It is something different from that dark, grungy car park where Brad Pitt hits his opponent in the film. \n"I don't particularly like violence or fighting with people. But it's a very good feeling when your fists actually hit the other person," said Wu, 28, a graduate student at a Taipei college. \n"I'm not afraid of getting hurt. Last time I got this," he said, pointing to a bruise under his eye. "But it really not serious." \nTony Kao (高建國), owner of VS nightclub, got the idea for fight club by combining his own business of music and drinking with that of his friend and fight referee, King Sun (孫晉). \nSun is a member of a kung-fu fighting club that practices sanda (散打), or K-1, kung fu, a mix of wrestling, boxing and kicking that looks similar to Thai boxing or free-fighting in Japan. The club is led by the celebrity fighting champion Firebird Liu (劉釗成), who can often be seen at VS watching the action and smoking a cigar. \n"We just want to offer a healthy activity to release their energy," said Jo Chu (朱憶眉), bar manager at VS. \nBut to make this testosterone-charged entertainment safer and more accessible to the public, kicking and wrestling aren't allowed. Fighters are paired off according to their weight and have to wear 10-ounce (283g) gloves. The heavier fighters wear head protection. \nThe dance floor provides the scene for the fighting, with \nspectators crammed behind four lines of white tape which mark the edges of a "ring" about 4m long and 3m wide. Fighters who are forced out -- or more likely lose their balance and fall out -- of the ring three times are disqualified. Fights last up to two minutes. Winners get three bottles of beer, losers one. \nBut those expecting a demonstration of boxing prowess worthy of presentation at Caesar's Palace will be disappointed. \n"Our aim is to have non-professional people fight. We don't want professional people," said Sun, who as referee, goes by the name Da Pao, or Cannonball. "It is more like entertainment, for everybody to have fun." \nWu, wearing NT$80 handwraps he'd bought for his second bout at fight club, said he'd never done any boxing before. He "learned" his technique from reading lots of Japanese Manga [comic books] during his spare time. "I also used to have a foreign friend who boxes. I had learned a bit of boxing from him and sparred with him for about 40 minutes," Wu said. \nDespite his lack of training and technique, Wu is still very motivated to take part in Fight Club. "I've seen the film Fight Club and I quite liked it. Daily life is boring and you need something to release your energy," he said. \nDespite the apparent dangers to the fighters, and the audience, the organizers are confident that there is very little risk. \nChu said that since the fight club began two months ago, there have been no accidents or trouble of any kind in the pub and fighters must sign an agreement before they fight. \nTwo safety guards patrol the edges of the cramped ring to separate the fighters if they get over-zealous and drag them out of the audience if necessary. Sun quizzes fighters who have been knocked down to judge their ability and willingness to continue. \n"It's all safe and legal," Chu said. \nTaipei police also seem very tolerant of this new kind of entertainment. Ta-an Precinct, where the club is located, said that as long as the boxing was presented as a "show" rather than a sport, then it would be legal. \nIf this kind of activity, as it did in the film, becomes more popular, really all the police could do would be to review the licensing application for the nightclubs, a lawyer said. \n"It is, after all, a commercial activity. When the nightclub registered its business items at the Ministry of Economic Affairs, it probably did not bring up boxing," lawyer Lee Ming-yu (李明諭) said. \n"This is the questionable part, if the government wants to find fault with the fighting club." \nWill this kind of entertainment lead to more violence outside the ring? Wu said probably not. "But it is true that I felt some hostility last week after I won. Some guys pushed me from behind when I walked into the crowds after the match. I guess it was the friends of my opponent," he said. \nOver all, the fighters seem to agree that this is a relatively harmless bit of fun for the weekend. \nGeorge Chou (周哲男), 28, manager of a company that publishes men's magazines, was also fighting for the second time. When George fights, he always gets a lot of support from his female friends. "George! George!" they shouted. "Oh my god, he got hit! He's staggering a bit ?" \n"I heard about this activity from my colleagues," Chou said. "So we came two weeks ago to check it out and then they cheered me on to challenge some guy straight away." \nNow Chou thinks of Fight Club as kind of fun. "And it's quite safe," he said. "Only a few times when I was punched on the jaw did I feel sore and a bit Dizzy." \n"I don't particularly think of it as a kind of serious sport. It's totally different," he said. So, he says, he's not worried about lacking technique. Nor does he want to learn more about professional boxing. He said he was already a black belt in taekwondo and didn't need to learn another fighting sport to protect himself. \n"Like the film Fight Club, it's just a kind of release. A new kind of fun for me, something you wouldn't do everyday. Of course it's quite cool to win and to have people cheering for you," he said. \nThose outside the ring, who must also duck and weave when the fighters reel toward them, also seem to appreciate the chance to see the fighting, and maybe to join in themselves one day. \nI want to fight because I felt the energy in there. It makes me want to participate," said a first-time visitor who didn't want to be named. \n"My friend, who won today, wanted to fight so I felt like, `Wow!' that encouraged me a lot," he said, puffing out his chest. \nAs in the film, the experience of hitting someone, and being hit, seems to be addictive. \n"I will definitely come here to fight again next week," Wu said, wiping the blood from his nose and taking a big gulp of the beer he won for taking part in the fight.
PHOTO: SEAN CHAO, TAIPEI TIMES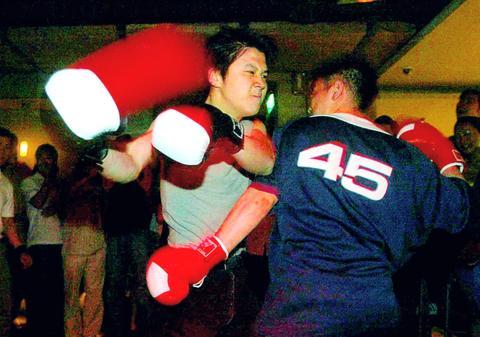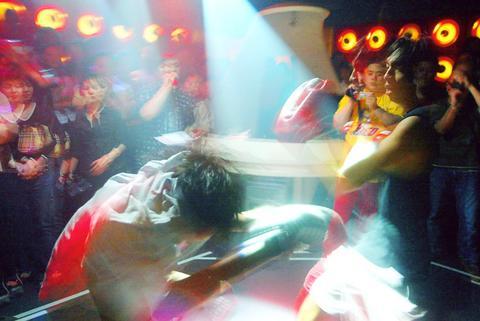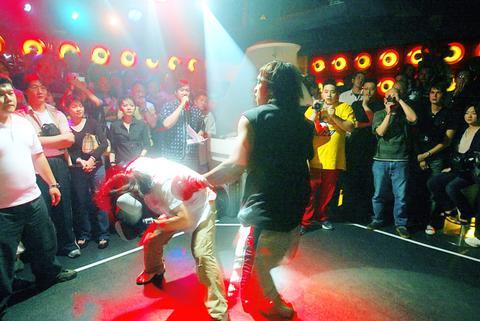 Comments will be moderated. Keep comments relevant to the article. Remarks containing abusive and obscene language, personal attacks of any kind or promotion will be removed and the user banned. Final decision will be at the discretion of the Taipei Times.