Restaurant: La Boheme 波希米亞人
Address: B1, 76 Changan W Rd, Taipei (台北市長安西路76號B1)
Telephone: (02) 2550-0421
Open: 11am-10pm
Average meal: NT$300
Details: Italian and Chinese Menu. Credit Cards not accepted
La Boheme got its name from the Italian opera by Puccini. A passage describing how a flower can receive warm sunlight despite growing in an attic, says proprietor Hu Chia-yuan (胡家源), says it all about the cafe restaurant, which is located in the basement of an apartment building in a narrow alley. \nUnlike most coffee houses, La Boheme does not rely much on passing trade. But despite its out of the way location on Changan West Road, the cafe is building up a steadily clientele of genuine coffee lovers and enthusiasts of Italian cuisine. Some of them liked La Boheme's food and coffee so much that they've taken classes taught by Hu and subsequently opened their own cafes. There are also an increasing number of other establishment who simply purchase Hu's ready-made sauces and roasted coffee beans. \nSo that even if you've never been to La Boheme, you may have unknowingly tasted its products in other restaurants. \nHu also provides instruction on coffee making and is currently busy setting up a small factory to meet increased demand for his roasted coffee beans. \nAccording to Hu, the secret of La Boheme's success lies in his pharmaceutical training. Although he never had any formal training as a chef, Hu experimented with many ingrediants, using the chemical properties as his guide. This knowledge helped him to bring out the best in his materials. \nSalmon with clavier sauce is a popular summer dish. Like other dishes at La Boheme, it comes as a set (NT$180), with side dishes and soup. It's well worth the price as the salmon is uncommonly delicious -- hand-picked to ensure freshness and quality. To get this dish, you want to arrive early, as it sells out quickly. \nThe beef rib eye (NT$180 a set) is served in a northern Italian style in a strongly flavored sauce that is a blend of basamic vingar, blueberry, cheese and olive oil. \nNo visit to La Boheme is complete without tasting its coffee. The cafe's long coffee list has some rare blends along with the popular favorites. \nRistretto (NT$90), a kind of lightly roasted espresso bean, is just such a special variation. According to Hu, the light roasting allows the bean to retain some of the flavors -- or chemical elements, as Hu would say -- that are otherwise destroyed by heavier roasting.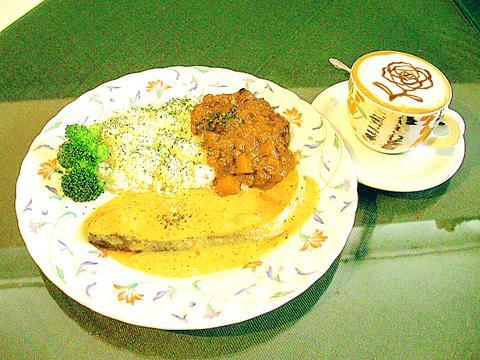 Salmon with caviar sauce makes a perfect blend.
PHOTO: VICO LEE, TAIPEI TIMES
Comments will be moderated. Keep comments relevant to the article. Remarks containing abusive and obscene language, personal attacks of any kind or promotion will be removed and the user banned. Final decision will be at the discretion of the Taipei Times.