Flower festival blossoms
An annual event in the Philippine city of Baguio offers valuable lessons for promoting tourism in Taiwan
At six o'clock this morning hundreds of runners set off to race around the city of Baguio, nestled in the mountains of the northern Philippines. Their 21km half-marathon finishes in the afternoon at the closing ceremonies of the annual Panagbenga Festival, a four-week festival that has kept thousands of volunteers busy for several months, closed off the city's streets and drawn over a half million people -- all because of flowers.
Baguio is well-known among Filipinos for the flora that blankets the city and its agricultural outskirts. Much as a trek up Yangmingshan has become a rite of spring for many Taiwanese, Filipinos have traditionally poured into Baguio during February for long afternoons spent knees-up in Burnham Park amid a cacophony of color. Nine years ago the area's horiculturalists, with the help of private and semi-private corporations, began capitalizing on the annual influx by sponsoring the Panagbenga Festival. Since then, the city government has become involved and helped turn the event into one of the Philippines' biggest yearly cultural expositions and a model for promoting tourism and boosting the local economy -- a model that Taiwan's own cultural council and tourism bureau would do well to emulate.
Extensive planning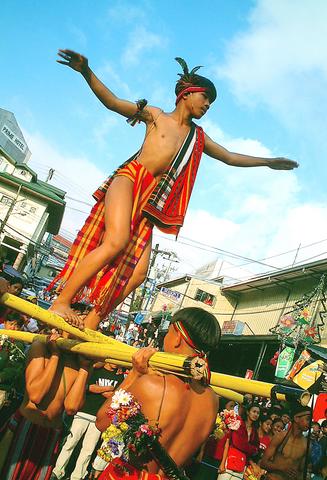 A performer balances atop bamboo poles held by his troupe mates at this year's Panagbenga Festival.
PHOTO: DAVID MOMPHARD, TAIPEI TIMES
"We've spent P$10 million (NT$6.4 million) on this year's festival. The most we've ever spent," said Benny Alhambra, the supervising tourism operations officer for the Baguio city government. The money went towards events and installations designed to draw crowds to the city every weekend in February; a flower regatta across Burnham Lake, an open golf tournament and body-building contest, a grand opening parade with a street dancing competition, followed the next day by a parade of dozens of floats accompanied by some surprisingly swinging drum-and-bugle corps. There was even a Japanese arts and cultural festival that brought some 300 delegates from Japan to demonstrate origami and sushi-making and model kimonos.
"This year was notable for a number of innovations," Alhambra said. "This was the first time that the city mayor has served as the festival's chairman; the first year we closed off [Session Road] to traffic in order to landscape the area, and the first year we've used the Athletic Bowl to host events."
For their efforts, the local government hopes to add two to three billion pesos to city coffers (NT$1.3 to NT$2 billion) and make future festivals even bigger.
PHOTO: DAVID MOMPHARD, TAIPEI TIMES
"We hope to make the Panagbenga Festival as big as the Rose Bowl festivities in Pasadena," said Baguio Mayor Bernard Vergara, referring to California's famous parade of floats that marks the annual collegiate football game of the same name.
Vergara's determination to put his festival on the same footing with Pasadena's Parade of Roses is now well-documented.
An ongoing drought plaguing Baguio had drained Burnham Lake, the site of the festival's regatta. Instead of canceling race -- and to avoid having a giant mud puddle sitting at the center of the festivities -- the mayor ordered the city's department of water to refill the lake in time for the festival.
"We want the Panagbenga Festival to be an international event," Vergara told the Taipei Times. "It's our hope that word of the festival will spread to Taiwan and that Taiwanese will take part in future festivals much the way that Japanese participated this year."
His sentiments were echoed by the province's representative in Manila, Congressman Mauricio Domogan. "It's time to promote the Philippines' relationship and friendship with Taiwan," he said. "We hope to develop ties with Taiwan and would welcome an invitation to establish a sister-city relationship with some municipality there."
But the establishment of such ties may be a long way off. Domogan made a trip to Taiwan years ago during his tenure as mayor of Baguio. Among his top priorities during the few days he spent in the southern part of the island was to search for an appropriate city with which to establish ties.
"I didn't know who to contact," Domogan said, "and I didn't spend enough time there." When asked, neither Domogan nor Vergara could recall having been contacted by officials in Taiwan regarding establishing sister-city ties.
"When I was mayor of Baguio, I hosted three businessmen from Taiwan who came here in search of trade and investment opportunities," Domogan recalled. "I asked them about developing more formal relations ... but they never got back to me."
Lack of focus
The lack of ties is Taiwan's loss. A city like Taipei, where the Spring Flower Tour is now in full swing, would benefit immeasurably from copying some of Baguio City government's preparations. The Taipei City Government is
currently promoting a number of destinations where visitors can tour Taipei's botanical bounty; Ta-an Forest Park, the Shilin Official Residence, the Botanical Gardens and Chungshan Fine Arts Park adjacent Taipei Fine Arts Museum are all on the city's map of must-sees this month. Separately, the Yangmingshan Flower Festival is expected to draw crowds into the hundred-thousands and the Calla Lily Flower Festival will likewise have hordes of weekenders
picking lilies near Bamboo Lake.
But compared with the Panagbenga Festival, the activities in Taipei seem more a matter of happenstance than a comprehensively planned package. Where Baguio has placed the efforts of several organizations, government offices and academic institutions under a central organizing body, Taipei's festivities remain tenuously connected to one another; the Calla Lily Flower Festival is overseen by the Peitou Farmer's Association, and the Taipei Spring Flower Tour is organized by the city government's Bureau of Public Works, Division of Parks and Street Lights. What's more, while the festivals on Yangmingshan and by Bamboo Lake both offer a roster of activities -- such as a bingo game and a children's sketch contest -- there is no overriding event to tie the hodgepodge of festivals together on the same scale as Baguio's weekend of parades and floral floats.
"I don't think anyone has ever thought about organizing one big event and promoting it in other parts of Taiwan, let alone other countries," said one official with the Tourism Bureau under the Ministry of Transportation and Communication. "I imagine they could make a big thing of it if they did."
For his part, Alhambra is willing to offer his expertise. "Send me an official invitation and I can put the trip on my official expense account!" he said.
Comments will be moderated. Keep comments relevant to the article. Remarks containing abusive and obscene language, personal attacks of any kind or promotion will be removed and the user banned. Final decision will be at the discretion of the Taipei Times.