Fantasy and genetics, travel and domesticity, with an Asian twist
`Taipei Times' book reviewer Bradley Winterton picks the best of this year's Asia-related books
And the winner of the Taipei Times Best Book with an Asian Connection 2002 award is ... . Well, there's no such prize, in fact. But this being the last Sunday of the year, we thought you'd perhaps like to be reminded of some of the most notable titles reviewed in this column over the last twelve months. So I've selected a "long list" of the ten books I most enjoyed reviewing, then chosen a "short list" of the five best of those, and finally made a personal choice of Best Book to wind things up.
Fiction first. Three novels stood out. One was The Impressionist by Hari Kunzru (Hamish Hamilton), an uneven but ambitious, and in places astonishing, book on the rise to success of an Indian waif turned upper-class English schoolboy in the first half of the 20th century. It's a comic near-masterpiece that tails away towards the end but is nonetheless vigorous, vivid and almost everywhere inventive.
Also impossible to forget, or put down, was Michel Houellebecq's Platform (William Heinemann), an exceptionally sexually explicit novel that begins by eulogizing sex tourism in Thailand and ends by unwittingly anticipating last autumn's bombings in Bali.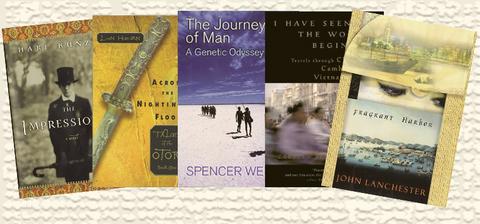 Then there was John Lanchester's absorbing and regularly perceptive Hong Kong saga Fragrant Harbour (Faber) following the fortunes of a small group of characters from the 1930s to the present.
In the world of fantasy fiction, a new arrival, Lian Hearn's Across the Nightingale Floor (Macmillan) looks set to equal all but the best. Set in medieval Japan, it has a poetic quality that combines with a good plot to exceptionally strong effect. It is the opening volume of a trilogy, Tales of the Otori, which is still to be completed.
Now for travel books. Edward Gargan's The River's Tale (Knopf) describing a journey down the Mekong had its moments, but Carsten Jensen's I have Seen the World Begin: Travels through China, Cambodia and Vietnam (Harcourt) was much better, indeed one of the best travel books on Asia I've ever read.
Travel-related, while not being an actual travel journal, was the excellent Along the Silk Road (University of Washington Press) in which Yo-Yo Ma casts his net wide to commission scholarly articles on various aspects, all fascinating, of one of man's oldest land routes.
And while we're on academic publications, a special award for Bravest Local Publication ought to go to Rudolphus Teeuwen's collection of scholarly papers Crossings (Bookman Books) in which current academic absurdities are well and truly put in their place simply by being routinely ignored. Kaohsiung's Sun Yat-sen University, where Teeuwen works, ought to be proud of him.
As for books about Taiwan itself, there hasn't been a lot of competition but John Ross's Formosan Odyssey (Taiwan Adventure Publications) contains a mass of information in very readable form.
Among books of popular science with an Asian angle, Stanley Wells' The Journey of Man (Allen Lane) was remarkable, tracing ancient human migration routes from the DNA in the blood of living populations.
So -- what would be this hypothetical award's short list from these ten publications? I would opt for the following. Among the novels, the bitterness manifesting itself as out-and-out racism rules out Platform. It's very hard to choose between The Impressionist and Fragrant Harbour so both go forward. Across the Nightingale Floor is clearly an outstanding contribution to the fantasy genre, and its being set in Asia is an added bonus. This book sails into the short list with ease.
Among the travel books, I Have Seen the World Begin is clearly superior to The River's Tale, not least on account of the author's greater confessional involvement in his narrative. (Paul Theroux's Dark Star Safari: Overland from Cairo to Cape Town from Hamish Hamilton was also an excellent read, but as it only marginally impinged on Asia wasn't really a viable contender).
Of the remaining books, The Journey of Man stands out for its stimulating intellectual qualities. The story it tells is remarkable, and the author manages to achieve popular accessibility without compromising his sometimes complex scientific material. The book is a considerable achievement in the difficult art of popularization, and much light is thrown on Asia's complex ethnic mix in the process.
There, then, is our short list of the five most memorable Asia-related books of 2002 -- The Impressionist, Fragrant Harbour, Across the Nightingale Floor, I Have Seen the World Begin and The Journey of Man. It only remains to choose a winner. For this reviewer, a really fine book must have both strength and intimacy. It must command a wide view while at the same time not avoiding self-analysis. It must journey both outwards and inwards, in other words. I think I have now given away what my final choice is. Yes, Carsten Jensen's I have Seen the World Begin: Travels in China, Cambodia and Vietnam receives this column's accolade as most enjoyable Asia-related book reviewed by this reviewer in Taipei Times in 2002.
There is a footnote to all this. Last year produced a far better collection of Asian books than 2002 has been able to muster. Among novels, Sid Smiths' Something Like a House (Picador) focusing on eugenics and biological warfare in China, Geling Yan's The Lost Daughter of Happiness (Faber) on the life of a teenage Chinese prostitute in California's 19th century Gold Rush, Justin Hill's The Drink and Dream Teahouse (Weidenfeld) on love in modern rural China, Mohsin Hamid's Moth Smoke (Granta) on the high life in contemporary Lahore, and Lee Chang-rae's fine A Gesture Life (Riverhead) on Korea's WWII comfort women -- all these were better works of fiction than any of the novels located in Asia that 2002 had to offer. In addition, Jonathan Spence's brilliant historical re-creation Treason by the Book (Allen Lane), Sven Lindqvist's extraordinary and terrible A History of Bombing (Granta), Stephen Crook's meditations on Taiwan Keeping Up With the War God (Yushan Publications) and Marc L. Moskowitz's The Haunting Fetus (University of Hawaii Press), on the propitiation of fetus ghosts in modern Taiwan, all contained insights into Asian life past and present more remarkable and memorable than any available in this year's offerings.
Comments will be moderated. Keep comments relevant to the article. Remarks containing abusive and obscene language, personal attacks of any kind or promotion will be removed and the user banned. Final decision will be at the discretion of the Taipei Times.