Restaurant: Little Guangdong Restaurant
Tucked away on the second floor in one of the many non-descript buildings that line the bustling section of Nanking West Road just down the street from the Idee department store, it is all too easy to miss Little Guangdong Restaurant, an unpretentious eatery which provides some unexpectedly sumptuous dishes. \nIt is not the sort of place that attracts a lot of passing trade, but for all that still manges to do a brisk business with many regulars who appreciate the top-notch food at more than reasonable prices. Manager Kuo Ti-liang (郭帝良) is a second-generation owner of this restaurant, which has been around for nearly 30 years. Little seems to have changed over that time, and the decor is definitely simple and somewhat aged. But while the dining area is not exactly set out to impress, the establishment is clean and the service efficient. \nAnd in any case, the food is reason enough to visit Little Guangdong Restaurant. For a quick and inexpensive nosh-up, there is a business lunch menu featuring a wide range of popular Chinese favorites, including kung-pao chicken, eggplant in fish sauce, beef and bean curd and so on, all for just NT$150 including rice and soup. Kuo added that on most days, the business lunch menu is also available in the evening. \nBut for something a little more exotic, check out the a-la-carte menu, which has a range of Cantonese and Hakka dishes that the restaurant specializes in. \n"Our food is best described as new-Cantonese," Kuo said, emphasizing that many dishes are the restaurant's own special variations on established themes. \nPrawns in deep-fried almond pastry, now quite a popular dish at restaurants with pretensions to making haute cuisine, is one of those new-Cantonese dishes. "We were one of the first to do it," Kuo said. Now instead of prawns, Kuo uses clam meat, differentiating himself from the herd. \nOther spectacular dishes are the lamb in red wine sauce and the beef brisket and tendon hot pot, which at NT$350 each, are among the a-la-carte menu's most expensive dishes (the average is around NT$200). The lamb, imported from New Zealand, is very tender and topped with a sauce of garlic, Chinese basil and red wine that manages to be both Western and Eastern at the same time. For five meaty chops, this is excellent value. The brisket too is very tender, with melt-in-your-mouth turnip in a luscious sauce. \nFor those with a preference for Hakka dishes, there are all-time favorites such as baked chicken in salt, crispy fried large intestine and spicy tripe. \nIf that all sounds a bit too much, there are a number of vegetarian dishes and for those wanting something very simple, a plate of Hakka fried noodles or fried rice with two sauces which are well suited to fill in any gaps left by the main meal.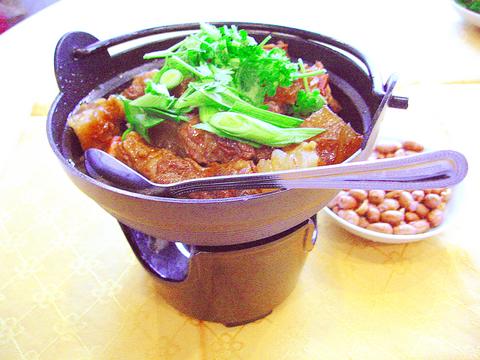 Brisket with tendon in a clay pot will keep you warm on cold winter days.
PHOTO: IAN BARTHOLOMEW, TAIPEI TIMES
Publication Notes
Address: 2F, 61 Nanking W. Rd., Taipei (台北市南京西路61號2樓)
Telephone: (02) 2556-9985
Open: 11am to 2:30pm; 5pm to 9:30pm
Average meal: NT$150 and up
Details: Partial English and illustrated menu. Credit cards accepted
Comments will be moderated. Keep comments relevant to the article. Remarks containing abusive and obscene language, personal attacks of any kind or promotion will be removed and the user banned. Final decision will be at the discretion of the Taipei Times.