Restaurant of the week: Grandma Nitti's Kitchen 中西美食
Address: 8, Lane 93, Shita Rd., Taipei (台北市師大路93巷8號).
Telephone: (02) 2369-9751.
Open: 9am to 11pm Weekdays. 10am-11pm on weekends and holidays.
Average meal: NT$300.
Details: English and Chinese menu. Credit cards accepted.
For Taipei's foreign population, Grandma Nitti's Kitchen is one of the few places to find food that reminds them of home. \nContrary to popular musings, there was neither a grandma nor someone named Nitti in its kitchen, only Rainbow Lin (林虹慧), the founder and owner of the restaurant. With strong interest in cooking and encouragement from her American friends, Lin started a humble five-table eatery, where she doubled as its chef, near National Taiwan University 14 years ago to cater to the needs of homesick foreigners in Taipei. That was before the deluge of customers forced Grandma to expand to a three-story building in an alley off Shita Rd. \nAlthough targeting Western appetites, Lin never promises to provide the "authentic" flavor. "The name of the restaurant tries to tell people that we offer dishes that taste like their mother's cooking in a home environment. We wouldn't brag that what we offer is 100 percent authentic, because every mother cooks in her own way," Lin said. \nStarting with only 10 simple items like omelets and sandwiches, Grandma's heavy-volume menu is the result of years of trials on Lin's many foreign friends to make sure that the items satisfy Western tastes. \nGrandma prides itself on breakfast items, which helped it establish its popularity in its early years. \nThe vegetarian Greek veggie and feta cheese omelet (NT$250) is a must-try even for non-vegetarians. The omelet's rich filling of vegetables and cheese flows out at the slit of the knife. \nLater this month, several new items will be added to the menu, including the veal with red wine sauce and sauteed mushroom (NT$350) and chicken tequila fettuccine (NT$350). The latter combines pasta with lightly cooked chicken and sweet peppers, creating a delightful color scheme. The otherwise bland dish is prepared with tequila to give it an unique aroma. \nThe menu also includes a mix-and-match section of lunch items so that for between NT$150 and NT$200, diners can pick a combination from the list of fillings like chili beef patty and Tex-Mex veggie and breads like pita and focaccia. \nRefillable coffee and tea (NT$100) is an important attraction for many of Grandma Nitti's customers. On weekends, groups of friends can be seen whiling away the afternoon drinking coffee and chatting in its laid-back environment. \nFor food of the mind, Grandma hosts a second-hand English-language store that is open every Sunday afternoon. \nBeing a popular meeting point between foreigners in Taipei, Grandma has a useful whiteboard at its front door for people to post housing or language-learning information.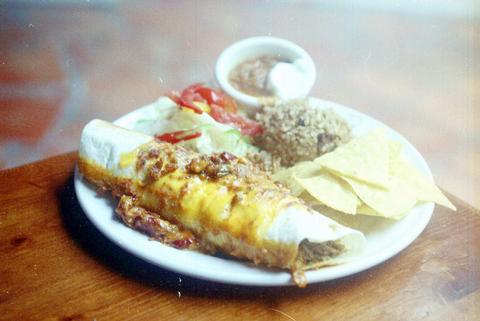 Grandma Nitti's enchilada is one of many "western" dishes on offer.
PHOTO: DAVID VAN DER VEEN, TAIPEI TIMES
Comments will be moderated. Keep comments relevant to the article. Remarks containing abusive and obscene language, personal attacks of any kind or promotion will be removed and the user banned. Final decision will be at the discretion of the Taipei Times.