Back alleys of adventure
Hygiene might not be its strongest point, but Tunghua Night Market offers some of the most authentic Taiwanese snacks and is a favorite spot among the younger crowd
Although it is called the Tunghua Night Market (通化夜市), most of the action actually takes place on Linchiang Street (臨江街), a narrow alley that cuts from Tunghua Street (通化街) to Keelung Road (基隆路). While it is neither the biggest nor the oldest night market in Taipei, it is tremendously popular, especially with younger people. \nFirst-timers are best off approaching Linchiang Street via Tunghua Street, rather than through the begrimed, asymmetrical arch at the bleak intersection of Keelung Road (基隆路) and Kuangfu South Road (光復南路). \nDespite being concentrated along a single, narrow street, Tunghua Night Market defies linear exploration. It spills into back alleys, and sprawls around a purpose-built but under-utilized complex, the ground floor of which was designed to house the stalls. \nAnd there's too much to see in a single walk-through. \nChingtao Soybean Milk (青島豆漿, 73 Tunghua St., tel: 2708-6149) occupying a prime spot beside the western entrance to Linchiang Street, is as good a place to start as any. This unprepossessing but consistently popular business makes and sells every conceivable soybean product, plus you-tiao (donut-like savory sticks), Chinese breads (with or without fillings), oven-baked onion cakes and peanut milk. There's a distinct shortage of seating, but it's worth squeezing inside if only to get a close-up view of the production process. Open 24 hours, seven days a week. \nBy night, Linchiang Street is packed with stores, eateries and shoppers. The morning meat-and-vegetable market, which takes over just after dawn -- and which conducts business amidst piles of trash leftover from the night market -- seems half-hearted by comparison. \nDuring peak hours, 7pm to midnight, an ever-changing lineup of mobile vendors fills the midstream. Most are guerrilla entrepreneurs -- unlicensed businessmen and women who disappear the moment a policeman is sighted. Some sell food: peanut candies, glazed tomatoes, or sweet potatoes peeled and cooked with sugar. Others, equipped with clothes-racks on wheels or folding tables, hawk trinkets, underwear and socks. \nBy 9pm on Fridays and Saturdays there's barely room to stand along the main drag. Despite this, the occasional scooter manages to barge its way through. \nThere's usually a small crowd in front of Shrchia Chinese Burgers (石家割包, 104 Linchiang St, Tel 2738-1773). In business since 1953, and famous for "burgers" which are quite different from -- and even heavier than -- their Western equivalents, Shrchia does a roaring trade in milk tea and passion fruit juice. \nA little further east sits the Pohsin Commercial Building (坡心市場商業大樓), which looks like it was designed to be the centerpiece of the night market, but has clearly failed to establish itself as such. \nThe upper floors are still empty more than two years after completion, but most street-level units have been rented to entrepreneurs who offer such distractions as crude pinball machines, hoop-throwing stands, and places where you can aim darts at water-filled balloons. \nThere's also a fully legitimate massage joint staffed by young blind men. For NT$200 they will knead the knots out of your shoulders and back; customers remain clothed and seated throughout. \nVisitors will encounter a grotesque side to the night market -- grimy beggars lacking in limbs who drag themselves along the tarmac and a blind old man who, rain and cold notwithstanding, takes up position in the middle of Linchiang Street each evening and plucks tunelessly at his lute. \nThe intersection of Linchiang Street and Tunghua Steet's Alley 50, Lane 39, just east of the building, is snack central. \nOyster omelets, tempura, lu-wei and other popular dishes are available. Healthier alternatives can be had at Paosutsai Vegetarian Food (寶素齋素食), a vendor whose consistently fresh and tasty offerings represent excellent value for money. Considering that everything is done by one lady working alone, service at Paosutsai is quick, and the choice surprisingly wide. There are various soups, and diners can opt for small or large portions (the latter are particularly generous). \nFurther back from Linchiang Street, occupying a corner of the Pohsin Commercial Building, is Lao Tan (老攤). Despite its name, which means "old vendor," this is a relatively new enterprise. The Korean-style pickled cabbage noodles (NT$70) -- a big bowl chock full of seafood, tofu and broth -- is good value. Also on offer are sticky rice dumplings and crab (NT$100) and seafood, curry and "original flavor" tang-yuan (湯圓), all served in a no-smiles, no-frills manner. \nTunghua Night Market is renowned for its sausages, and various vendors vie for the titles of original, oldest and best. \nHunghua Hungguai (紅花紅桂香腸), located a short distance from the night market, at the entrance to Lane 38, Tunghua Street, has a good claim to being all three, its signboard proudly asserting that it has been featured on local and Japanese TV. But the sausage-sellers positioned along the eastern part of Linchiang Street also do a good job. Several different condiments are available, including fillet steak sauce, black pepper sauce, chocolate, wasabe, and an even hotter brown spicy substance. \nWhen searching for food, the nearby side alleys should not be written off -- particularly if one wishes to sit down and escape the human maelstrom for a while. \nAt first glance, Spicy Sister Thai-style Delicacies (泰式小吃, 51, Alley 62, Lane 39, Tunghua St., tel: 2703-7324) looks much like any other cheap Taiwanese eatery -- a middle-aged woman throws ingredients in a hot wok, while inside a TV blares. But the Thai food here is authentic and excellent, as it should be -- the place is run by a Thai family. Service is often slow, but the chicken curry and seafood with onion are especially worth the wait. Drinks, including Singha Beer and Thai-style cold tea and coffee, are available. \nIn recent years Tunghua Night Market has seen a proliferation of stinky tofu eateries, such vendors matching sausage-sellers in terms of prominence and popularity. \nThose put off by the strong odor of conventional stinky tofu but with a love for spicy food should try Old Wild Vegetable (老野菜, 67 Linchiang St., tel: 2755-1168), whose dishes are rather mild compared to the fiery (and bowel-troubling) offerings available elsewhere. A clean, air-conditioned establishment, this is an excellent place for cautious newcomers. An individual serving of spicy stinky tofu (NT$50) makes for a good introduction. Gourmets will like the hot pot (NT$100) -- a small cauldron in which delicious, crumbly lumps of tofu and glistening chunks of ducks' blood and onion float in an oily soup. This is almost a meal in itself. \nIf food dominates the western half of Linchiang Street, boutiques full of halter tops, bell bottoms, platform shoes and accessories are the salient feature of the eastern half. \nThis is a good place to feel the pulse of current youth culture. After 10pm the swarms of fashionable young hipsters may make anyone older than, say, 25 feel a little out of place, though the almost scary getup of some of the mannequins provides post-prandial entertainment. Foreign visitors to Tunghua Night Market -- every evening there are dozens -- are often impressed by the fervid nature of free enterprise here. \n"There seem to be many more shops here than in my hometown of more than 30,000 people," commented Peter Schinkel, a recent German visitor to the night market. \nSchinkel admitted to being shocked by the less-than-pristine conditions in which some vendors prepare food: "I'm not sure if I would eat from most of these places." But when asked if he would recommend Tunghua Night Market to others, he replied: "Of course. My Taiwanese friends tell me this is the real Taiwan."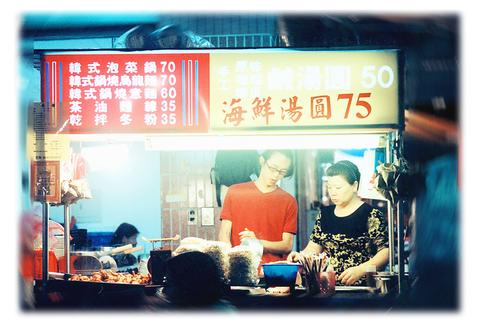 Test the intensely spicy bowl of Korean-style pickled cabbage noodles at Lao Tan.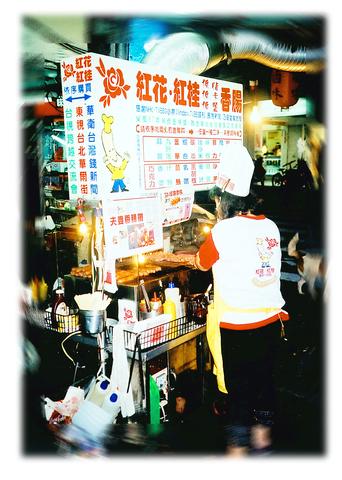 Honghwa Hongguai offers some of the market's best sausages.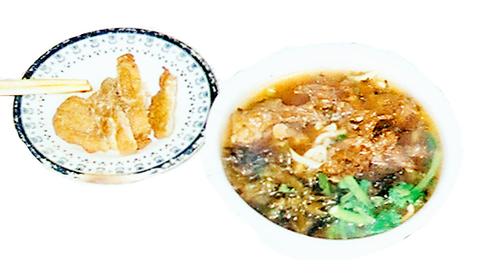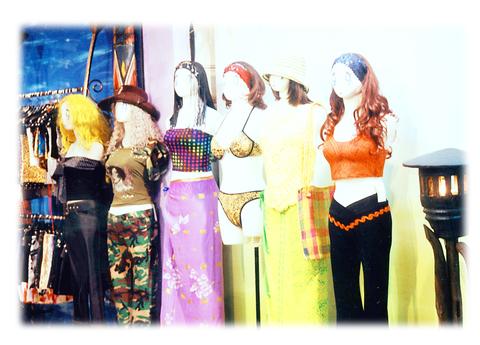 Pick up some of the most recent and often outrageous fashions.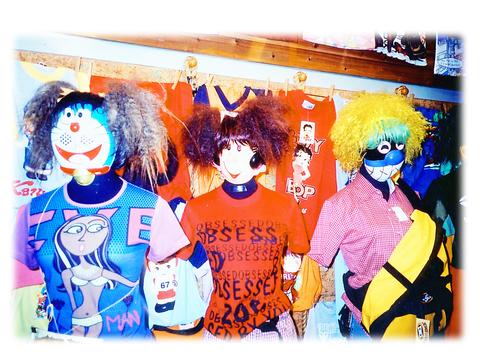 You may not choose to wear them, but the clothes at Tunghua Night Market are certainly interesting.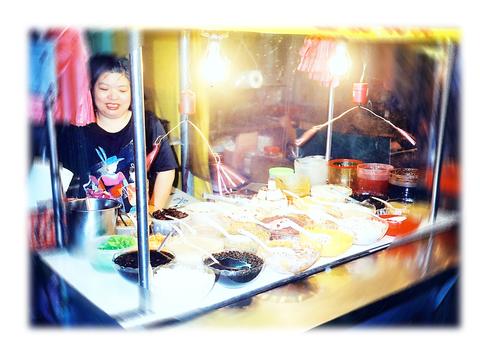 Try out some delicious traditional Taiwanese desserts.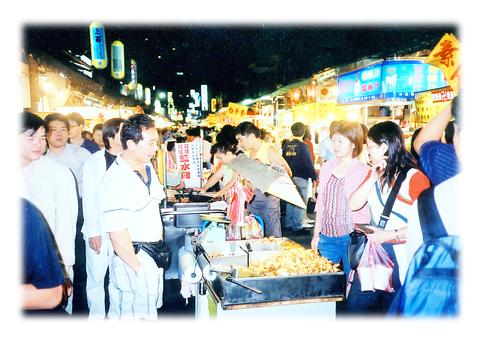 Vendors line up along Linchiang Street at peak hours for the Tunghua Night Market.
Comments will be moderated. Keep comments relevant to the article. Remarks containing abusive and obscene language, personal attacks of any kind or promotion will be removed and the user banned. Final decision will be at the discretion of the Taipei Times.