Taiwan's rivers offer vast potential for adventure
Tracing the sources of rivers has a long history. This activity has recently begun to establish itself as an adventure sport in Taiwan. However, despite an ideal natural environment, organizational issues hinder the sport's development
The town of Wulai (烏來), with its tawdry souvenir stores and overcrowded hot springs, its specialty restaurants and Aboriginal dance shows, would seem to be the absolute antithesis of sport and adventure. However, once the crowds have been left behind, the many tributaries of the Nanshih River (南勢溪) provide huge potential for exploration. \nSuch exploration can range from a little rock hopping at one end of the spectrum to one of the most technically demanding of outdoor sports -- that of river tracing. \nRiver tracing differs from the better known sport of canyoning in that its purpose, as the name suggests, is to trace the source of rivers. This means working upstream rather than following the current downstream. The sport, which is commonly held to have originated in Italy, is particularly popular in Japan, Korea and Hawaii. \nSuitable terrain for river tracing in Taiwan is not restricted to Wulai. Chang Shiu-su (張秀姝), vice chairman of Taiwan Mountain Magazine (台灣山岳), which runs a regular feature on river tracing, says that Taiwan has one of the best environments for the sport but agrees at the same time that compared to mountain trekking, the sport is very much in its infancy in terms of development. It has been a long infancy for men like Lin Tsung-sheng (林宗聖) and Chuang Chai-chuan (莊再傳) started building the sport's foundations nearly 30 years ago. \nFOUNDING FATHERS \nChuang, who runs an import-export business, has a cheerily irreverent attitude to the sport he has dedicated much of his life to promoting. He is currently secretary general of the Chinese Taipei Stream Association (中華民國溯溪協會), established last September, which is the first attempt to raise the profile of river tracing as a sport independent of trekking or mountain climbing. \n"In establishing the Association we want to raise the profile of river tracing," Chuang said, "so that river tracing has the same kind of organizational clout as mountain climbing, [whose highest body is the ROC Alpine Association]." Chuang said it had been extremely difficult to give river tracing the kind of recognition it deserved, saying that the Alpine Association has been around too long and is too set in its ways to accept new ideas. \n"Some people [in the Alpine Association] got quite mad at me for setting up the Stream Association," he said. Chuang is a long-time member of the Alpine Association and the managing editor of its monthly journal. He and others in the mountain climbing fraternity suggested that the older generation that now holds most of the influential positions in related organizations are unwilling to move on from traditional ideas of mountain trekking. \nBack in 1985, Chuang established the Taipei River Tracing Club (台北溯溪俱樂部), bringing together members of the trekking community who were interested in pushing new frontiers. The Changhua River Tracing Club (彰化溯溪俱樂部), the first of its kind, had been established two years earlier in 1983. \nThe inspiration, for Chuang, came from Japan, where he studied, and where the sport was already popular. "The Japanese came to Taiwan because the environment here was even more challenging," he said. Following in the footsteps of the Japanese, Chuang and the Taipei River Tracing Club began to explore the island along its intricate network of rivers, seeking out challenging terrain on which to hone their skills. \nLin Tsong-sheng, another old hand from the mountain trekking fraternity, followed a slightly different road in developing river tracing, focusing more on the exploratory and scientific aspects of the activity. \nLin is the director of the Taiwan Mountaineering Institute (台灣登山研究所), established in 1990, and the founder of the Four Seasons River Tracing Club (四季溯溪俱樂部), the organization currently most active in promoting river tracing at a practical level. "There is so much more you can learn from river tracing," Lin said, referring to the way Taiwan's rivers cut deep into otherwise inaccessible regions of the island. \n"It was while following rivers upstream that I discovered many ancient trails that had been lost," Lin said, recalling how the sport has taken him toward compiling detailed information on aspects of Taiwan's history, especially logging and mining, that had been reclaimed by the forest. These include old logging trails, hunting trails used by Aboriginal tribes and even abandoned settlements. \n"I established Four Seasons to ensure a continuity of skilled practitioners," Lin said. The club has an almost weekly program of activities including training days for enthusiasts of different levels and two-day expeditions. Some of its activities for novices have recently begun attracting as many as 100 people, according to Four Season's executive officer Lu Chiu-lun (呂秀鑾). It is a very different situation from when river tracing was the exclusive preserve of a few dedicated enthusiasts, and this too has brought criticism. \nSPECIAL RELATIONSHIPS \n"You might almost say that among river tracing people there is a kind of master-disciple relationship," said Chang Kui-chiu (張桂秋), an experienced mountain guide who has been closely involved in river tracing for nearly 10 years. Chuang, a strong supporter of this type of relationship, said that as a high-risk activity, river tracing requires a high degree of coordination between participants. "You get 30 people you don't know in a river gorge together, and anything could happen," he said. \nOn the other hand, the Taipei River Tracing Club has been criticized for its lack of openness to outside participation. But according to Chang Kui-chiu, this has been true of the whole river tracing fraternity until quite recently. "It was always the same old faces," she said, hastening to add that this is an inherent part of any high-risk activity. \n"[For technical river tracing], you need close cooperation among team members, so the number of novices you can take with you is strictly limited." she said. It is common in Taiwan for mountain trekking groups to have 30 or more members, many of whom may be relatively inexperienced. \n"In river tracing, you don't have that luxury. A river tracing expedition usually consists of six or seven people at most," Chang said, "and there is usually a clear division of labor. You have your lead climber, your belayer and so on, and in breaking through an obstacle, everyone has a job to do. There is little time to take care of novices." \nSpecialization is a big part of the complex business of river tracing, for the sport demands expertise in rock climbing, swimming, technical mountaineering and outdoor survival. There is also less possibility of comfort, for in Taiwan's narrow upland river gorges, pitching tents is difficult. \n"We rarely even carry tents," said Chen Hsiao-mo (陳孝模), a rock climbing specialist with Four Seasons, saying that even on multi-day expeditions, they are protected by nothing more than their bivvy bags. \nNone of these circumstances are helpful in attracting new blood to the sport. "In the past, in a whole year, we might have four or five people who will go from their first taste of river tracing into the more technical disciplines," Chen said. \nBut the payoff is considerable on a number of levels. "The great thing about river tracing is that the river is always changing. Not just the scenery, but the terrain you must negotiate. One time you might just rock hop over a place, but the next time you go, maybe you'll have to swim it [because the water level is higher]," said Chang. \n"For many people, its breaking through terrain obstacles that is the real challenge," Chang added. For others, there is flora, fauna and even a few historical relics to discover. And for those who reach a high level of technical skill, there is reaching the source of a river in the mountains high above 3,000 meters. \n"It's an incredible sense of achievement," said Arthur Mai (麥覺明), a keen river tracer and producer of nature programs. \nA NEW GENERATION \n"Back in the old days [in the early 70s] we didn't care about anything but getting to the top," Chuang said. "There were the `100 peaks' [all over 3,000 meters] and we just wanted to climb them all." He said there was little by way of equipment or training, and that climbers relied simply on physical toughness. \nConquering the "100 peaks" continues to be a benchmark for outdoors enthusiasts in Taiwan, and a requesite number of attested ascents has long been sufficient qualification for certification as a mountain guide. "It is a complete joke. Taiwan has over 5,500 `guides,' but perhaps only 500 of these are really qualified ... many `guides' cannot even read a map." \nChang of Taiwan Mountain Magazine concurred, saying, "The era of the `100 peaks' is over." The magazine reflects the diversification of mountain sports to encompass a much wider range of specialist disciplines such as rock climbing, wilderness survival and the systematic documentation of the environment. \nRiver tracing in Taiwan was first practiced on a systematic and technically demanding level by the Japanese during the occupation period in their efforts to exhaustively study their first overseas colony. Japanese explorers are still regarded as leading figures within Taiwan's river tracing fraternity, bringing with them new equipment and expertise. \nIt is possible to see 1982 as the beginning of river tracing in Taiwan, the year a team from the Japanese Osaka Grassshoes Society (大阪草鞋會) visited Taiwan, successfully tracing the Nantsi River (楠梓溪) to the top of the main peak of Jade Mountain (玉山). Chuang Chai-chuan was a member of this expedition and it was a major factor in the creation of the Changhua and Taipei river tracing clubs. \nJapanese river tracing enthusiasts have been frequent visitors to Taiwan, relishing the greater challenge of the terrain and the opportunity to venture into virtually virgin territory. This is also part of the excitement for Taiwanese river tracers today, who are still able to discover new parts of this seemingly overcrowded island. \nArriving at an interview last month, Lin was delighted at having just discovered five unrecorded waterfalls in northeastern Taiwan, an area he has studied intensively over the last ten years, tracing all 181 streams in the Tatun mountain range (大屯火山群). \n"Back in the 1960s when I started mountain climbing, people like us were regarded as weirdos," he said. Now, the market for information about Taiwan's natural environment and outdoor activities is growing rapidly, and various government agencies and media are trying to promote, regulate and inform, so far with mixed results. \nPOPULATION GROWTH \nJudging by the proliferation of programs focusing on nature and the growing popularity of adventure competition, the interest in outdoors activities has grown considerably over the years. According to Arthur Mai, formerly a producer with Star TV's long running Taiwan Expedition (台灣探險隊) program, this market is growing far in advance of practical knowledge and real awareness. Often, to make them more appealing, "programs will purvey incorrect behavior." Mai is currently making a series of programs specifically addressing safety and outdoor survival issues in river tracing. \n"This is a period or growth," Mai said. He himself regularly leads university and college groups on outdoors training exercises, and while he is keen to promote a sport which he believes allows participants to enjoy natural beauty, he also believes that providing accurate information and training are important parts of this movement. \nWith increasing numbers of people at large in the mountains pursuing a wide variety of activities, the creation of high-level organizations to regulate, or at least monitor, this activity has become increasingly important. \nThe creation of the Chinese Taipei Steam Association is one step in this direction, but unfortunately even this seems unlikely to resolve the bifurcation of Taiwan's river tracing community. The Taiwan Four Seasons River Tracing Association (台灣四季溯溪協會) is likely to be formed early next year, to claim its share of the pie. "Its all about being able to get more government subsidies," said Tenson Tsai (蔡天生), the owner of a mountaineering store and long time associate of Four Seasons. \nChang of Taiwan Mountain Magazine is inclined to agree. "The creation of the [Chinese Taipei Stream] Association is unlikely to make much difference," she said, "because most of the groups in the sport won't bow down to any other." \n"Most activities will continue to be conducted at a club level," Chuang continued, "but we will be able to do some wider promotional activities through the association." \nChuang has already been instrumental in organizing the annual River Spirit Conference (溪仙大會), which will meet for the sixth time this November, a major event that brings together river tracing enthusiasts from all over Taiwan. "A lot of it is eating and drinking of course," Chuang said irreverently, "but it is also an opportunity to exchange information." \nThe Association has held events such as its April National River Tracing Training Conference (全國溯溪技能觀摩研習會), which enthusiasts believe provides a good venue for honing technical skills and also helps build a sense of community. \nBut in the end, as Chuang said, "river tracing is really a bit like direct sales. You bring people you know into the sport."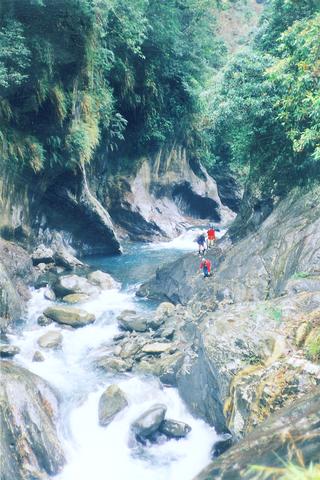 Taiwan's deep river gorges offer great natural beauty for explorers, but also present risks and technical challenges.
PHOTO COURTESY OF CHUANG CHAI-CHUAN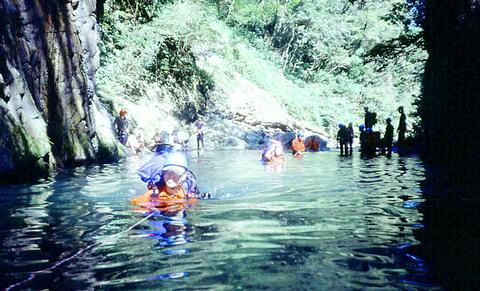 Ropes are used to ensure that climbers are not swept away by currents when crossing deep pools or negotiating powerful torrents. Proper equipment and teamwork are necessary to overcome obstacles.
PHOTO COURTESY OF ARTHUR MAI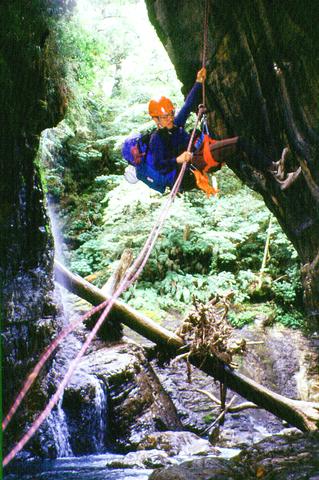 Ropes are used to ensure that climbers are not swept away by currents when crossing deep pools or negotiating powerful torrents. Proper equipment and teamwork are necessary to overcome obstacles.
PHOTO COURTESY OF ARTHUR MAI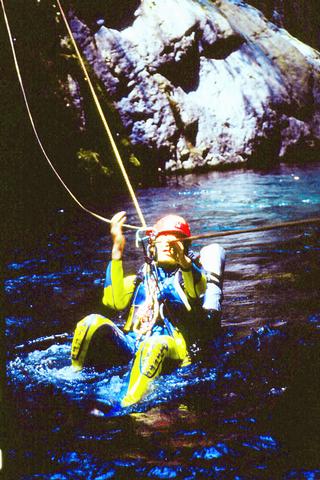 Ropes are used to ensure that climbers are not swept away by currents when crossing deep pools or negotiating powerful torrents. Proper equipment and teamwork are necessary to overcome obstacles.
PHOTO COURTESY OF ARTHUR MAI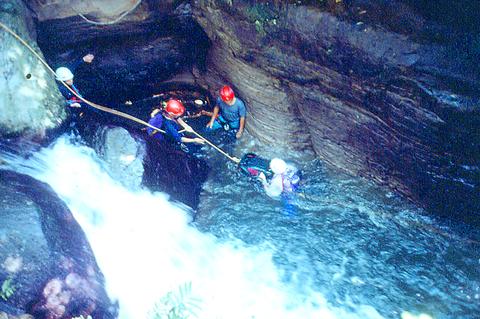 Ropes are used to ensure that climbers are not swept away by currents when crossing deep pools or negotiating powerful torrents. Proper equipment and teamwork are necessary to overcome obstacles.
PHOTO COURTESY OF ARTHUR MAI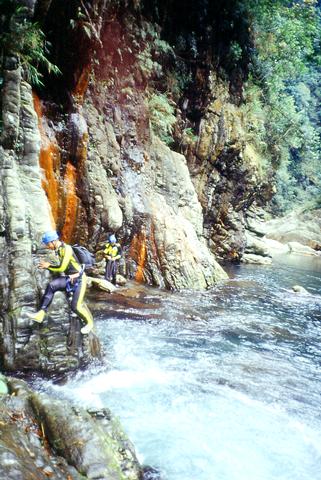 River tracing requires proficiency at a number of mountaineering skills including rock climbing and ropes.
PHOTO COURTESY OF ARTHUR MAI
Comments will be moderated. Keep comments relevant to the article. Remarks containing abusive and obscene language, personal attacks of any kind or promotion will be removed and the user banned. Final decision will be at the discretion of the Taipei Times.