Standing up to everyone
Yang Kui battled Japanese colonial rule and the KMT with his writings, eventually earning himself a 12-year stay on Green Island
Taiwanese author Yang Kui (楊逵, 1905 - 1985) penned his Declaration for Peace (和平宣言) in 1949, urging the newly-arrived KMT government to release all prisoners of conscience and renounce the violent oppression employed during the 1947 crackdown called the 228 Incident. For this act of defiance against the Taiwan Provincial Government of Chen Cheng (陳誠), Yang spent 12 years in prison. All for an article of under 1,000 words. \nYears later he would wryly remark that he "is the best-rewarded writer in the history of Taiwan, averaging a five-day jail term per word." \nAccording to the prominent Hakka writer Chung Chau-cheng (鍾肇政), Yang followed in the footsteps of Lai Ho (賴和) -- widely regarded as the father of Taiwanese literature -- with his resistance to authoritarian rule in Taiwan through his works. \nChung said Yang not only expressed his opposition to repressive Japanese colonial rule, but was also motivated by a strong sense of class-consciousness, which greatly enlightened writers of subsequent generations. \nBorn into a tinsmith's family in Tainan, Yang witnessed the 1915 Tapani Massacre by the Japanese (口焦吧口年事件) when he was 10. The brutal killing of thousands of Taiwanese, Yang said in his memoirs, triggered his inner hatred and terror of violence and inspired his non-violent resistance against the Japanese and, later, KMT rule. \nAs a teenager, Yang was interested in Japanese, Russian and Western realist literature, such as Victor Hugo's Les Miserables, and became engrossed in their themes of humanism. \nHe fled to Japan in 1924 to escape an arranged marriage and there continued his studies. While in Japan, Yang was deeply impressed by the mainstream development of socialism. \n"Yang was a true believer in Marxism, but not dogmatic. He used his literary works to deal with class and racial issues of his time, vividly expressing his stern opposition to colonialism and imperialism," said Chen Fang-ming (陳芳明), professor of Chinese literature at National Chengchi University (國立政治大學). \nIn Japan, Yang worked his way through college as a newspaper boy and a part-time cement worker -- experiences that would later provide the backdrops to his novels. He was arrested for the first time on a charge of participating in a demonstration, but spent only three days in jail. \nIn 1927, at the request of farmers' organizations, Yang returned to Taiwan to join forces with them in promoting farmers' movements. Beginning from this time, Yang and his wife Yeh Tao (葉陶), whom he married in 1929, were in and out of jail more than 10 times. \nYang was honored in 1934 as the first Taiwanese writer to receive the Literary Criticism Award with his book The Newspaper Boy (送報伕). \nThe Newspaper Boy, written in 1932 in Japanese, tells the story of Taiwanese newspaper boys' miserable lives and exploitation at the hands of a Japanese newspaper owner, who is eventually brought down when the workers go on strike for better pay and working conditions. The novel not only was an open rebuke of capitalism, but also centered on class struggle and conflict. \n"The confrontation [presented in Yang's work] was not an oversimplified story of disadvantaged Taiwanese and advantaged Japanese. The story was complicated by human nature," said Yang's granddaughter, Yang Tsui (楊翠), a professor of Chinese literature at Providence University (靜宜大學). Yang Tsui said her grandfather aimed to deal with oppression in any form. In The Newspaper Boy, Yang describes how the protagonist's brother helped Japanese suppress Taiwanese, while the protagonist has a personal awakening thanks to a Japanese colleague who urged him to fight against the Japanese newspaper magnate. \nYang devoted his youth to farmers' movements in the 1930s and took charge in the movements' organization, earning praise as a pioneer of so-called "committed literature" (參與的文學) in Taiwan, a genre which usually depicts the poverty and misery of the poor and disenfranchised. Yang's strong opposition to capitalism even led him to name his first son Yang Tzu-beng (楊資崩), the son's given name translating as "the collapse of capitalism." \n"Yang was not all talk and no action. He used his novels to correct the erroneous history forced on people by their rulers, and, moreover, he exerted his leadership on farmers' organizations," said Lin Juei-min (林瑞明), professor of Taiwanese literature at National Cheng Kung University. \nYang's legacy is simultaneously one of a social activist and of a man of letters. \n"Yang's importance in the social movement outweighed that of his literary achievement," said writer Tseng Ching-wen (鄭清文). The Hakka author Chung concurred that Yang brought glory to so-called opposition literature (反抗文學) through his activism, despite the fact his writing skills and story composition were not first-rate. \nOther critics, however, see a literary giant in Yang's writings. \nChen of Chengchi University cites, for example, Yang's masterpiece In Bud (萌芽), which he said is full of brilliant literary metaphors. In Bud is written in an epistolary style with a female tone narrating the dialogue of a jailed couple who nurture their child and grow plants in jail. \nYang continued to be as outspoken and radical under KMT rule as he was under Japanese colonial rule, Chen said. He introduced works by China's leftist writer Lu Xun (魯迅) to Taiwan, was highly critical of the KMT's policy to promote Mandarin and even encouraged young people in Taiwan to organize self-defense corps to fight the KMT, all of which could have earned him a death sentence. \nTo silence him, the KMT tried locking him up. But even that did not work. During his 12-year imprisonment on Green Island (綠島), which began in 1949, Yang wrote letters home, literary works on the jail wall and critiques dubbed "roses that cannot be squelched" (壓不扁的玫瑰). \nYang finished his days at his own Tonghai Garden (東海花園), living a simple and reclusive life as a horticulturist. "His thatched cottage was so shabby that you could see giant mice run across it from time to time," Chung said. \n"Yang was a very quiet person. He could read at his desk without uttering a word all day," said Lin, who spent a year with Yang. \nYang's granddaughter described the writer as a typical Taiwanese grandfather, who was at times childlike. "He was a very innocent, romantic and optimistic person, who insisted on distancing himself from power," she said, summing up the man's three driving motivations in life as knowledge, labor and social movements.
Yang Kui was fiercely critical of Japanese colonial rule and of KMT rule in Taiwan. He risked his life by writing down his thoughts and leading efforts to establish farmers' organizations along Marxist lines. The KMT government eventually sent him to prison for 12 years on Green Island.
PHOTO COURTESY OF THE NATIONAL CULTURAL HERITAGE PRESERVATION RE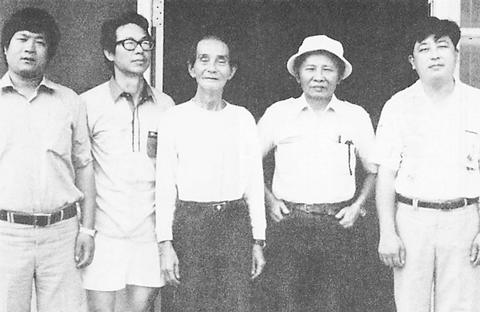 Yang Kui, center, appears at his home in Taichung with Chung Chao-cheng, second from right, and Lee Chiao, second from left, along with two literature students.
PHOTO: COURTESY OF AVANT GRADE PUBLISHING CO
Comments will be moderated. Keep comments relevant to the article. Remarks containing abusive and obscene language, personal attacks of any kind or promotion will be removed and the user banned. Final decision will be at the discretion of the Taipei Times.