Feminine influence rediscovered
Four women who met while studying art in Paris have put together a show under the title: Like Water, Like Flowers (水性楊花). The Chinese phrase has negative connotations and is used to refer to flirtatious women. Liu An-chi (劉安琪), Lin Li-lin (林麗玲), Chen Mei-yueh (陳美月), all of whom hail from Taiwan, and Seng Hui-kiang (辛惠娟), a Singaporean, have used various media to challenge this negative stereotype and express a female perspective.
Traditional Chinese society, in which polygamy was acceptable, has always been very tolerant towards men having multiple partners, but has always looked askance at "popular" women. Liu, the most prolific artist in this show, challenges this prejudice towards women. There is plenty of room for imagination in her suggestive videos, which feature images of soft materials such as water, milk and cream against such aggressive images as a clenched fist, a mixer and a razor, which shows her belief in creating balance and harmony between the two sexes. She admits the images also suggest anxiety. "There is definitely anxiety as well as pleasure when it comes to this topic -- something that people don't talk about," she said.
Her double perspective is also evident in her photographic work Comment Dissequer une Gernade (如何解剖石榴). The juicy, supple pomegranate resembles a women's breasts which in Liu's photos are covered by slices of the fruit. Liu admits she's being a bit cruel here by juxtaposing these two images, but says that she is dissecting the female mind and body in the same way that the pomegranate is sliced apart. "It's about mixed feelings. There is anxiety as you grow up and find out you are different from the other gender, and there is the fun side to it as well, like kids getting to know their bodies," she says.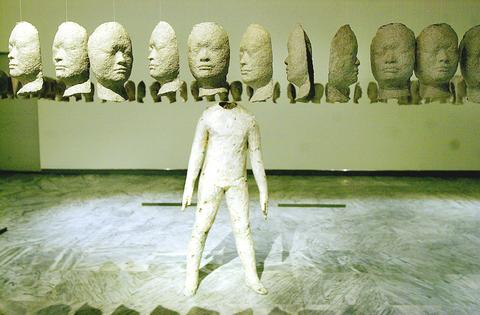 Chen Mei-yueh, Cent Tetes, Sans Tete. The artist argues that 100 heads are no better than no head at all.
PHOTO: CHEN CHENG-CHANG, TAIPEI TIMES
As the only person in the team who now lives in Taiwan, Chen has touched on the issue of female repression and role recognition more than the others. This emphasis is evident in her offering Cent Tetes, Sans Tete(一百個頭), the largest display in the show. She has a hundred masks modeled on her own face hung in a square around a paper figure without a head.
"What's the difference between having 100 heads and having none?" she asked rhetorically.
Growing up in a traditional family where women are not encouraged to have their own thoughts, Chen says too much thinking gets a girl nowhere, only making her even more lost and isolated. She has stuffed a manikin with as much paper as she could, a sign of contraction of identity and suppression of her own personality. The patriarchal society that describes women's behavior of being "like water, like flowers" as bad, she regards as a way of oppressing independent spirited women.
In a softer mood, Seng interprets the images of water and flowers as something floating, fragile and fickle as opposed to being solid and stable. Seng displays two sets of books to show how she has transferred her unsettled thoughts into a romantic lifestyle. Her books document projects that she conducted in various places around the world, in which she makes little boats, takes them to the waters' edge and releases them -- a ceremony symbolic of her journey into the world. Her memories are also recorded in black and white photos, which also form a travelogue.
"The wandering nature is a romantic one, with plenty of memories and recollections," says Seng, returning to the idea of how images of water and flowers are connected with women.
Lin's photographic works of herself covered with all kinds of materials for a kind of beauty treatment is mildly sarcastic: women just can't get away from wanting to be beautiful to be popular, but the process, for Lin, is particularly ugly.
Publication Notes
Art Notes:
What: Like Water, Like Flowers: Exposition de Quatre Femmes (水性楊花: 四人聯展)
Where: B2/ Gallery F, Taipei Fine Arts Museum, 181, Chungshan N. Rd., Sec. 3, Taipei (台北市立美術館: 台北市中山北路3段181號地下二樓)
When: Until Jan. 28 (Closed Mondays)
Comments will be moderated. Keep comments relevant to the article. Remarks containing abusive and obscene language, personal attacks of any kind or promotion will be removed and the user banned. Final decision will be at the discretion of the Taipei Times.