Where will Europe get its diesel from?
As the EU scrambles to find new sources of diesel, China could be the answer
In just over three weeks, seaborne deliveries of diesel from the EU's biggest external supplier would be banned.
Who will step in to plug this enormous supply gap, and will there be enough? Is the bloc sleepwalking into a fuel crisis?
The EU imported about 220 million barrels of diesel-type product from Russia last year, Vortexa Ltd data compiled by Bloomberg showed.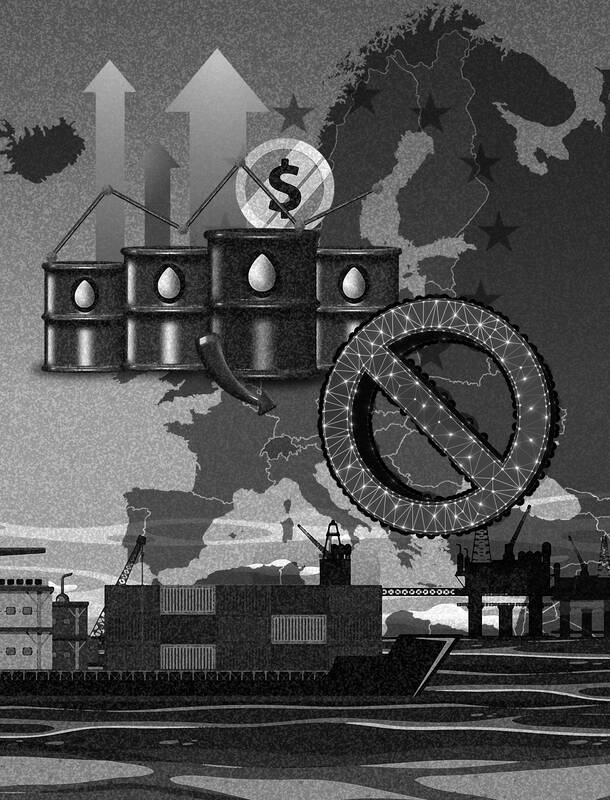 Illustration: Louise Ting
The fuel is vital to the bloc's economy, powering cars, trucks, ships, construction and manufacturing equipment and more.
Replacing that much Russian fuel — about 14,000 Olympic-sized swimming pools filled with diesel — is a mighty challenge.
Some progress has already been made. In 2021, more than half of all seaborne shipments into the EU and the UK — which already has a ban in place — came from Russia. By December last year, that proportion had fallen to about 40 percent, partially due to increases from Saudi Arabia and India.
There is reason to believe the remaining Russian supplies can be covered by barrels from elsewhere.
"The lost Russian supplies will be replaced," said Eugene Lindell, head of refined products at consultancy Facts Global Energy.
However, it is far from guaranteed.
The most obvious place where Europe can get more diesel is the Middle East: It is fairly close, particularly to countries bordering the Mediterranean Sea — assuming the Suez Canal does not get blocked — and has huge new oil refineries coming online that would spew out millions of barrels of fuel. Abu Dhabi National Oil Co has also already agreed a deal to supply Germany.
India and the US, long-term suppliers to the EU, have also stepped up shipments in recent weeks. US refiners are forecast to produce a record volume of distillates this year, a category of fuel that includes the diesel used in trucks and automobiles.
However, the most important potential supplier, albeit indirectly, could turn out to be China.
"China policy is the game changer," Wood Mackenzie Ltd research director Mark Williams said.
The country "holds the key to all of the surplus refining capacity globally," he said.
Shipments of diesel out of China have dramatically increased in recent months. While only a fraction of those cargoes sail all the way to Europe, they increase regional supplies. That frees up barrels from other producers which can, in theory, head to Europe.
China's first fuel export quota for this year was up by almost 50 percent from the same period a year earlier, making it unlikely that diesel shipments would plunge back to the low levels seen early last year.
Exports of diesel-type fuel from China could be 400,000 to 600,000 barrels a day through the first half of this year, Williams said.
That is a similar volume to what the EU and UK stand to lose in terms of seaborne deliveries from Russia.
"There's a total re-jigging in terms of diesel trade flows from the start of February," he said.
However, it is important to remember that China has sometimes chosen to prioritize its environment over profit from exporting fuels. It could do so again.
While multiple supply options for the EU and UK exist, there is also a potentially wider concern: Would the EU's sanctions prompt Russian barrels to disappear from the global market altogether?
If Russia is unable to find enough new, non-EU buyers for its fuels, what then? If it were to consequently cut production at its refineries, that could tighten global supplies, potentially pushing up prices.
Lindell expects Russian diesel flows to dip next month and in March — although that is because of work at oil refineries, as well as some trade friction as the sanctions take effect.
Even if there are plenty of willing buyers, getting the fuel out of Russia could be a challenge. Many shippers would be wary of breaching western sanctions, which stipulate that the price of those cargoes cannot be above a capped level currently being discussed by the G7.
That mechanism, and the price cap itself — on crude oil, it is US$60 per barrel — has yet to be set for Russian fuels. At the end of last year, oil pricing agency Argus Media Ltd assessed Russian diesel at US$926 a tonne, about US$124 per barrel, and non-Russian diesel US$30 a tonne — about US$4 a barrel — more expensive.
If the forthcoming price cap were to be set well below market level, then much of the global tanker fleet would be unable to keep loading and carrying Russian cargoes if they want to access G7 services such as insurance.
The flip side to any question about whether the EU would have enough diesel supply going forward is: How strong will demand be?
Recent warm weather in Europe has undoubtedly helped, likely reducing consumption of heating oil — a diesel-type fuel — and cutting the price of natural gas, which in theory makes it cheaper for oil refineries to make high-quality diesel and also reduces the incentive for companies to use gas instead of oil for power generation.
"A macroeconomic slowdown has been gradually squashing European diesel demand," Argus market reporter Benedict George said.
"Country-by-country data suggests European diesel demand is already at least 5 percent down year-on-year. During the 2008 recession, diesel demand fell by around 10 percent year-on-year at its lowest point," he said.
However, Goldman Sachs Group Inc no longer predicts a eurozone recession after the economy proved more resilient at the end of last year.
The role of potential intermediary countries should not be underestimated in helping to cushion the effect of the EU's ban and the accompanying price cap.
For instance, Turkey, which is not part of the EU, could import large volumes of Russian diesel — it already takes a substantial amount — and use this to supply its domestic market.
The non-Russian diesel it makes in its own refineries could be sold to the EU, potentially at a much higher price.
"A prolonged economic slowdown, warm weather, continued tailwinds from higher Chinese exports and a well-oiled price cap would help global diesel balances remain feasible, and give Europe enough choice to pull in replacement barrels," S&P Global Commodity Insights Europe and Commonwealth of Independent States head of refining and marketing Hedi Grati said.
"The higher the demand and the steeper the Russian diesel production decline, the more complicated and potentially fractured things could get," Grati said.
Comments will be moderated. Keep comments relevant to the article. Remarks containing abusive and obscene language, personal attacks of any kind or promotion will be removed and the user banned. Final decision will be at the discretion of the Taipei Times.