Ian Easton On Taiwan: Should Taiwanese missiles target Beijing?
For many years, China's propaganda outlets have broadcast videos of military units attacking Taiwan. Even in peacetime, viewers across China (and Taiwan) are routinely exposed to images of unprovoked violence. In one such media clip, Chinese tanks and soldiers practiced storming a large mock-up of the Presidential Office in Taipei. In another, computer-generated missiles rained down on a Taiwanese airport, digitally devastating a row of parked F-16 fighter jets. In yet another, Chinese chemical warfare troops conducted live-fire drills inside a training facility decorated with Taiwanese billboards.
Chinese Communist Party (CCP) media scare tactics have been accompanied by a massive military buildup. They are given further credibility by Chairman Xi Jinping (習近平), who has made strident anti-Taiwan remarks and severed diplomatic channels with the island. Taken as a whole, China's actions have served to destabilize the Taiwan Strait. This geographic area is fast becoming the most dangerous potential flashpoint on the planet. Expect it to get worse.
The governments of the United States and the Republic of China (Taiwan) are not well positioned to meet the threat. While these democratic partners have made significant strides in the past two years, they are not yet keeping pace with the fast-changing facts on the ground. Beijing is sprinting ahead. Washington and Taipei are moving from a crawl to a walk.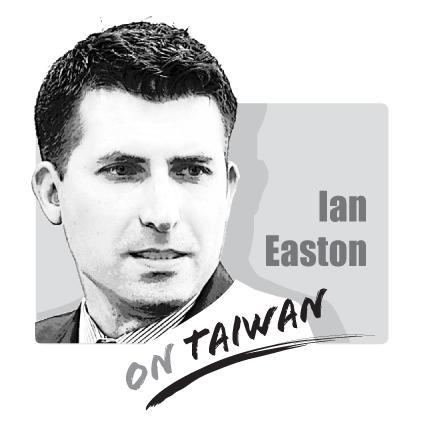 Conventional theater missiles could change the game. The Pentagon has recently tested two prototype weapons, a ground-launched cruise missile and a ground-launched ballistic missile. Both appear tailor-made for fighting China in defense of Taiwan. Over the next few years, it seems likely that the US military will deploy them to the Pacific. This could help balance the People's Liberation Army (PLA), which already has nearly two thousand of its own theater missiles aimed at Taiwan, Okinawa, and Guam.
For its part, Taiwan has quietly built a modest arsenal of ground-launched HF-2E cruise missiles capable of striking deep into China. It seems probable that dozens, if not hundreds, of these mobile missiles have been fielded. Many more could be on the way, including stealthy longer-range variants capable of reaching Beijing.
Taiwan's military appears to have the engineering technology needed to add ballistic missiles and guided cluster rockets to its national quiver. In fact, it might have some hidden away already, waiting to give the enemy a nasty surprise if they invade.
Of course, the CCP has a game plan for defeating allied missiles. Chinese diplomats and agents of influence will accuse the United States and Taiwan of being provocative, starting an arms race, and destabilizing the region. They will claim that conventional missiles are indistinguishable from nuclear missiles, and any strike on the Chinese homeland could result in a radically disproportional response.
They will attempt to influence public sentiment in the region and use the missile issue to drive a wedge between America and its allies. Protest marches and demonstrations could accompany the deployment of each new American missile battery. The former Soviet Union excelled at manipulating the global arms control community to serve its interests. The CCP will try the same.
Meanwhile, the PLA will continue its rapid weaponization of outer space and cyber space. It will threaten to blind the sensor systems the United States and Taiwan rely on for targeting. After all, missiles can't hit what they can't see. For this reason, the PLA is investing heavily in electronic warfare and using commercial front companies to insert its malicious hardware into the world's computer systems.
The American and Taiwanese governments may find merit in launching a public education program on ground-launched, land attack missiles. If they stay silent on the purpose of their new missiles, you can bet the CCP will rush into the void and fill the public domain with false information, undermining a vital defensive capability. Beijing knows that in democracies no strategy can last for long after public sentiment turns against it.
The most important point to clarify is what the Pentagon's and Taiwan's new missiles will (and will not) target. We know from internal PLA training manuals that, in the event of war, they plan to target Taiwanese civilians with their missiles and bombs. It should be made clear that the United States and Taiwan will never target the people of China in reprisal. History has shown that the bombing of civilian populations is as ineffective as it is immoral. The Chinese people don't get a vote. It is the unelected CCP high command, led by Chairman Xi, who is responsible for China's policies and actions.
It seems reasonable to ask: what would legitimate wartime targets in China be? Could they include political targets, like the Zhongnanhai leadership complex in Beijing? Or should they be limited to theater-level PLA military bases involved in prosecuting offensive operations against friendly forces? Such targets could include PLA joint command posts, air force runways, naval ports, missile launch sites, amphibious assembly zones, and helicopter bases across from Taiwan.
Should American and Taiwanese missile forces target China's basic infrastructure? Carefully-studied sections of China's power grid could be knocked offline to disrupt PLA attacks. Notional targets of this type might include power plants, bridges, rail yards, tunnels, telecommunications nodes, and logistics depots. But strikes of this nature could be risky. To be legitimate, the allies would have to take pains to avoid civilian casualties.
Given the massive number of possible aim points in China, should the American and Taiwanese militaries exchange their target folders and develop plans to share the burden? While this would certainly seem to be militarily sensible, it could prove politically difficult in the absence of normal diplomatic relations.
Defense exchanges could assist both sides talk over their targeting priorities. Not all targets are created equal. Second and third order effects will have to be weighed and considered at length. Where is the enemy's center of gravity in a Taiwan invasion scenario? What about during a blockade? How many missiles would it take to knock out all the priority targets? And what if certain critical targets could not be reached by missiles without risking noncombatant lives? Might there be an indirect way of achieving the same wartime objective?
Time is always a critical factor in strategic planning, and it could be running out. The sooner officials in Washington and Taipei get comfortable thinking about the unthinkable, the better prepared they will be to keep it from happening.
Left to its own devices, the CCP appears inclined to allow China's televised war games to spill into real life. Peace might be best served by demonstrating the capability and the willingness to hold political leaders in Beijing at risk, along with their forces in the field. Stay tuned.
Ian Easton is a research fellow at the Project 2049 Institute and author of The Chinese Invasion Threat: Taiwan's Defense and American Strategy in Asia (中共攻台大解密).
Comments will be moderated. Keep comments relevant to the article. Remarks containing abusive and obscene language, personal attacks of any kind or promotion will be removed and the user banned. Final decision will be at the discretion of the Taipei Times.