Richard D. Fisher, Jr. On Taiwan: Starships, TacNukes and Taiwan
While Taiwan faces a clear and mounting threat of invasion by China, the center of strategic gravity is moving from the Earth to space, which offers Taiwan and other democratic allies of the United States opportunities to devise long-term deterrents to aggression by the Chinese Communist Party (CCP).
After 2020 Taiwan faces the prospect of China's People's Liberation Army (PLA) being able to mount surprise multi-domain strikes, combining non-kinetic operations like cyber and economic warfare with daunting kinetic warfare capabilities, ranging from massive missile strikes to comprehensive blockade and air-sea invasion operations. Should the CCP-PLA prevail, it will destroy Taiwan's democratic culture in concentration camps, mass deportations to China's starker regions and massive youth conscription into the PLA. Taiwan will be turned into a massive PLA base to support global nuclear, naval and air projection.
For the first part of the next decade it may be possible for Taiwan to deter PLA invasion by rapid investments in conventional capabilities enabled by new F-16V 4+ generation jet fighters, new more modern M-1A2T main battle tanks plus a range of asymmetric weapons like rapidly deployed sea-mines, long-range artillery and new sea and land-attack cruise missiles. Taiwan's capabilities could be enhanced by continued American investment in 5th generation fighters like the F-35, new bombers like the B-21 and several types of new ballistic, cruise and hypersonic missiles.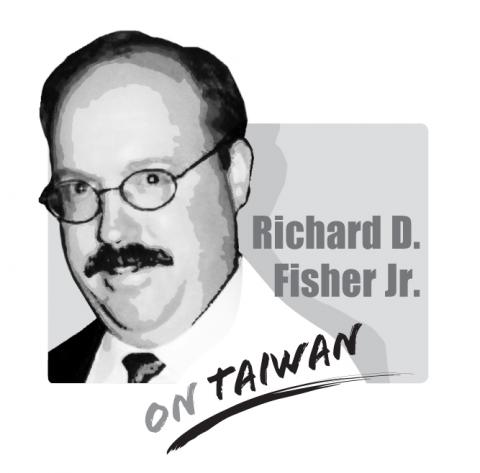 But should the CCP manage to suppress internal challenges by destroying Hong Kong's democratic culture and eradicating Islamic culture in Xinjiang, from the mid-2020s onward the CCP will pose a greater direct military challenge to Taiwan, as well as a growing indirect threat from its accumulation of global economic, political and military influence.
China today is building toward global hegemony by creating scores of regional and global networks to achieve regional elite capture, become the dominant economic partner of most countries, leading to the creation of military networks that facilitate PLA military access for its global projection. In early July 2019 none other than Chinese Defense Minister General Wei Fenghe (魏鳳和) admitted that the massive global Belt and Road Initiative was also intended to expand China's global military influence.
When the PLA is able to project multiple aircraft carrier battle groups and amphibious assault groups into the Persian Gulf to support Iranian nuclear terror threats, or into the South Atlantic to defend Argentina's attempt to re-take the Falklands Islands from Great Britain, this may force Washington to rapidly shift military forces from Asia, thus accentuating China's indirect threat to Taiwan.
However, there are opportunities to strengthen the longer-term deterrence of CCP aggression, as a consequence of the current US-China race to dominate the Earth-Moon system. China's civil-military dual use space program could produce armed space stations by the early 2020s and armed Moon bases by the mid-2020s. China's Strategic Support Force today controls the largest Earth-based laser and missile force for attacking US satellites in low and medium Earth orbits. The CCP understands that in order to achieve hegemony on Earth, it must also secure hegemony in space.
Fortunately for America's democratic allies and partners, like Taiwan, the Trump Administration's decision to focus US efforts in space on the rapid return to the Moon, by 2024, could help accelerate the development of space systems that in the near-term could achieve decisive levels of deterrent capability against CCP aggression, even a rapidly assembled surprise invasion operation against Taiwan. This would come not from the US government National Aeronautics and Space Administration (NASA) led program to reach the Moon by 2024, but from the American private sector's potential to build profoundly greater space transport capabilities.
For example, Elon Musk's SpaceX Corporation is developing the Starship, which is advertised as being able to lift 100 tonnes of cargo to the Moon or Mars at game-changing low prices due to rocket reusability. But Musk has also suggested the Starship could be used for Earth transport missions, perhaps moving up to 1,000 passengers per rocket to the other side of the Earth in less than an hour [https://twitter.com/elonmusk/status/1144005431020392450]. This likely assumes the allotment of 100 kilograms for a human passenger.
But what if the US government were to purchase a small number of Starships to enable near-instant responses to humanitarian disasters or military threats? The US W-48 155mm tactical nuclear artillery shell, in service from 1963 to 1992, only weighed 58 kilograms. In their day, US tactical nuclear artillery shells were defensive weapons, with a range of 30 kilometers, and while even modern ramjet-powered 155mm shells may soon reach 150km, if used from Taiwan they would only threaten PLA forces trying to invade the island democracy.
One Starship could potentially move 1,000 small tactical nuclear artillery shells to Taiwan in less than an hour, significantly reducing the need to base such weapons in Asia. Most likely, a much smaller number would be enough to convince the CCP that even its rapid assembly of a surprise invasion force consisting of multiple waves of amphibious or air mobile troops, would still fail.
There are issues to be settled before such a deterrent could be realized. First, the US must produce new tactical nuclear artillery shells — its inventory was destroyed after 1992. Second, of course, Starship has to prove its potential, such as achieving Musk's ambition that it reach the Moon by 2022. Commercial Earth-space transport would also require, especially in Asia, construction of large offshore spaceports to meet requirements for safety and noise abatement.
But there is also hope on two levels. First, Taiwan is a proven partner for the United States in space, having used US space launchers to loft numerous satellites, having contributed to multinational experiments on the International Space Station, and even having designed major elements for small Moon landers. Taiwan would be an ideal early destination for Starship commercial cargo services and spaceport development would help Taipei participate in the emerging "Space Economy."
Second, Taipei and Washington have resumed discussions regarding "strategic" issues, which presumably might include mention of the US extended nuclear deterrent. In his late February 2019 testimony before the US Congress, former commander of the US Strategic Command (USSTRATCOM), General John Hyten, listed Taiwan as one of the countries from which his command had met "senior leaders," in 2018 as part of its effort to assure "allies and partners."
Nuclear cooperation between the US and Taiwan is not new. In response to the 1958 Taiwan Strait crisis that included massive Chinese artillery shelling and aerial combat, the US Air Force briefly deployed 20 kiloton nuclear warhead armed MGM-1 Matador cruise missiles to Taiwan. They helped convince Mao Zedong (毛澤東) not to invade Taiwan. Perhaps with the help of some Starships, Xi Jinping (習近平) can be convinced that maintaining peace on the Taiwan Strait remains the best choice.
Richard D. Fisher, Jr. is a senior fellow with the International Assessment and Strategy Center in Potomac, Maryland.
Comments will be moderated. Keep comments relevant to the article. Remarks containing abusive and obscene language, personal attacks of any kind or promotion will be removed and the user banned. Final decision will be at the discretion of the Taipei Times.