John J. Tkacik, Jr On Taiwan: A new 'Trump Doctrine' on China and Taiwan?
Whew! Last month, the Chinese foreign ministry whacked both Vice President Mike Pence and Secretary of State Mike Pompeo in the most solemn terms! The Vice President, it seems, "intentionally misrepresented China's social system, human rights and religious conditions, and wantonly criticized China's domestic and foreign policies." Mr. Pence's remarks were "full of political bias and lies, and reveal nothing but his arrogance and hypocrisy. China expresses strong indignation and firm opposition to them."
Mercy! Strong words, indeed. No need to repeat the Vice President's exact words in his October 24 speech on US-China Relations, but the daily newsfeed reflects that Mr. Pence has the far stronger argument.
Then, on October 30, Secretary of State Michael R. Pompeo spoke forebodingly about the "China Challenge." Both speeches made it clear that the dangers come not from China's people, but from the totalitarian ideologies of China's ruling Communist Party. The Secretary of State stressed "that the communist government in China today is not the same as the people of China"; it is a government "using methods that have created challenges for the United States and for the world." He warned that "we collectively, all of us, need to confront these challenges from the People's Republic of China head-on," and he counseled that "above all, it's critical that as Americans, we engage China as it is, not as we wish it were."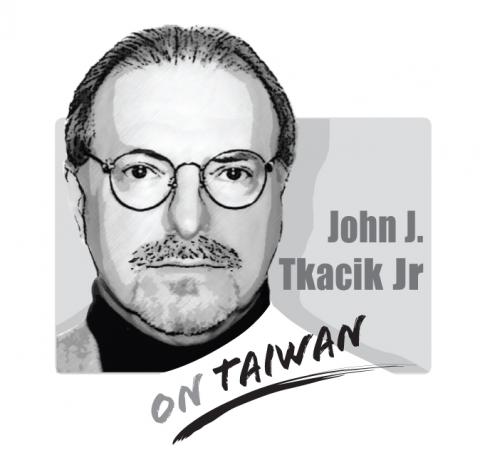 All this struck a nerve in Beijing where it is forbidden to criticize the "Party." The Foreign Ministry blasted the Secretary of State personally. He "fully exposed the deep-seated political prejudice and dark anti-communist mindset of a handful of American politicians," the ministry spokesman fulminated. "Mr. Pompeo's speech maliciously attacked the Communist Party of China and the Chinese government," and "[Pompeo] tried to drive a wedge between the CPC and the Chinese people and deliberately distorted and slandered China's domestic and foreign policy."
As these speeches show, a stiffening American posture toward China is taking shape. I see them as part of a new "Trump Doctrine" on China that germinated last year in bitter trade talks and is now crystallizing into a coherent strategic vision. Over the past few months this "Trump Doctrine" has focused on China's increasingly malign behavior in global affairs, human rights, weapons expansion, trade cheating, cybercrime, floods of killer narcotics. Yet, it hinges subtly on the "Taiwan Question" and the "permanent imperative" of a "peaceful resolution" between Taiwan and China. The State Department issued a series of position papers last week on Washington's "Free and Open Indo-Pacific" strategy; Taiwan gets prominent attention in all of them. Moreover, the State Department strategy papers all dovetail nicely with the Pentagon's "Indo-Pacific Strategy" of last June which also stressed Taiwan's partnership in a regional security architecture.
Also, for the first time I can remember, Taiwan was a significant part of consecutive pronouncements on China policy by top administration figures. Vice President Pence praised Taiwan's contribution to global democracy and regional peace and urged the international community to remain engaged with Taiwan. Secretary Pompeo reminded his audience that forty years ago, "we downgraded our relationship with our long-time friend, Taiwan … to normalize relations with Beijing" on "the condition that the 'Taiwan question' would be resolved peacefully."
This last point caught my attention because it's been central to America's historic security commitment to Taiwan at least since 1982 and the so-called "Third US-China Joint Communique" arms sales to Taiwan. I was peripherally involved in the 1982 communique and have always had strong feelings about China's distortions and prevarications surrounding it.
Two months ago, the Trump Administration authorized the transfer of 60 new fighter aircraft to Taiwan, an US$8 billion transaction which represents a quantum-leap improvement over Taiwan's current fighter fleet.
Almost immediately, China's foreign ministry "lodged serious representations and protests to the US side" that "the US arms sales to Taiwan severely violate … the August 17, 1982, Communique … China will take every necessary measure to safeguard its interests, including sanctioning American companies involved in the arms sale this time." Chinese diplomats warned "Otherwise, the US will have to bear all the consequences."
Surprisingly, American officials at the US Embassy in Beijing, at the State Department, and at the White House pushed back: America's security relationship with Taiwan has always rested on China's pursuit of a peaceful relationship with Taiwan. Now, however, China's relentless military, diplomatic, economic and propaganda campaigns to intimidate Taiwan make heightened American cooperation in Taiwan's security all the more urgent.
Chinese officials, hearing this, became incensed and abusive. Accordingly, Ambassador John Bolton, the White House national security adviser, decided to declassify several Presidential memoranda from the Reagan Administration in order to place formerly secret American "pledges" in the public record.
The most important document was a short, secret presidential directive, signed in ink by President Reagan on August 17, 1982. In fact, Reagan required that his new secretary of state, George Shultz, and the secretary of defense, Caspar Weinberger, both personally initial the document. The key portion reads: "US willingness to reduce its arms sales to Taiwan is conditioned absolutely upon the continued commitment of China to the peaceful solution of the Taiwan-PRC differences. It should be clearly understood that the linkage between these two matters is a permanent imperative of US foreign policy."
Secretary Pompeo then instructed the American Institute in Taiwan to post the text of President Reagan's directive, as well as a photocopy of the signed and initialed original, on its website. This last fillip was a nice touch, confirming that this policy indeed originated from the very hand of President Reagan himself, and that the United States Government still considers it to be a policy directive of the highest authority.
Although news of the AIT webpost glimmered into the internet news media beginning on September 18, it did not get the attention the White House felt it deserved. On October 16, Assistant Secretary of State David Stilwell stressed its significance in testimony on Taiwan policy to the US Senate:
"While some claim that US arms sales to Taiwan contravene the 1982 US-China Joint Communique that mentions the gradual reduction of arms sales to Taiwan, recently declassified documents pertaining to this so-called "Third Communique" clearly illuminate President Reagan's intent. As President Reagan wrote on August 17, 1982: "…In addition, it is essential that the quality and quantity of the arms provided Taiwan be conditioned entirely on the threat posed by the PRC."
Secretary of State Pompeo directly alluded to the Reagan directive in his "China Challenge" speech by warning that the US broke official ties with Taiwan "on the condition that the 'Taiwan question' would be resolved peacefully." This Pompeo corollary of the "Trump Doctrine" implies that China's abandonment of "peaceful" behavior would reverse America's decision to end official relations with Taiwan.
The 1982 Reagan directive on "Arms Sales to Taiwan" is now officially enrolled as a canonical document of America's China Policy. This is of immense significance to the futures of Taiwan, Hong Kong and China's neighbors who now confront Beijing's territorial ambitions. It completely transforms the China "debate" from "accommodating China as a responsible stakeholder" to "challenging China as an advanced military-industrial superpower and disrupter of global order." After decades of US indecisive assessments of China's behavior, America has finally made Taiwan's role in a regional Indo-Pacific security framework a "permanent imperative of US foreign policy."
John J. Tkacik, Jr. is a retired US foreign service officer who has served in Taipei and Beijing and is now director of the Future Asia Project at the International Assessment and Strategy Center.
Comments will be moderated. Keep comments relevant to the article. Remarks containing abusive and obscene language, personal attacks of any kind or promotion will be removed and the user banned. Final decision will be at the discretion of the Taipei Times.