Ian Easton On Taiwan: Taiwan's Nuclear Weapons Problem
Taipei faces a potentially frightful future. The leaders of the People's Republic of China (PRC, China) are building up their nuclear forces with an offensive war against Republic of China (ROC, Taiwan) and the United States in mind.
According to the US Defense Intelligence Agency's 2019 China Military Power Report, Beijing is developing a stealth bomber capable of delivering nuclear attacks. When it comes online, the new bomber will "provide China with its first credible nuclear triad of delivery systems dispersed across land, sea, and air."
China's nuclear weapons expansion is dangerous and destabilizing. The more nuclear warheads and delivery systems China has in its arsenal, the more likely it becomes that Beijing could use them in a premeditated strike, or lose control over them in the chaos of a future crisis.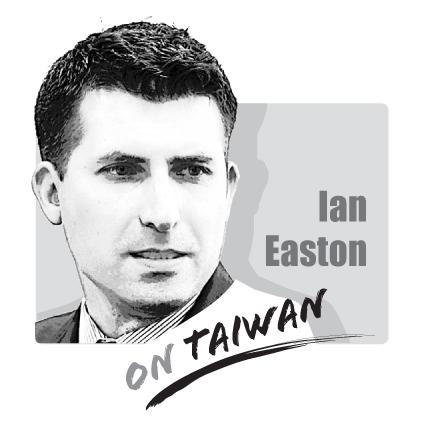 The probability of a horrific miscalculation or accident will go up when Chinese nuclear weapons are widely dispersed. To understand why, imagine a future period of high tension. Beijing will scatter its strategic forces. Some nuclear warheads will be on missile trucks rumbling across China's interior. Others will be sitting in submarine silos, stalking the Pacific Ocean's icy cold depths. Still others will be perched in the bomb bays of aircraft circling the Chinese littoral. All will be on hair-trigger alert.
Remember: each warhead delivery system will have its own unique communications nets, rules of engagement, engineering requirements, environmental stresses, and technical peculiarities. And don't forget: each of these super bombs will be under the direct control of men who are members of the Chinese Communist Party, men who inhabit a secret world of political intrigue, paranoia, and corruption — a world that often rewards ideological zealots and political loyalists and weeds out talent. Few will be seasoned military professionals.
It gets worse. Internal military writings indicate that Chinese planners anticipate using their nuclear weapons to intimidate the United States and Taiwan. In a crisis, they will likely conduct testing and will certainly employ nuclear blackmail tactics. In fact, we've seen this before.
During the 1995-1996 Taiwan Strait Crisis, Chinese authorities detonated two nuclear devices. They then issued verbal threats to Americans: "In the end, you care a lot more about Los Angeles than you do about Taipei."
Of course, the United States was not the only party subjected to coercion. The citizens of the ROC were also targeted. The Chinese Communist Party has long sought to undermine Taiwanese confidence. They claim that Americans are unworthy of trust, especially when the game is nuclear poker and the stakes are national life and death. Like all well-crafted narratives, this one has a grain of truth to it.
Many in Taiwan still remember the trauma of Washington's diplomatic betrayal. From 1955 to 1979, America had military forces stationed in Taiwan, backed by a mutual defense treaty. That all changed when the US abruptly closed its embassy in Taipei and opened a new embassy in Beijing.
While the Taiwan Relations Act (TRA) of 1979 is rightfully lauded as a landmark act of Congress, this domestic law is a poor substitute for diplomatic relations and a defensive alliance. Moreover, the TRA's deterrent value is questionable in view of how it has been interpreted over the past 40 years. US policy choices have helped build authoritarian China into a superpower, while keeping democratic Taiwan isolated and vulnerable.
David Albright and Andrea Stricker's fascinating book, Taiwan's Former Nuclear Weapons Program, explores in detail how the United States used its asymmetry of power and influence over Taiwan in the 1980s to denude the island of strategic capabilities, while at the same time allowing China to stockpile its weapons of mass destruction.
The bizarre situation facing Taiwan is that it is a country that is not treated as a country by the world. For this reason, Taipei has no indigenous nuclear deterrent and is outside the U.S. security umbrella. Unlike Japan, South Korea, and the Philippines, Taiwan lacks ironclad commitments from Washington. Unlike Israel, a small nation that also faces an existential threat, Taiwan has not been allowed to covertly develop the bomb.
In light of China's nuclear menace, the current defense arrangement between the US and Taiwan could prove unsustainable. Washington's ambiguity and passivity invites ambitious Chinese dictators to take risks and probe outward in search of America's ill-defined redlines. Any hint of weakness is provocative to nations that covet their neighbor's territory.
So what to do? Should Taiwan restart its long-dormant nuclear deterrent program? Should President Tsai Ing-wen (蔡英文) ask her strategic scientists to come out of retirement, crack open their safes, and dust off those top secret blueprints?
Or would it be better for the US government to lead the way? In theory, Washington could re-establish normal, stable, and constructive relations with Taiwan, moving the island into an integrated regional security network aimed at forestalling Chinese expansionism.
Deterrence will have to come from somewhere. Taiwan is still defensible in a conventional conflict, but this island fortress has little ability to respond to nuclear brinksmanship. The US could do the job, but so far it has not been ready to seriously consider unpleasant realities.
American-designed defense concepts for Taiwan assume the PRC will fight fair and keep any future invasion campaign local and limited. That seems unrealistic. Once nations are gripped by war fever, events have a tendency of spinning out of control.
It appears increasingly likely that China's authoritarian government will provoke a major crisis in the 2020s. Only by demonstrating a favorable balance of both conventional and nuclear power can Washington and Taipei safely counter Beijing's aggressive aims and ensure long-term peace. It is difficult to see how that is going to happen. Escalation control is slipping away.
China's nuclear weapons buildup should not be diminished in our minds. Try as we might, this threat cannot be wished away. It merits close consideration and a carefully calibrated response. It's time to think about the unthinkable.
Ian Easton is a research fellow at the Project 2049 Institute and author of The Chinese Invasion Threat: Taiwan's Defense and American Strategy in Asia (中共攻台大解密).
Comments will be moderated. Keep comments relevant to the article. Remarks containing abusive and obscene language, personal attacks of any kind or promotion will be removed and the user banned. Final decision will be at the discretion of the Taipei Times.