Macron blinks as 'yellow vest' protests force fuel tax climbdown
Members of the grassroots groups said the protests would not die down following concessions from the Cabinet, dismissing a six-month suspension of the president's tax plans as 'crumbs'
French President Emmanuel Macron, who has prided himself on sticking to his guns even as his popularity levels tumbled, has reversed course and suspended a planned fuel-tax hike that sent as many as 300,000 protesters into the streets for three weeks, with vivid images of the violent clashes in the heart of Paris making their rounds worldwide.
In addition to concerns about its consequences for French finances, the retreat raises questions about a set of reforms that Macron has planned for next year, which involve sure-to-be unpopular changes to unemployment insurance and a unification of France's retirement systems.
Members of the grassroots group staging the protests, dubbed the "yellow vests," have already said that the measures announced on Tuesday would not be enough to end the protests.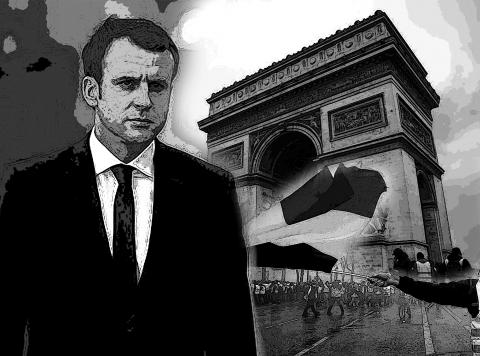 Illustration: Constance Chou
In a TV address to the nation on Tuesday, French Prime Minister Edouard Philippe said that the government would suspend for six months planned increases in gasoline and diesel taxes, hikes in gas and electricity tariffs, and the phasing out of tax breaks for tractor diesel.
A three-month national debate is to start on Saturday next week on how to fight climate change without hurting French pocketbooks.
"No tax merits putting our nation's unity in danger," Philippe said. "We have made propositions, maybe they aren't perfect. Let's talk, let's improve them. I'm ready."
Philippe did not address many of the other demands raised by the "yellow vest" protesters — including an additional increase in the minimum wage. Still, the climbdown is a rare retreat by Macron, whose approval ratings have sunk partly because of a view among many French that he does not listen.
Macron has consistently defended the higher gasoline taxes, saying that they are needed to wean the country off fossil fuels and have been compensated for by cuts to payroll taxes.
Philippe said that the fight against climate change would continue and he would not raise the overall tax burden or allow the country's debt to rise.
Speaking in Brussels, French Minister of the Economy and Finance Bruno Le Maire said that it was too early to say how the measures would affect France's finances, "but a path has been set by the president — which is to respect our European commitments, reduce spending, reduce debt and reduce taxes."
"This course will be kept," Le Maire added.
The cost of the tax freezes is estimated at about 2 billion euros (US$2.28 billion), daily Le Parisien reported, without saying how it obtained the information.
Minister of Ecology Francois de Rugy on Friday last week told RMC radio that a three-month moratorium on planned fuel-tax hikes, less than what Philippe announced, would lower government revenue by 650 million euros.
Any tax cuts and spending increases to mollify the protesters would raise further uncertainty over the path of the French budget deficit, which is already heading close to the 3 percent limit imposed by the EU.
"Clearly the French don't want new taxes or higher taxes, and we can't leave new debts for our children," Philippe said. "When you put French people of good intentions around a table they find solutions."
Some "yellow vests" said that the measures were not enough.
"We didn't want a suspension, we want the past increase in the tax on fuels to be canceled immediately," Benjamin Cauchy, an early organizer of the grassroots group, said on BFM TV. "Suspending the tax to reinstate it in six months is taking the French people for a ride. French people aren't sparrows waiting for crumbs from the government."
Macron's silence drew the wrath of some.
"Macron has still not deigned to talk to the people," Laetitia Dewalle, a "yellow vest" spokeswoman, said on BFM TV. "We feel his disdain. He maintains his international engagements, but doesn't speak to the people."
Sebastien Chenu, a spokesman for the far-right National Rally party, which has supported the "yellow vests" in hopes of capturing their votes, said on LCI that "the French won't be fooled. The government has understood nothing, it's just playing for time."
Members of Macron's Republic on the Move welcomed the measures, saying that they would help calm the protests.
"The prime minister has opened the door, now the protests must end," French Deputy Aurore Berge, from the Paris region, told reporters after Philippe met deputies before making the public announcement. "We have reached a level of violence that is not safe for the French people and doesn't allow this country to be reformed."
Markets showed little reaction: The benchmark CAC 40 stock index was down about 0.5 percent at 2:45pm in Paris, broadly in line with declines elsewhere in Europe.
Macron's backing down comes as his popularity hit a new low.
A poll by Ifop for Paris Match magazine and Sud-Radio released on Tuesday found that Macron's support had fallen six points to 23 percent. Philippe was at 26 percent.
While Macron and the French National Assembly, where his party holds a majority, do not face new elections until 2022, the reversal on taxes could undermine the rest of his reform agenda.
The protesters, who started out blockading traffic across France, brought their fight to Paris over the past two weekends. They defaced the Arc de Triomphe, burned hundreds of cars, and blocked roads and fuel depots.
The protests are expanding. High school students, ambulance drivers and farmers are demonstrating over unrelated demands — all in opposition to Macron's policies, which are seen as too favorable to businesses and the wealthy.
The grassroots, leaderless "yellow vests" — named after vests that all French motorists must keep in their cars — are struggling to structure themselves.
Philippe's office said that a meeting planned later on Tuesday with self-declared representatives of the movement had been canceled, after invitees were said to have received death threats from fellow protesters.
Philippe warned that the government would "mobilize everything" to ensure that another round of protests planned for yesterday in Paris would not degenerate into the violence seen over the past two weekends.
Business leaders warned that the protests are causing economic damage, with the country's retailers' federation saying that declines in sales had reached 40 percent in some parts of the country.
Meanwhile, soccer club Paris Saint-Germain said that it was asked by the police to postpone its game yesterday against Montpellier, citing security concerns.
French daily Le Monde yesterday reported that six professional soccer matches that were canceled this week would be rescheduled for Jan. 15 and 16.
Additional reporting by staff writer, James Regan, Francois de Beaupuy and Angeline Benoit
Comments will be moderated. Keep comments relevant to the article. Remarks containing abusive and obscene language, personal attacks of any kind or promotion will be removed and the user banned. Final decision will be at the discretion of the Taipei Times.