The world's fastest-growing economy has the world's most toxic air
Home to the world's 10 most polluted cities, India — unlike China — is struggling to pull together a coordinated policy to curb pollution
China, Asia's largest economy, has long had a reputation for smoggy skies. But these days, neighboring India is fighting the far bigger battle with pollution: The South Asian nation is home to the world's 10 most polluted cities.
Outside India's capital, New Delhi, Kusum Tomar knows the personal and economic price of breathing some of the world's most toxic air. At 29, she learned that pollution was the likely driver of the cancer growing inside in her lungs. She had never touched a cigarette. Her husband, Vivek, sold land to pay for her treatment. They borrowed money from family. Their savings slowly disappeared.
"The government is thinking about the economic growth of the country, but people are dying of diseases or suffering from diseases," Tomar said. "How can you grow economically when, within your country, your citizens are facing economic problems because of the air pollution?"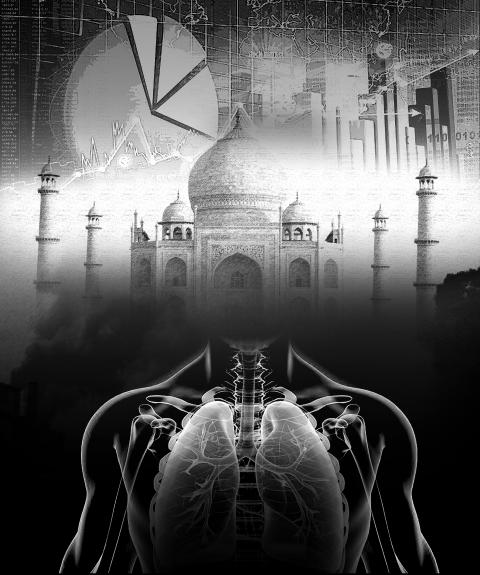 Illustration: Constance Chou
India has long struggled to pull together the type of coordinated national approach that hass helped China reduce pollution. Indian Prime Minister Narendra Modi's government is now pushing new initiatives it says are starting to curtail hazardous air, but any gains would have to be enough to override other facets of India's rampant growth, from the dust left by thousands of new construction sites to exhaust from millions of new cars.
In the coming weeks, the Modi government's policies on pollution will be put to the test as winter descends on the dusty plains of north India. Crops are burned during this season and millions of fireworks go off during the Diwali festival.
If strict policies to battle smog were successfully implemented, India's citizens and government would be much richer. By the World Bank's calculations, healthcare fees and productivity losses from pollution cost India as much as 8.5 percent of GDP. At its current size of US$2.6 trillion that works out to about US$221 billion every year.
While India is the fastest-growing major economy in the world, China's US$12.2 trillion economy is five times larger.
India is still trying desperately to promote basic manufacturing, which could cause pollution to worsen, Australian National University economics professor Raghbendra Jha said.
"It's too simplistic to assume a smooth transition" to clean economic growth in India, he said.
When Arvind Kumar of New Delhi's Sir Ganga Ram Hospital started as a chest surgeon in 1988, 90 percent of his lung cancer patients were middle-aged male smokers. Now, 60 percent of his cases are non-smokers, while half are women, he said.
Tiny airborne particles have been linked to ailments from asthma to heart disease and lung cancer, contributing to the deaths of more than 1.1 million Indians in 2015, according to the nonprofit Health Effects Institute.
Meanwhile, after two decades of expansion that reshaped the global economy, China is orchestrating a shift to less-polluting services and consumption. So, while its cities still see smoggy days, they have also seen improvements.
The number of "very unhealthy" days or worse — when levels of dangerous particles called PM2.5 crossed 200 — rose to 84 in New Delhi last year from 66 in 2015, according to analysis of air quality data from AirVisual, which tracks air quality.
In Beijing, they dropped to 20 days from about 43 over the same period.
"The major challenge is that people are not consistently demanding improvements in air pollution, as happened in China," Michael Greenstone, director of the Energy Policy Institute at the University of Chicago, said via e-mail. "This is because the extent to which air pollution is causing people in India to lead shorter and sicker lives is not yet fully recognized."
The Indian government has said some international studies linking air pollution to mortality "may not be realistic" and that the "number of deaths due to air pollution needs to be further investigated and supported by indigenous studies."
The Indian Ministry of Environment, Forest and Climate Change says it is also making headway in reducing bad air, citing its own calculations for last month, when it says levels of PM2.5 came down in Delhi.
The ministry has introduced an early warning system to help it take pre-emptive action before pollution spikes and it has planned other measures like deploying more road sweeping machines.
The government acknowledges that more needs to be done, Indian Minister of Environment, Forest and Climate Change Harsh Vardhan said.
"We are not claiming that everything is fine now, we can relax now. We're not relaxing even for a moment," he said.
Modi's government has also promoted solar power, improved emission standards and handed out millions of cooking gas canisters to reduce kitchen fires inside homes. Officials have also tried to ban farmers from burning crops.
However, environmentalists are still waiting for more concrete targets from a national clean air plan that has yet to be officially launched.
"Any plan at this stage requires reduction targets," said Anumita Roychowdhury, who has been advocating against air pollution for more than 20 years at New Delhi's Centre for Science and Environment. "And there has to be a clear compliance strategy."
There is an additional challenge. In India's chaotic democracy, where poverty and unemployment are often seen as bigger concerns, different branches of government run by competing political parties sometimes have little incentive to collaborate on pollution.
Raghav Chadha, a spokesperson for the Aam Aadmi Party that runs New Delhi's local government, said his party has limited powers on pollution and can only take small steps like temporarily banning construction.
"What is required is coordination between various states governments under the leadership of the central government," he said, adding that his party has "serious differences" with Modi's administration.
China, by contrast, had Premier Li Keqiang (李克強) declare a national war on pollution. The central government also told local officials they would not get promoted without meeting air quality targets, and the nation has sought to move away from polluting industries. Government policies forced millions of homes and businesses to switch from coal to cleaner-burning natural gas.
Concentrations of PM2.5 plunged 33 percent in Beijing, Tianjin and 26 surrounding cities in fourth quarter last year compared with the same period in 2016.
"Beijing has the capacity to act speedily and decisively, and certainly more efficiently than democracies like the US and India," said Daniel Gardner, a history professor at Smith College who has written a book on pollution in China.
China continues to battle a cancer epidemic, and its efforts on pollution have had their own problems. In some cases, it simply closed down polluting industries in key cities and shifted them to western regions, said Kristin Aunan, a senior researcher at the Center for International Climate Research. Still, China later followed up with an updated plan that extended pollution targets to other cities.
In India, businesses are already feeling the effects. Billionaire entrepreneur Vijay Shekhar Sharma, who founded the digital payments firm Paytm, worries about losing talent.
Former banker Krishna Hegde relocated from Singapore to Bangalore to develop new products for Paytm, but said he quit mainly because he could not take trips to the firm's headquarters near Delhi.
"By the end of the first day my energy levels would be coming down, and by the end of the second day I'd have a proper headache," Hegde said.
Sharma has teamed up with a venture capitalist to invest in local and global start-ups that could help reduce smog. Other companies are attempting similar projects. Tractor manufacturer Sonalika Group donated machinery designed to encourage farmers in Haryana to stop burning old crop.
In New Delhi, Tomar, who was diagnosed six years ago with stage four lung cancer, can no longer work. She spends her days resting in the apartment between medical tests and chemotherapy appointments.
"Sometimes I break down that my family is bearing so much — mentally, physically, emotionally, but financially also," she said.
Comments will be moderated. Keep comments relevant to the article. Remarks containing abusive and obscene language, personal attacks of any kind or promotion will be removed and the user banned. Final decision will be at the discretion of the Taipei Times.