How clean indoor air is becoming China's latest luxury must-have
Shanghai's latest upscale hotel boasts filtered air typically 10 times cleaner than that outside and in-room pollution monitors — but in this lucrative new market, not everyone can be trusted
The newly opened luxury Cordis hotel looks much like many other high-end hotels in Shanghai, with its glass-sided swimming pool, vast twin ballrooms and upscale spa, but the first Cordis hotel on mainland China boasts something that is genuinely rare in big Chinese cities: clean indoor air.
Modest occupancy rates in the megacity's 5,000-plus hotels mean that operators have been desperately competing to attract guests with cheap deals and ever more luxurious features. In a city where air pollution as measured by PM2.5s — tiny particles deemed particularly harmful to health — recently increased 9 percent year-on-year and now regularly exceeds capital Beijing — one luxury hotel has a new wheeze.
All the air that enters the Cordis Hongqiao is passed through two levels of filtration and continuously cleaned, while double-glazed windows remain closed to seal the fresh air inside. Pollution monitors are fitted in all 396 guest rooms and TV screens display PM2.5 levels. Air quality inside the rooms is typically about 10 times better than that outside.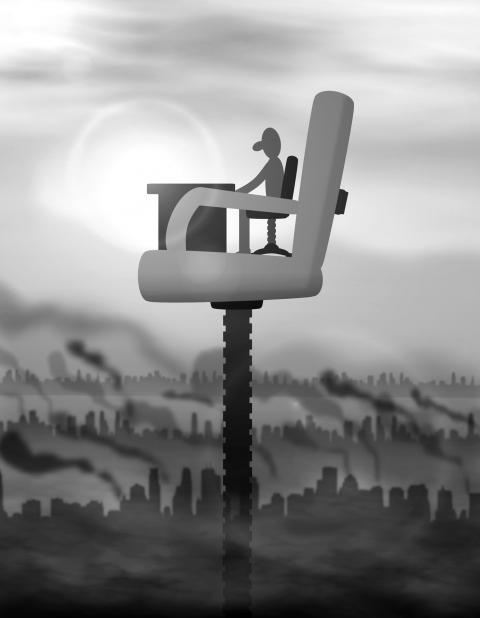 Illustration: YusHa
"I think people can sleep easier knowing that the air quality in their room is far superior to any other hotel, and far superior to what it is outside," said John O'Shea, managing director of Cordis Hongqiao.
Guests have so far rated the Shanghai hotel highest for satisfaction out of the Langham Group-owned brand's 22-hotel portfolio.
While air pollution has long been on the nation's mind, indoor air is a newer battleground. Even in very polluted cities, indoor air quality can be worse than the air outside. As well as PM2.5-heavy air entering homes and offices through open windows or poor insulation, high levels of formaldehyde, carbon dioxide and volatile organic compounds (VOCs) — gases that can be emitted by poor building materials, furniture, paints and adhesives — are an additional concern.
"Indoor pollution is a very serious problem and health threat, not just in China but worldwide," said Sieren Ernst, founder of environmental consultancy Ethics & Environment. "Most people spend 90 percent of their time indoors, and the exposures that we are getting from that time remain largely unexamined."
GROWING AWARENESS
However, public awareness in China is on the rise.
In 2013, market research provider Euromonitor said there were 3.1m air purifiers in China, in a market worth 6.9 billion yuan (US$1.1 billion). By the end of this year, sales are expected to more than double in size to 7.5 million air purifiers, in a market worth nearly 16.5 billion yuan.
A growing number of employers and building managers are installing air filters in offices, while relocation companies are offering indoor air-quality assessments to top-tier expatriates, and Starbucks built its enormous new Shanghai Reserve Roastery to LEED platinum standards, including air quality monitoring.
China's only homegrown, international green building standard, Reset, is primarily focused on indoor air quality. Launched by the China-based architect Raefer Wallis, a Reset-certified space must have been within healthy limits for PM2.5 (12mcg/m3), carbon dioxide (600ppm), VOCs (400mcg/m3) and other pollutants for three consecutive months, and is reassessed annually.
Meanwhile, as part of its 13th five-year plan, Beijing mandated at least half of new urban buildings must be green-certified by 2020. As public interest and regulatory arguments for improving indoor air gather strength, Chinese businesses and institutions are rushing to be ahead of the curve.
"We worked with a couple of schools [on indoor air quality] in Shanghai and Beijing in 2013 and 2014," said Tom Watson, director of engineering at environmental consulting company PureLiving, which now works with about one-third of Fortune 100 companies to clean up their office air. "As soon as they made the changes it became their market differentiator, then all the other schools had to follow suit, and that's what we're seeing replicated now in the commercial market."
In the city's new Taikoo Hui complex, the air inside consultancy JLL's 22nd-floor office is largely unaffected by the hazy skyline outside. Last year, the office was recognized as the healthiest in the Asia-Pacific region and the third-healthiest in the world, meeting stringent standards from the International Well Building Institute, and introducing a customized app for staff to check real-time indoor air quality.
"To be honest, our first response was that this is too tough in a first-tier city in China," JLL Greater China energy and sustainability services head Wu Xuchao (吳旭超) said. "The Well standards are set in such a way that you have to commit to meeting 15mcg/m3 [PM2.5] in the ambient air; it might not be that much of a challenge in UK or US cities, but in China it's particularly challenging. Especially when, say, it hits 200 outside and you need to get a 95 percent reduction in PM levels."
Top-quality filtration systems such as JLL's use a tight mesh that removes dust and particulates far too small to be seen by the naked eye.
Ceiling filtration units ensure that clean air is spread evenly, and the best units offer automation to adjust their filtration rate depending on outdoor pollution. Systems also need to allow an adequate fresh air supply, otherwise PM2.5 falls, but carbon dioxide increases. Developers such as Tishman Speyer are working within Reset standards to install high-end clean air filters across their whole China portfolio.
The WHO estimates that indoor and outdoor air pollution causes about 6.5 million premature deaths every year, while a comprehensive global study last year concluded that China and India accounted for about half of all premature deaths from pollution in 2015. Data analysis by the German Institute of Global and Area Studies found that working in an office with high-level filtration systems can raise an employee's life expectancy, estimating that staff in Tishman's China offices gained an average of 6.3 days a year on people working in unfiltered workplaces.
THE BENEFITS
Subtler impacts of pollution are still being investigated. A landmark study last year from Harvard's Center for Health and the Global Environment found occupants of high-performing green buildings had higher cognitive function, fewer symptoms of sickness and better sleep quality. Good indoor air can also help with staff retention: A Reset survey concluded that 56 percent of surveyed staff in China use poor workplace health as a primary reason to change jobs.
With a plethora of apps and affordable monitors available, greater knowledge of air quality could affect Chinese consumer behavior, too.
"In the future you can imagine the scenario where you want to go out for a coffee or a meal, but before you choose the restaurant or coffee shop you look up which one has the best indoor air quality," Watson said.
As well as top-quality filters, guaranteeing good indoor air requires reliable monitors that are maintained to prevent them from "drifting."
The Reset certification also grades monitors: Grade A monitors are far more accurate and professionally calibrated, whereas mass-produced grade C monitors are, in Wallis' words, a "Russian-roulette" and can collect wildly inaccurate readings.
The rapid expansion of the clean air market also leaves it open to abuse, with unreliable marketing and questionable purifiers promising additional tricks such as the ability to repel mosquitos.
According to the Xinhua news agency, a quarter of consumer air purifiers tested by a government inspection agency failed quality checks, and new state standards are reportedly in the pipeline.
"We were in a shopping mall earlier this week where they had monitors installed and the data was amazing," Wallis said. "But the monitor was right next to the filtered air supply. So what the monitor was reading was 30mcg/m3 of PM2.5; what the people were breathing was 300mcg/m3."
For Shanghai's Cordis hotel, the Reset certification is a hard-earned point of differentiation on its many luxury competitors.
O'Shea said he hopes the clean air will ultimately boost room prices by about 10 percent.
"I think back to the days when everyone used to charge for the Internet," he said. "Now the Internet's like hot water — if you don't have high speed, fast, easy-access Internet for free, then it's over. The indoor air quality is going to be like that too — if you can't guarantee your customers much better air quality than the competitors, it's going to be a fait accompli. It's already getting that kind of importance."
Comments will be moderated. Keep comments relevant to the article. Remarks containing abusive and obscene language, personal attacks of any kind or promotion will be removed and the user banned. Final decision will be at the discretion of the Taipei Times.