Ian Easton On Taiwan: Making arms sales normal again
The United States has a long-standing defense and security relationship with Taiwan. Yet over the past decade the arms sales component of this relationship has gotten out of whack. Why do arms sales matter? Why have they been occurring in an irregular fashion? How can they be made normal again?
For Washington, arms sales to Taiwan have long been an important instrument of statecraft. In the absence of diplomatic relations, they have become the most important signal America can send regarding its official position on Taiwan's sovereign status. To date, this signal has successfully helped ensure the preservation of regional peace and prosperity.
Taiwan arms sales also matter to the US because they prove that the White House is living up to its legal commitments under the Taiwan Relations Act (TRA).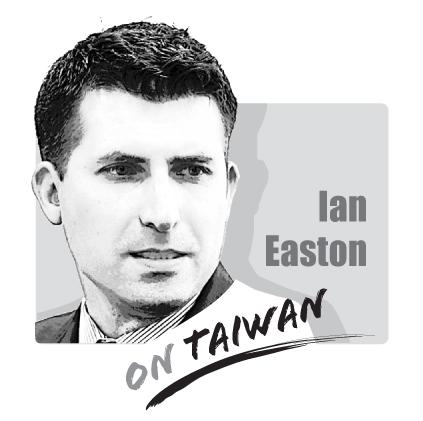 The TRA has two key security provisions. First, it states that: "the United States will make available to Taiwan such defense articles and defense services in such quantity as may be necessary to enable Taiwan to maintain a sufficient self-defense capability."
Second, the TRA commits the US government to "maintain the capacity of the United States to resist any resort to force or other forms of coercion that would jeopardize the security, or the social or economic system, of the people on Taiwan."
Arms sales help satisfy the first provision. This has become increasingly important since the late 1980s, when Taiwan began transitioning into the flourishing democracy that it is today. As a matter of principle, Washington supports fellow democracies because common values generate common interests.
Of course, the significance of arms sales goes well beyond the rarified realm of policy. They provide very real military capabilities to the Taiwanese armed forces. The growing Chinese military threat facing Taiwan means this island nation must have a well-equipped, modern defense force. The alternative is to be weak and present China with a tempting target.
Here there is serious cause for concern. Over the past ten years, the US and Taiwan have been on a slippery slope. Consider the following:
In 2007, new US arms sales to Taiwan were notified to Congress on four separate occasions. Announcements occurred in February, August, September, and November. This was completely normal. From 1990 to 2007, arms sales to Taiwan were announced, on average, once every three to six months, depending on the year.
Then everything started to come unglued. Reacting to considerable pressure from a more powerful China, the George W. Bush administration began to freeze arms sales. Their idea was to wait until a good time came along on the US-PRC diplomatic calendar, to pull the trigger on Taiwan arms sales when it would least "offend" the Chinese — thereby softening any damage to relations with Beijing.
The first freeze was eleven months long. In October 2008, when the next arms sale was notified, it came as an enormous package deal, or "bundle." It included everything from Apache helicopters and Patriot missile defenses to sub-launched Harpoon missiles and Javelin anti-tank rockets. This inspired some hope that the US was not letting China call the shots.
But then another freeze happened. This time it was one year and three months long. The Bush administration was responsible for a small part of it, the newly minted Obama administration the lion's share.
Under President Barack Obama's leadership, the situation grew stranger. The next two arms sales freezes lasted one year and nine months and four years and three months, respectively.
The Trump administration's June 2017 arms sales notification came after an 18 month freeze, of which 13 months elapsed on Obama's watch and five months on Trump's. To date, another eight months have passed without new notifications.
The continuation of this aberrant arms sales policy has four negative effects:
First, it sends the signal that America cares more about smooth relations with authoritarian China than meeting commitments to democratic Taiwan. This validates China's coercive, zero sum approach. Encouraging a strategic competitor's aggressive behavior is not something Washington should be doing. Allowing itself to be bullied is worse.
Second, it gives Taiwan's government, parliament, and media sticker shock when arms sales packages are finally announced because the accumulated amounts are so massive.
Third, it disrupts Taiwan's ability to manage its defense budgets. When expected arms sales fail to materialize, the military has to reduce its planned allocations for equipment. When offers suddenly do get put on the table, the money is not there to spend.
Fourth, it increases uncertainty. No one ever knows for sure when the next sale might occur. This heightens doubts and reduces morale in Taipei.
The last thing the American people would want is to worsen Taiwan's already huge challenges. But that is exactly what their government leaders have been doing for over a decade.
The solution is obvious: to go back to the pre-2008 system. Taiwan arms sales should be announced regularly. That would quickly remove the excessive drama that surrounds them.
If all parties play it smart, none of these weapons will ever be used in anger. But Washington needs to think more strategically about the signals it is sending to Beijing and Taipei when it freezes and "bundles" arms sales.
Arms sales alone will not be enough to preserve peace in the Taiwan Strait. The Trump administration would be well advised to think about doing new things with Taiwan in the diplomatic, economic, and security realms. The Taiwan Travel Act provides such an opportunity.
Xi Jinping (習近平) has officially become the dictator of China. This means the Indo-Pacific region will almost certainly become more dangerous in the near future.
Washington must keep working hard on enabling Taiwan's maintenance of a sufficient self-defense capability. The first step is making arms sales normal again.
Ian Easton is a research fellow at the Project 2049 Institute and author of The Chinese Invasion Threat: Taiwan's Defense and American Strategy in Asia (中共攻台大解密).
Comments will be moderated. Keep comments relevant to the article. Remarks containing abusive and obscene language, personal attacks of any kind or promotion will be removed and the user banned. Final decision will be at the discretion of the Taipei Times.