Scandals deal a blow to Japanese companies' promise of quality
Several high-profile fraud cases have come to light since the country in 2006 adopted a whistle-blower law, but one analyst said they were more worried about the lack of such cases in the US
Japan's flagship companies were once held in awe as fierce competitors that revolutionized the world's business practices with innovations like flexible manufacturing and managerial precepts such as kaizen, or continuous improvement.
These days, Japan Inc is turning heads for a less exalted reason: a string of scandals that has destroyed shareholder value, enraged consumers and incurred the wrath of regulators.
Kobe Steel, a maker of high-end alloys, raised fresh concern about the integrity of Japanese manufacturers after it on Sunday disclosed that it falsified strength and durability data on aluminum used in products ranging from cars built by Toyota Motor Corp to bullet trains made by Hitachi.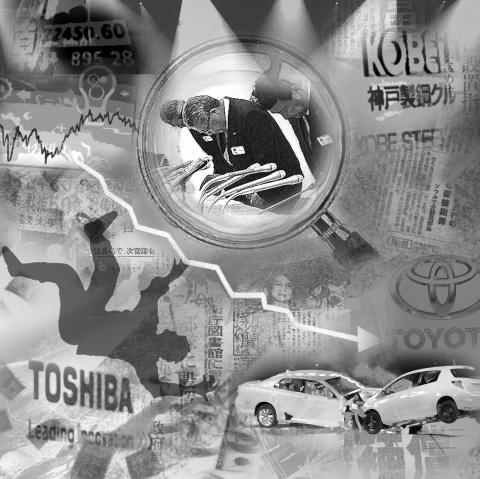 Illustration: Kevin Sheu
Kobe Steel chief executive officer Hiroya Kawasaki is now leading a committee to probe quality issues.
Last week Nissan Motor Co recalled more than 1 million vehicles because unauthorized inspectors signed off on quality checks, which chief executive Hiroto Saikawa has called a "shocking" lapse.
Takata Corp, the bankrupt Japanese maker of airbags linked to at least 17 deaths worldwide, expanded the biggest recall in automotive history after regulators in July concluded that its inflators could still explode in a crash even after new safety measures.
"These problems are coming to light pretty regularly," said Keita Kubota, an investment manager at Aberdeen Investment Management KK in Tokyo. "It's not fair to single out Japan, but investors need to be looking very carefully to make sure they're putting their money into companies that take governance and compliance seriously."
UPWARD TREND
Since Japanese Prime Minister Shinzo Abe took office in 2012, there has been a concerted push to improve corporate governance, but the focus has been mainly on improving profitability, rather than policing bad behavior. Share buybacks and dividends have surged.
So have the numbers of scandals. In the five years after a US$1.7 billion accounting fraud was uncovered at medical equipment maker Olympus Corp, the number of improper accounting cases unearthed each year at publicly traded Japanese companies has nearly doubled.
The trend hit a record high of 58 cases in the 12 months through March last year, according to Tokyo Shoko Research, which provides data on corporate bankruptcies.
Japan's regulators imposed an unprecedented ¥7.4 billion (US$66 million) fine against Toshiba Corp in December 2015 after finding that the giant manufacturer of nuclear power plants and semiconductors misled investors by filing false financial statements. The scandal claimed the jobs of three presidents, led to record losses and prompted the company to cut staff and sell off businesses.
More cases of fraud coming to light might actually be a sign that corporate Japan is doing better at ferreting out abuses, said Jesper Koll, chief executive of WisdomTree Japan, an investment firm in Tokyo.
"I find it hard to believe that the system is falling apart any more than it always has," he said. "The Japanese take this stuff extremely seriously. They're sticklers for rules and precision. I'm more scared of the fact that at US industrial companies, we haven't heard about any of these errors coming through."
Still, fraud has a particularly strong power to damage Japanese corporations, because so many have banked for years on a reputation for quality, said Nicholas Benes, a representative director of the Board Director Training Institute of Japan, which offers courses on corporate governance for executives.
"Japanese manufacturers are very aware that their brand, their reputation, the sustainability of their businesses rest on quality," he said. "So lots of people are thinking, 'we should clean up our act, if we have something to clean up.' Those that don't could get into a lot of trouble."
OUT IN THE OPEN
One reason that more problems are being unearthed is a Japanese law adopted in 2006 that protects whistle-blowers from being fired, Benes said.
Another reason is the simple fact that so much data is digital now, which means companies like Kobe Steel can analyze it and workers can e-mail it to regulators.
Kobe Steel said its own internal inspections brought the fabricated data to light, but the scandal has already proven expensive.
Shares on Tuesday plunged 22 percent in Tokyo, erasing almost US$1 billion in market value.
The company might also have to foot the bill for any recalls that follow, said Takeshi Irisawa, an analyst at Tachibana Securities Co in Tokyo.
Kobe Steel executive vice president Naoto Umehara on Sunday said that workers at all four of its domestic aluminum plants had systematically fabricated inspections data in conduct that went back about a decade in some instances.
No safety issues have been reported, the company said in a statement.
Automakers including Toyota, Nissan and Honda Motor Co said they used the materials in car doors and hoods.
Subaru Corp said it put them into aircraft wing sections.
Subaru makes plane parts for Boeing Co, which said in a statement that its own reviews to date suggest there are no safety issues.
"The main impact is probably reputational," said Zhu Yi (朱軼), a metals and mining analyst at Bloomberg Intelligence in Hong Kong. "It does send a message to the market that their products may not be perfect and it may open a door for producers in other countries like China."
Comments will be moderated. Keep comments relevant to the article. Remarks containing abusive and obscene language, personal attacks of any kind or promotion will be removed and the user banned. Final decision will be at the discretion of the Taipei Times.