Hong Kong property cooling set to fail as shadow lenders abound
Non-bank money lenders funded nearly 9 percent of mortgages for new apartments completed last year as the authorities shy away from extreme measures for fear of triggering a housing collapse
Hong Kong's latest attempt at cooling home prices in one of the world's most expensive property markets is expected to send buyers scouring for loans in the unregulated shadow banking industry, spreading risk across the financial sector.
Home prices in Hong Kong, where a nano-apartment of less than 18.5m2 can cost as much as US$500,000, have surged more than 137 percent since the financial crisis in 2008, propelled by a supply shortage, low interest rates and big flows of money from Chinese investors.
They pose a huge challenge for the territory's incoming chief executive, Carrie Lam (林鄭月娥).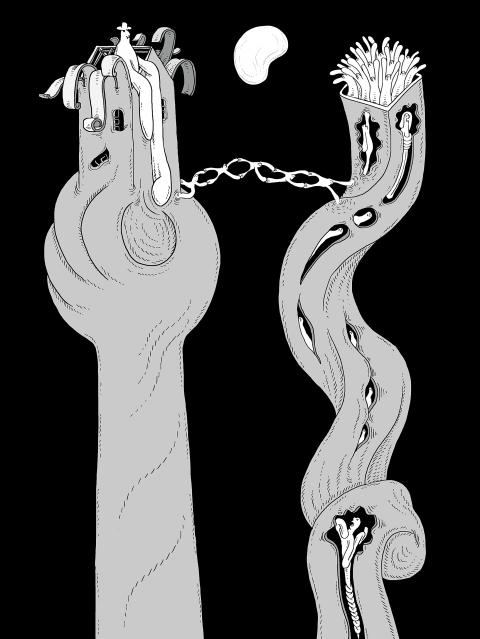 Illustration: Mountain People
The cost of accommodation in the territory, where home ownership is a distant dream for many, was among the triggers for mass protests in late 2014.
Authorities have failed to rein in prices, despite eight rounds of mortgage tightening by the Hong Kong Monetary Authority (HKMA) since 2009, on top of a series of tax and regulatory policies imposed by the government.
As those measures have curbed bank lending, finance companies have leapt into the gap.
They funded 8.7 percent of mortgages for new apartments completed last year, according to Centaline Property Agency.
For flats that have a completion date this year, the figure surges to 15.5 percent and is expected to rise further, it said.
Few expect the authorities to take extreme measures — such as imposing punitive taxes on Chinese buyers — for fear of triggering a collapse in prices in a real-estate industry that accounts for 10 percent of Hong Kong's economic output.
Revenue from properties and related investments is estimated to have more than doubled in the fiscal year that ended March from the previous year, and is the second-biggest income generator for the government.
However, there is a danger that if the non-bank lenders overstretch they could also hurt confidence in the real-estate market.
In Canada, problems at the nation's biggest non-bank lender, Home Capital Group, have helped to drive some buyers away from the hot Toronto residential market.
Controlling the flood of capital flowing across the border is a huge challenge for the Hong Kong government — cash-rich Chinese last year accounted for about 21 percent of buyers of new homes, according to Centaline.
"The major concern to the government is that lower land prices would greatly affect the government's revenue, which has been very volatile as a large part of that is from land premiums," Natixis economist Pascal Siu said.
The latest cooling steps announced 10 days ago — mainly making it costly for banks to make mortgage loans — were not aimed at targeting property prices, but at strengthening lenders' risk management, a spokesperson for HKMA said.
"The focus of the regulators is to ensure that the bubble in the property market doesn't dent the bank balance sheets," an executive at a foreign bank with mortgage business in Hong Kong said. "They don't want to rock the boat and make the property prices correct by 10 to 20 percent in a short span."
Some of Hong Kong's largest commercial banks in the mortgage loans market said they would raise interest rates following the measures, though the increases are modest.
The shift in lending into unregulated shadow banking channels is a concern, analysts and industry officials said.
"This is not healthy. When people can't borrow from banks, they are forced to turn to finance companies. It is not healthy, because the HKMA cannot regulate finance companies," Centaline research director Wong Leung-sing (黃良昇) said.
The HKMA spokesperson said while it did not regulate non-banking firms, it last year advised banks to ensure finance companies with whom they maintain a credit relationship comply with the central bank's guidelines in extending mortgages to their customers.
"Given this requirement, banks should not be providing loans to finance companies which offer high LTV [loan-to-value] mortgages to property buyers," the spokesperson said.
However, property agents said some non-banking firms lend as much as 100 percent of an apartment's value.
Banks' average loan-to-value ratio for new mortgages was 51 percent in December last year, according to Standard & Poor's.
In the first major sale since the latest HKMA measures, thousands flocked to snap up flats offered on Friday by the territory's No. 2 developer, Cheung Kong Property Holdings, lured by favorable financing terms.
Cheung Kong Property offered several mortgage plans, including one that partners with its subsidiary finance company to lend up to 85 percent of an apartment's value.
The HKMA's new measures had little effect on sales, which were dominated by local buyers, Cheung Kong Property executive director Justin Chiu (趙國雄) said.
While the lending exposure of shadow bank firms in the property market is only about 10 percent, industry insiders said the main risk is the regulatory vacuum in which they operate.
Shadow banks get the bulk of their funding from commercial banks, and in the event of a sharp correction, banks would be forced to pare exposure to the property sector, badly squeezing liquidity for the non-banking firms, they said.
Any major distress in the sector would be a blow to Lam, who has made affordable housing a top priority.
"Government policies are useless and I don't expect the government to do anything to help us. Their policies will only induce counter effects — the price rises, even uphill, as seen in the last few years," said Chung Siu-sha, 47, a Hong Kong housewife looking to buy a three-room flat at Cheung Kong Property's sales on Friday. "If the government has wisdom, they should completely bar non-local buyers from buying local flats. Because non-local buyers are pushing up the property prices. They are the culprits."
Additional reporting by Clare Jim and William Ho
Comments will be moderated. Keep comments relevant to the article. Remarks containing abusive and obscene language, personal attacks of any kind or promotion will be removed and the user banned. Final decision will be at the discretion of the Taipei Times.