Spatial apartheid driving housing protests in Cape Town
Desperate for affordable housing, some residents of South Africa's second city have taken over a nurses' home and a hospital — and drawn attention to how the country's troubled history makes gentrification even more damaging
Glitzy shopping arcades. Fine alfresco dining. A world class aquarium. A recently opened five-star hotel in a grain silo converted by Thomas Heatherwick's studio, offering guests views of the harbor and Table Mountain through bulging "pillowed glass windows." Those in the penthouse suite have paid the equivalent of up to US$10,250 per night for the experience, dependent on the season.
This is Cape Town's V&A Waterfront. One of South Africa's most visited attractions, more than 24 million people flock to the centrally located harbor every year.
However, tourists need not wander far to be met with a grittier scene. Behind Somerset Hospital — a historic public facility in neighboring Green Point that dates back to 1862 — large painted banners emblazoned "Reclaim the City" call for an end of segregation.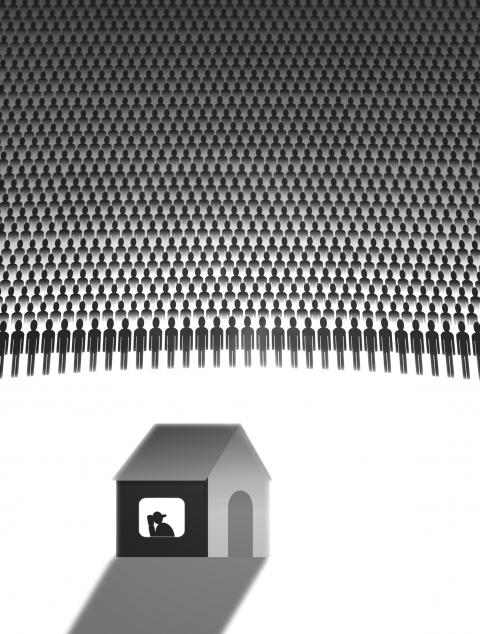 Illustration: Yusha
"We're into our second month now," Sheila Madikane said. "We don't get rest time, because we are always between meetings, work, the occupation and our homes ... if we have them. Even tonight I have to go back to my children because the electricity has run out. It's all part of the struggle."
A domestic worker, Madikane is one of a small group of Cape Town residents who have moved into Helen Bowden Nurses' Home — a large, disused building which once housed hospital workers. The occupiers are from all over Cape Town, but have one thing in common: lack of access to affordable housing in the city.
According to local non-governmental organization Ndifuna Ukwazi, the average family in Cape Town could spend 300,000 rand (about US$23,310) on a home, but the average sale price is more than three times this at 1 million rand.
It means most working-class households rely on renting, often in crime-ridden areas on the city's periphery. If they do live in well-located areas, their tenure security is put at risk by gentrification and steep rent increases.
The occupation began at the end of March when the Western Cape Government announced plans to proceed with the sale of the Tafelberg building in nearby Sea Point, despite widespread opposition.
It was deemed controversial in the context of Cape Town's housing and segregation crisis — particularly because the province had declared the site feasible for social housing back in 2012.
The occupiers are refusing to accept the sale and are demanding commitments from the provincial government to turn similar buildings in the city into social housing. In particular, they are hoping to convince Western Cape Premier Helen Zille.
A political heavyweight within the increasingly popular center-right opposition party the Democratic Alliance, Zille is dealing with a charge from her own party following a series of tweets she wrote suggesting colonialism brought benefits to South Africa.
Now, she is up against a court case over Tafelberg, and Reclaim the City's demands and "symbolic occupations" of Helen Bowden Nurses' Home and Woodstock Hospital — both publicly owned buildings earmarked for social housing, which remain abandoned.
At the Helen Bowden Nurses' Home occupation I meet Reclaim the City supporter Unathi — not her real name. We take a walk around the area, which until recently she called home.
Unathi was born in 1961 in Gugulethu Township in the Cape Flats — an expansive area on the outskirts of the city where the apartheid regime built designated black and colored (the word used in South Africa to describe people of mixed ancestry) townships.
Initially too young to have much awareness of apartheid, she became interested in political activism as a teenager — about the time of the Soweto Uprising in 1976. After the regime fell, Unathi could have been a cover girl for social mobility in the new South Africa. She got a job in Cape Town as a parliamentary liaison officer, bringing up her children in inner-city suburbs.
"I grew up in the township, but not one of my kids has ever attended a township school. That was very important for me," she said.
However, when she divorced, Unathi was hospitalized with depression and had to leave work. Since then, her income has been unstable. Unathi has financial support from her children who work at the Waterfront, but the prices in the area are becoming too high.
She recounts an incident of racism when moving into a new apartment in Sea Point.
"I began moving my things in and the black caretaker said to me: 'I don't think you will stay here because people here are very racist,'" she said.
After just a few days staying in her new place Unathi met the tenants' chairperson in the elevator who asked her for information about which apartment she was renting.
When she went away for a few days to visit family, Unathi returned to find new tenants had moved into her apartment . With no lease agreement, she had no choice but to remove her things and leave.
Unathi is now back in the Cape Flats in Langa township, where she lives with her family, including her infant grandson whom she cares for most days.
Apartheid spatial patterns repeat themselves here, as people like Unathi are pushed to the townships, living either in the homes of extended family or in so-called government relocation camps, far from work opportunities and basic services.
Having lived another life she is deeply unhappy in Langa, where gang crime and sexual violence are a daily occurrence. A group of boys with knives recently targeted her 14-year-old grandson when she took him to buy school shoes; not recognizing his face they assumed he was in a rival gang.
"We don't fit in much," she said. "You are called names. When you go back to the township after living in a suburb it means you are doomed, and you must live with that."
The Tafelberg property is located in Sea Point, 10 minutes' walk along the coast from the Waterfront. Along the beachfront promenade, toddlers in pushchairs messily eat ice creams, lycra-clad runners speed past, couples sit on brightly colored benches to admire the ocean view.
This is where, for the past 30 years, occupier Sheila Madikane has lived, worked and raised three children.
A desirable district due to its proximity to the sea and the inner city, Sea Point was reserved as a whites-only zone during apartheid, like much of central Cape Town.
Now it is considerably more diverse and despite increased crime in the 1990s, it is now one of the most affluent parts of Cape Town. This has given rise to a different type of violence, occurring not on the streets, but in the homes of working class, non-white people facing forced evictions.
Madikane and her friends live in constant fear of this fate, and she is going through a court case to hold on to her home of 14 years.
"Sea Point has changed a lot. Now it's become a place for people to go shopping and go out to restaurants," Madikane said as she showed me around her neighborhood, full of establishments that she does not have the time or money to access.
"But the place changing doesn't bother me. The only thing that bothers me is that they don't want black and colored people to live in the inner city. We want to make the city a mixed income place where all can stay, but the [Western Cape] government doesn't want that. If they did, they would have given us these buildings a long time ago," she said.
Like Sea Point and the Waterfront, in the east of the city Woodstock also attracts a steady flow of visitors, though of a slightly different ilk.
A "gray" area under apartheid, it was one of the few central areas black and colored people were able to live — but a rise in artist studios and cafes offering Wi-Fi and flat whites has increased property prices, and evictions.
This is a familiar trend in European and US cities, but the history of Cape Town makes the effects of gentrification even more profound — before the spacial injustice of the past has been cured, more injustices are layered on top.
Reclaim the City advocate and Woodstock local Charol is a petite, kind-faced woman who works as a cleaning supervisor. Her family moved to the area in the 1970s when they — and 60,000 others — were forcibly removed from District Six.
One of the most infamous mass evictions of the apartheid era, the regime dismantled what was a hugely diverse and culturally rich community in the inner city.
After the removal, life continued in nearby Woodstock, where Charol and her family benefited from access to work and good schools.
However, last year the bulldozers came — as they did in District Six all those years ago — and she was forced to leave. Her wooden house was demolished to make way for a shopping mall.
Woodstock, one of the last remaining central areas where working class black and colored communities live, is being fast lost to high-end property developers and businesses.
Yet just a short walk from the train station lies the Woodstock Hospital building, which until the occupation was empty since the 1990s and was deemed feasible for social housing as early as 2002.
Meanwhile Charol, unable to afford rent in Woodstock, has been forced to live in the Cape Flats for the first time in her life.
"It is so far from the city. I have to leave the house at 5am and I don't get home till dark, when it's not safe, and to bed until past midnight," she said.
Violent crime is rife in Manenberg, the township where she lives, and Charol is particularly concerned about the future of her 22-year-old son Ashley.
Having never been in trouble when they lived in Woodstock, after getting caught up in crime in Manenberg he is serving five years in jail for stealing a mobile phone. However, Charol refuses to give up hope.
"I grew up in the inner city. My granny lived in District Six all her life. She fought for her rights and my mum after her fought for her rights, so I'm not going to leave my rights behind. I am still fighting. This land belongs to me because of their fight," she said.
The racist spatial planning that built Cape Town means that without deliberate attempts to rectify the past, segregation and gentrification continues at the expense of poorer non-white communities. By law, this should not be the case.
Formed after the return to freedom in 1994, in section 25 of the South African constitution it says "there is a positive obligation on our government to redress land that is legally insecure because of past racial discriminatory patterns,"said Chriscy Blouws, a lawyer at Ndifuna Ukwazi, the non-governmental organization coordinating the Reclaim the City campaign.
Technically in South Africa nobody can be evicted from their home without a court order — even if the tenant breaches a lease agreement, Blouws said.
Protections like these seek to ensure human dignity and redress the unlawful dispossession of land that occurred during apartheid.
However, this law, which Blouws describes as "a beautiful law, a beautiful right," is not being implemented and the government is "instead using an apartheid style of governance."
These are the kind of arguments being made in the non-governmental organization's lawsuit against the Western Cape Government over the Tafelberg case.
Using the building for social housing would be an easy way for the provincial government to begin spatial justice in Cape Town: Tafelberg is publicly owned, has been officially recommended for social housing — ideal accommodation for the many domestic workers in Sea Point — and the right laws are in place to make it happen.
"We should be looking at long-term goals and even the profit you could eventually get from a mixed income social housing development," Blouws said. "Instead, we are selling it off to private property developers so that we can extract more money from it."
Comments will be moderated. Keep comments relevant to the article. Remarks containing abusive and obscene language, personal attacks of any kind or promotion will be removed and the user banned. Final decision will be at the discretion of the Taipei Times.