US border agents rejecting refugees: report
Trump's rhetoric on illegal immigration seems to have encouraged some border agents to act beyond their purview by turning away people seeking refuge
By the time Francisca, Armando and their two surviving children made it to the US border in late February, they were hungry, exhausted and virtually penniless, but the couple, which said their son had been killed by a gang in El Salvador and that their daughter had nearly been raped, thought they had finally reached safety.
Under US and international law, everyone who asks for asylum is supposed to be allowed into the country to plead their case — but instead, the US Customs and Border Protection (CBP) agent shooed them away, they said.
"There is no asylum here," Francisca, 32, recalled the agent telling them. "We are not granting asylum."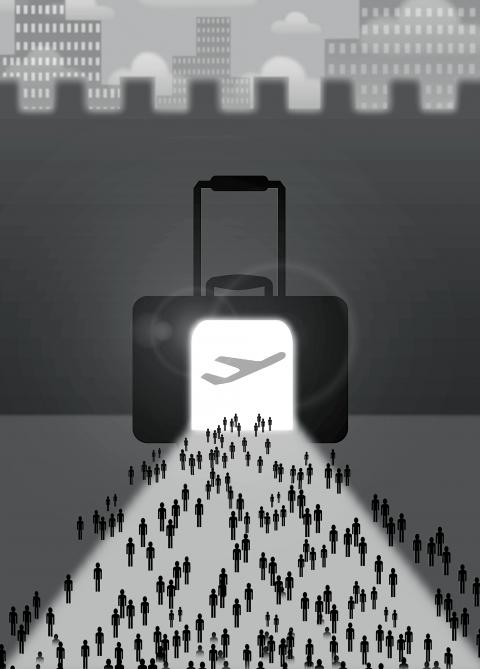 Illustration: Yusha
Customs agents have increasingly turned away asylum seekers without so much as an interview, according to migrants and their lawyers, in a trend first noted several months ago and that appeared to accelerate after US President Donald Trump's inauguration.
That has left an untold number of migrants trapped in Mexico, where they have sometimes fallen prey to kidnappers seeking ransom or been driven into the hands of drug cartels and smugglers. Some have tried to enter the US illegally and dangerously, through the desert or across the Rio Grande, a risky journey.
"By rejecting asylum seekers at its borders, the United States is turning them away to face danger, persecution, torture, kidnapping and potential trafficking in Mexico," Human Rights First, an organization that has studied the problem, said in a report released on Wednesday last week.
No hard data exists on how often customs agents prevented asylum seekers from entering the US, but many do make it past the border gates.
Human Rights First said it had documented 125 people or families from countries including Colombia, El Salvador, Guatemala, Mexico and Turkey, who were turned away at entry points in Arizona, California and Texas from November last year to last month.
The organization said the actual number was likely to be far higher, since most of the migrants never make contact with a lawyer or US advocate.
In response to questions, CBP said that the US adhered to international law and convention permitting people to seek asylum on the grounds that they were being persecuted because of their race, religion, nationality, political belief or other factors.
"If an officer or agent encounters a US-bound migrant without legal papers and the person expresses fear of being returned to his or her home country, our officers process them for an interview with an asylum officer," it said in a statement.
The Trump administration has not ordered customs agents to turn away asylum seekers, but Trump has made it clear he believes the asylum system contributes to the problem of illegal immigration.
LIVING IN FEAR
By law, those who request protection at a US entry point must first be referred for a screening, known as a credible-fear interview, with an asylum officer from US Citizenship and Immigration Services.
If the asylum officer decides an individual has a significant chance of proving a fear of persecution in their home country, that person is allowed to apply for asylum before a judge, and from October last year through March, more than 38,000 people passed that step, the immigration agency said.
However, in recent years, judges have approved less than half of asylum requests.
For migrants from Mexico and Central American countries, those numbers are even lower: only 10 percent to 23 percent since 2011, data compiled by researchers at Syracuse University shows.
Many refugees from the region claim they have been targeted by gangs, which is harder to prove than political persecution, or base their claims on poverty, which is not a ground for asylum.
If they are denied, asylum seekers can be deported, but since many are released while their case is pending, some never return to court and evade deportation.
The Trump administration has said asylum seekers should be released less often, and some lawyers said more of their clients are now being detained.
Border crossings have dropped drastically since Trump took office, a sign that his tough talk is discouraging people from even trying the journey.
Advocates for refugees say that Trump's talk has also emboldened some customs officers to ignore the law and take it upon themselves to keep refugees from receiving an asylum interview.
"The tenor of interactions with CBP officers has veered toward the openly hostile following his election," said Nicole Ramos, a US lawyer representing asylum seekers traveling through Tijuana, Mexico.
Francisca, who requested her last name be withheld because of concerns for her family's safety, said she tried to show some documents to the border agent in Tijuana — the death certificate for their son who was killed and a police report documenting the attempted rape of their daughter, also by gang members.
However, the official threatened to have the family deported if they did not retreat into Mexico, she said.
"They treated us like we were trespassing," said Francisca, who returned to a shelter for women and children with her 14-year-old daughter.
Her husband, Armando, is with their 18-year-old son at a men's shelter down the street.
The report by Human Rights First said that a Honduran family was kidnapped and forced to pay a ransom for their release after they were turned back to Mexico twice by agents in Texas.
CARTEL PREY
Shaw Drake, the lead researcher of the report, said the area surrounding the ports of entry in Texas had been nicknamed the "hunting ground," where cartels see refugees as easy prey for exploitation.
When he fled Mexico's Guerrero State, Benito Jimenez Alarcon, 22, carried a plastic bag filled with photographs of injuries from the time he was kidnapped for three days by gang members. They show bruises spanning his back from side to side, where he said he was struck with clubs.
His legs are covered in bright purple and blue knots from gun lashings.
He thought he would receive an asylum hearing after US border agents rifled through his belongings, including the photographs.
The agents also asked him to remove his pants so they could see his injuries, he said.
However, the agents, possibly acting beyond their purview, told him that he needed police reports.
Jimenez, who was at a Tijuana shelter this week, said that it would be impossible to obtain such reports, because police and gangs in his village collaborate with each other.
A border agent told him he could only claim asylum with the help of a lawyer or through Grupo Beta, a Mexican organization that organized a numbering system to regulate the flow of refugees so they did not all seek asylum at once.
However, that system was intended mainly for Haitians, and non-Haitians have said they have not been given numbers.
Mary Galvan, a Brazilian nun who runs Madre Assunta, a shelter for women and girls in Tijuana, said that asylum seekers who spend weeks preparing documents to prove their cases often return within hours because they are rebuffed by US officials at the border.
Outside in a courtyard, Abi Quijada, 10, and her sister Cesia, 11, also from El Salvador, played with dolls and jewelry-making kits.
Their mother, Sandra, spoke on the telephone with her eldest daughter, Xiomara, 16, who was at a shelter in Texas. The family was separated in Mexico en route to Tijuana.
Sandra said she worried about Xiomara, who struggles with depression and has attempted suicide.
"I feel so powerless," she said, adding that they escaped together after Sandra's former partner, a gang member, became abusive.
Without looking up from the earrings she was carefully constructing with hot pink beads and purple plastic string, Cesia asked in Spanish if it was true that the US was no longer accepting refugios — people seeking refuge — like them.
Abi said she wanted to go to the US "because it's safe there."
Comments will be moderated. Keep comments relevant to the article. Remarks containing abusive and obscene language, personal attacks of any kind or promotion will be removed and the user banned. Final decision will be at the discretion of the Taipei Times.