Brexit to strip Britain of all EU perks, French president says
Britain 'has made a bad choice at a bad moment,' Francois Hollande said, adding that he 'will not give in to despair' over the EU's future or the far right
French President Francois Hollande has warned that Britain cannot hang on to the advantages of EU membership after it leaves, saying his message to Britain is: "That's not possible; the UK will become an outsider to the European Union."
In an interview with the Guardian and five other European newspapers as he prepares to host a summit in Versailles to discuss the future of the EU after Britain's departure, Hollande said he regretted Britain's decision to leave, but stressed France's long-held position that the UK could not exit the EU while holding on to any of the perks of membership.
The UK, which is expected to trigger the Article 50 process to leave the EU within weeks, has been optimistic about finding trade agreements with the EU and an advantageous compromise on financial services.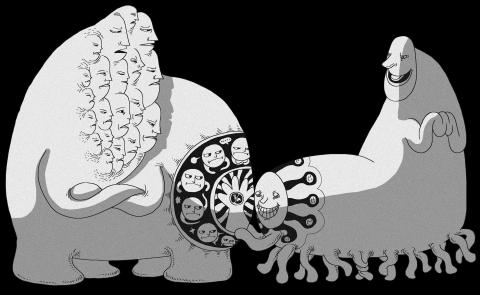 Illustration: Mountain People
However, Hollande said the government would not be able to find an alternative in relations with Washington under US President Donald Trump.
"The UK's problem is this: It had thought that in leaving Europe it would tie up a strategic partnership with the US, but it now happens that the US is closing itself off from the world. The UK has made a bad choice at a bad moment. I regret that," he said.
Hollande hosted a mini-summit with the leaders of Germany, Spain and Italy in Versailles on Monday night to prepare the celebrations of the 60th anniversary of the Treaty of Rome. Those Rome celebrations — to take place without the UK on March 25 — are to include a declaration on the future of the EU post-Brexit. Several options for the shape of the future of the bloc have been put on the table. Hollande said the option of having a "multi-speed" Europe, with different countries integrating at different levels, had been resisted for a long time, but was now becoming a possibility. If not, he warned, Europe could break up.
France will push for a more integrated European defense policy, something that Britain had strongly opposed in recent years. However, Hollande said the door would be open for the UK — which has very close bilateral military ties to France — to have a clear link to any integrated European defense project.
"In my mind, the UK, even outside the EU, should be associated with that," he said.
France is keen to use the Trump presidency to rally Europeans behind closer defense policy. Hollande said Trump's suggestions that the US military should disengage from the international arena and defense cooperation had given a new momentum to plans for closer European defense.
Europe had to avoid depending on any outside powers that might leave it in a "submissive" role, he said.
Asked whether Trump worried him, Hollande said: "This is not just about emotion or fear, it's a political reality for four years."
He said it was clear that Trump's line of action was isolationism, protectionism, closure to immigration and dodging budget rules.
"As for his ignorance of what the European Union is, that means we must prove to him the EU's political cohesion, its economic weight and its strategic autonomy," he said.
Hollande leaves office in May after becoming the first French president since World War II to decide his position was not strong enough to run for re-election.
He has staked his final weeks in office on pushing France's role in defining the future course of the EU, post-Brexit, saying he would not "give in to despair" that the EU was in crisis.
There has been speculation that Hollande could seek a post in Europe after ending his French presidency, but he refused to comment on his plans after leaving office.
"I'm president of France until the beginning of May. That is my only task and focus," he said.
The rise of populist and Euroskeptic parties in several European countries has cast a shadow over future plans for the bloc. France's far-right National Front leader Marine Le Pen, who wants France to quit the euro and has promised a referendum on France's EU membership, is expected to reach the final round of the French presidential election in April and May. The French election race remains highly unpredictable.
The independent centrist French presidential candidate Emmanuel Macron is making gains in polls while the scandal-hit right-wing presidential candidate Francois Fillon is under pressure to stand down. Socialist presidential candidate, Benoit Hamon, who quit Hollande's government in protest at pro-business reforms, faces a left-wing vote that is split with the hard-left Jean-Luc Melenchon.
Asked about fears in some European capitals that Le Pen was a threat to the future of the EU project, Hollande said: "The threat exists. The far right has never been this high for 30 years, but France will not give in."
He said the French people were aware that their presidential election result would determine "not only the destiny of our country, but also the very future of the European construction."
All populists shared the objective of "leaving Europe, closing off from the world and conceiving a future surrounded by barriers of all kinds and borders defended by watch-towers. My ultimate duty is to do everything to stop France being convinced by such a project or taking on such a heavy responsibility," he said.
Hollande said what worried him most in Europe today was "the return of national egotisim — each country looking out for its own immediate interest without bringing a common ambition."
He said if the EU became a place where each nation simply sought to cherry-pick, it would end up "diluted and dislocated."
He said the ghost of late British prime minister Margaret Thatcher still hung over the EU with a growing sense of individual countries' self-interest.
"When a new policy is raised, I hear more and more often the line: 'We don't want to pay more than we get back.' It's the return of Mrs Thatcher's phrase: 'I want my money back.' Britain has left, but that bad attitude has remained," he said.
If each country just came looking for what they had spent, it would be the end of the "common spirit," he said.
The EU must now show its people that it could defend its own commercial interests in the world and it had to speed up its decisionmaking process on urgent issues such as the refugee crisis and the eurozone, he said.
"Europe makes good decisions, but too late," he said.
Hollande said Trump's US election win both reinforced European nationalist and populist parties but also provided an opportunity for European progressive candidates to "clearly bring their projects to light."
On the EU's relationship with Russia, Hollande said Moscow was seeking to affirm itself as a global power, while "testing our resistance."
Russia was "using every means to influence public opinion," including by using new technology, he said, adding that both he and German Chancellor Angela Merkel continued to talk to Russian President Vladimir Putin, "but to talk is not to give in."
"If Europe is strong and united, Russia will want to keep a lasting and balanced relationship [with it]," he said.
Amid the backdrop of fears in Europe of Russian interference or influence in election campaigns, Hollande said: "As for ideological operations, they must be uncovered. There has to be a clear explanation of who is with who, who is financed by who, and why all these far-right movements are more or less linked to Russia."
Interview conducted by Angelique Chrisafis of "the Guardian," Sylvie Kauffmann of "le Monde," Lluis Uria Massana of "la Vanguardia," Marco Zatterin of "la Stampa" and Christian Wernicke of "Suddeutsche Zeitung." In keeping with established practice in France, Hollande's quotes were approved prior to publication.
Comments will be moderated. Keep comments relevant to the article. Remarks containing abusive and obscene language, personal attacks of any kind or promotion will be removed and the user banned. Final decision will be at the discretion of the Taipei Times.