At forefront of climate fight, California plans an offensive
The state gears up for a fight against Trump, who packed his Cabinet with climate change deniers
Foreign governments concerned about climate change might soon be spending more time dealing with Sacramento, California, than Washington.
US president-elect Donald Trump has packed his Cabinet with nominees who dispute the science of global warming. He has signaled he will withdraw the US from the Paris climate agreement. He has belittled the notion of global warming and attacked policies intended to combat it.
However, California — a state that has for 50 years been a leader in environmental advocacy — is about to step unto the breach.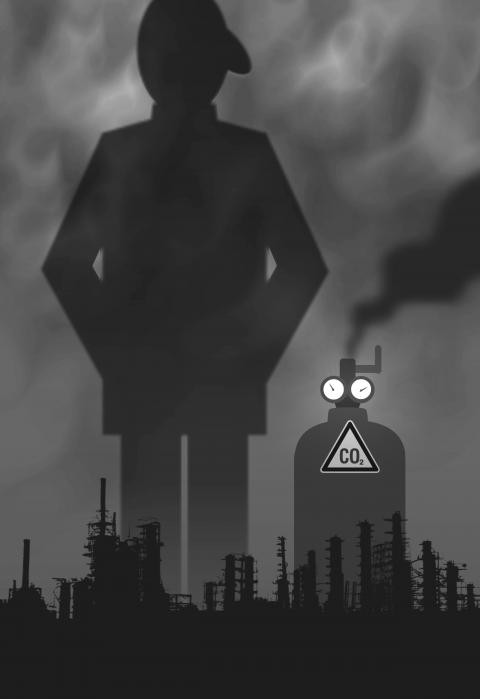 Illustration: Yusha
In a show of defiance, California Governor Jerry Brown, a Democrat, and legislative leaders said they would work directly with other nations and states to defend and strengthen what were already far and away the most aggressive policies to fight climate change in the nation.
That includes a legislatively mandated target of reducing carbon emissions in California to 40 percent below 1990 levels by 2030.
"California can make a significant contribution to advancing the cause of dealing with climate change, irrespective of what goes on in Washington," Brown said in an interview. "I wouldn't underestimate California's resolve if everything moves in this extreme climate denial direction. Yes, we will take action."
The prospect of California's elevated role on climate change is the latest sign of how this state, where Democrat Hillary Rodham Clinton defeated Trump by more than 4 million votes, is preparing to resist the policies of the incoming White House. State and city officials have already vowed to fight any attempt by Washington to crack down on undocumented immigrants; Los Angeles officials last week set aside US$10 million to help fund the legal costs of residents facing deportation.
The environmental effort poses decided risks for the state. For one thing, Trump and Republicans have the power to undercut California's climate policies. The Trump administration could reduce funds for the state's vast research community — including two national laboratories — which has contributed a great deal to climate science and energy innovation, or effectively nullify state regulations on clean air emissions and automobile fuel standards.
"They could basically stop enforcement of the Clean Air Act and [carbon dioxide] emissions," said Hal Harvey, president of Energy Innovation, a policy research group in San Francisco. "That would affect California because it would constrain markets. It would make them fight political and legal battles rather than scientific and technological ones."
And some business leaders said that California's embrace of environmental regulations — from emission reductions to new regulations imposing mandatory energy efficiency standards on computers and monitors — could put it at a disadvantage, all the more so as conservatives elsewhere move to roll back environmental regulations.
"If the other states pursue no-climate-change policies and we continue to go it on our own with our climate-change policies, then we would be at a competitive disadvantage for either relocating companies or growing companies here, particularly manufacturing factories," California Business Roundtable president Rob Lapsley said.
When California enacted its climate reduction standards last year, it drew fierce criticism from state business leaders.
The bills "impose very severe caps on the emission of greenhouse gases in California, without requiring the regulatory agencies to give any consideration to the impacts on our economy, disruptions in everyone's daily lives or the fact that California's population will grow almost 50 percent between 1990 and 2030," the California Chamber of Commerce said.
The Trump transition team did not respond to a request for comment.
Democrats relish the prospect of challenging Trump on climate change, saying that other states have followed California in trying to curb emissions.
And California has the weight to get into the ring: It is one of the 10 largest economies in the world, with a GDP of about US$2.5 trillion.
"California more than ever is strongly committed to moving forward on our climate leadership," said Kevin de Leon, the leader of the state Senate. "We will not deviate from our leadership because of one election."
The state has been at the forefront of climate and energy policy for more than half a century, beginning with setting appliance and vehicle emissions standards in the 1960s.
Those policies will continue, analysts said, in no small part because they are overwhelmingly popular there: Sixty-nine percent of Californians said they supported the law requiring the state to roll back emissions in a July survey conducted by the Public Policy Institute of California.
"This is not something that's going to be fueled by dislike of Donald Trump," said Adrienne Alvord, the western states director for the Union of Concerned Scientists. "This will be fueled by people liking these policies and wanting to see them continue. Our leadership and the people of California support the science."
Alvord said that in the new political climate, the fossil-fuel industry might feel emboldened to take on some of the state's energy and climate initiatives.
"But they would be fighting a very uphill battle," she said. "Politically, it's going to be very difficult to really slow this train down."
California's economy is powered by a high-tech industry and prominent research institutions that make it well-placed to continue to lead on energy and climate. The state has already taken on an international role.
Brown has spearheaded the Under 2 MOU initiative, backed by a coalition of state, local and regional governments in 33 countries — more than 160 jurisdictions with a total population of more than 1 billion — that have agreed to deep emissions cuts to try to keep global warming to less than 2?C.
California's cap-and-trade program, which imposes a limit on greenhouse gas emissions and allows companies to buy and sell emissions credits, is linked with one in Quebec.
The program has suffered recently from weak sales and it is facing a legal challenge from the chamber. Its future is likely to be the subject of debate by the legislature. State officials have also had discussions with other countries, including Mexico and China, about joining forces on cap-and-trade policies.
Domestically, California has long been a leader on vehicle emissions. The US Environmental Protection Agency allowed it to have tougher standards under the 1970 Clean Air Act and more than a dozen states have adopted its standards. The Trump administration could deny the state a new waiver, as the administration of former US president George W. Bush did, which would lead to a court fight.
The clean air initiatives in California have become an intricate part of the economy and a source of growth and jobs. Federal cutbacks would no doubt hurt the state to some extent, but analysts say the very energy-efficiency policies that might soon come under attack by the new administration have been a significant factor in California's economic reversal.
"If the [US] president-elect and his administration work to undermine our climate leadership, they will hurt our economy," De Leon said. "They will kill jobs. And ultimately, they will hurt the economy of the United States. We are 13 percent of the overall GDP."
Still, California officials and environmentalists said climate measures in place there will undoubtedly be undercut if the Trump administration rolls back environmental policies put in place by US President Barack Obama.
"Our system works better — our cap-and-trade system and other ways of addressing climate change — if we have more company," California State Assembly speaker Anthony Rendon said. "The more company we have, the better."
Dan Jacobson, the state director of Environment California, said the state can "keep doing what we are doing, leading the way."
"But will that be enough, soon enough? Not without the partnership of other cities, states and nations. So that's why it's so dangerous for Trump to pull out of the accord," he wrote in an e-mail, referring to the Paris climate agreement.
Brown will be a critical player in this fight. He has presented himself as an environmental advocate since he first served as California governor in the 1970s. As he enters what will probably be his last two years in public life, he has seized on the prospect of leading an anti-Trump environmental movement.
"We've got the lawyers and we've got the scientists and are ready to fight," Brown said in a speech in San Francisco earlier this month to the American Geophysical Union. "We're ready to win."
Brown, in the interview, called Trump's election a setback for the climate movement, but predicted that it would be fleeting.
"In a paradoxical way, it could speed up the efforts of leaders in the world to take climate change seriously," he said. "The shock of official congressional and presidential denial will reverberate through the world."
Comments will be moderated. Keep comments relevant to the article. Remarks containing abusive and obscene language, personal attacks of any kind or promotion will be removed and the user banned. Final decision will be at the discretion of the Taipei Times.