Xi Jinping might delay call on a successor, defying script
The Chinese Communist Party's succession quandary is shaping up to be a defining test of the power and ambition of Xi Jinping
Chinese President Xi Jinping (習近平) appears prepared to defy the Chinese Communist Party's (CCP) established script for transferring power and delay the designation of his successor until after a party congress next year, unsettling the party elite and stirring speculation that he wants to prolong his tenure.
The delay would buy Xi more time to promote and test favored candidates, and prevent his influence from ebbing away to a leader-in-waiting, experts and political insiders said.
However, the price could be years of friction while a pack of aspiring cadres vie for the top job, as well as unnerving uncertainty over whether Xi wants to stay in power beyond the usual two terms as party leader.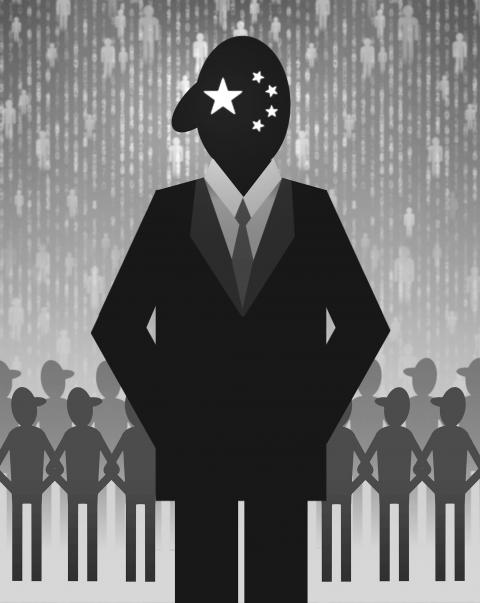 Illustration: Yusha
Although Xi's decision would not be known until late next year, the suggestion that he intends to break with precedent and begin his second term without a probable successor is magnifying uncertainties about who would rise and who would fall in the expected shake-up, including questions about the fate of Chinese Premier Li Keqiang (李克強).
"It is a very delicate issue," said a member of the party establishment who regularly speaks with senior officials.
He spoke on the condition of anonymity because of the party's ban on discussing sensitive internal decisions.
"I do not think Xi wants to decide until the people he favors have more experience, more testing," he said.
In interviews, three other party insiders close to senior officials and their families said Xi appeared likely to delay picking a successor.
The succession quandary is shaping up as a defining test of the power and ambition of Xi, already China's most dominant leader in decades. When and how his heir is chosen, and who is picked, will offer a measure of how much further Xi can bend the party's ideas of collective rule that evolved after the upheavals of Mao Zedong's (毛澤東) last years.
The system for succession, developed after a long period of political turmoil, was devised to help ensure a predictable, stable transition of power in the one-party state. Any effort by Xi to alter that compact might increase his considerable authority, but it could also inject instability into the delicately balanced system.
Making predictions about Chinese leadership handovers is always perilous. The discussions are secret. Key decisions often come together late in the deliberations. And the ascendancy of Xi, opaque even by the standards of party leaders, makes forecasts even harder.
"Xi Jinping has unleashed forces that open up a wide range of political futures, and each has its dangers," David Lampton, a professor at the Johns Hopkins School of Advanced International Studies, said by e-mail. "The central policy reality is that the United States, and the next president, must be prepared to deal with a wider range of possibilities in China."
The drama would probably begin in earnest this month, when the CCP Central Committee, about 200 senior officials who sign off on major decisions, meets in Beijing. That meeting is likely to set in motion plans for the congress, which is to meet late next year to endorse a new top line-up.
While it is a given that the congress would back Xi for another five-year term as party leader, nearly everything else is up for grabs, giving Xi great sway to shape the new leadership.
Five of the seven members of the powerful Central Politburo Standing Committee of the CCP must step down because of age, assuming the informal retirement age of 68 holds. That leaves only Xi, 63, and Li, 61, to return.
In the broader Politburo, the second tier of party authority, about half the 25 members are likely to retire.
Two terms as party leader has evolved as the standard since the 1990s, and an heir apparent is usually clear by the start of the second. The selection requires a consensus of the party elite, the product of behind-the-scenes wrangling. The previous two presidents had to accept successors who were not their picks.
However, Xi's anti-corruption campaign and amassing of power have shaken the idea that Chinese elite politics has settled into a stolid routine under collective control. If China's party leaders function like a corporate board, Xi is akin to the celebrity chairman who might have the power to stare down opposition to his succession plan.
"Having played the strongman politics since coming to power, Xi would be the least likely person to feel constrained by these unspoken rules" of succession, said Warren Sun, a researcher on CCP history at Monash University in Australia.
Delaying the choice of a successor would allow time for Xi's favorites to prove their ability and loyalty, experts said.
The latter could allow Xi to continue to wield power behind the scenes after he retires.
However, it could also create "severe friction" in the next five years, said Sebastian Heilmann, the president of the Mercator Institute for China Studies in Berlin.
"Not designating a successor could be seen as a trick by Xi to grab a third term," he said.
The risk of elite infighting, as well as demands from other senior officials and retired leaders, could still force Xi to signal his successor next year, several experts said.
"Even the amount of consolidation of power so far may have raised hackles," said Susan Shirk, the chairwoman of the 21st Century China Program at the University of California, San Diego.
"I don't think Xi will want to further raise alarms about Putinesque intentions," she said.
If he is pressed to name someone, a younger politburo member like Sun Zhengcai (孫政才), the party secretary of Chongqing, could gain support.
The world might not know who has won and lost until Xi introduces his new team after the congress ends late next year.
However, some officials and analysts are already saying that he wants to shunt Li into a lesser job. There are whispers that Xi wants to raise the retirement age for the Standing Committee so that Wang Qishan (王歧山), the powerful head of the party's anti-corruption agency, can stay on, possibly to replace Li.
Wang, a longtime friend of Xi's, spent a career as an economic firefighter before taking his current job, in which he has helped Xi oust potential opponents.
Wang will be 69 by the time of the next congress, but changing the retirement age for political expediency is not unheard of. It was 70 before Jiang Zemin (江澤民) lowered it so he could force out a political rival in 2002.
Predicting what happens depends on "whether or not you think the de facto rules and norms of elite succession will hold," said Evan Medeiros, the former senior director for Asian affairs in the National Security Council under US President Barack Obama.
"If not, predicting outcomes is a crapshoot," he said.
Mao and former Chinese leader Deng Xiaoping (鄧小平) chose favored successors only to dump them later, creating instability and bad blood in the party. On the other hand, Xi's predecessor, Hu Jintao (胡錦濤), spent a decade in preparation as heir apparent, but still struggled as leader to run a team dominated by men installed by his predecessor, Jiang.
Xi and other Chinese leaders hold that it was the poor choice of former Soviet president Mikhail Gorbachev to lead the Soviet Union that precipitated its demise.
"Finally, all it took was one quiet word from Gorbachev to declare the dissolution of the Soviet Communist Party, and a great party was gone," Xi said after he was appointed Chinese leader in 2012.
"In the end nobody was a real man," he said.
The dilemma for Xi is that the politicians who would remain in the top echelons after next year's retirements do not have long experience working with Xi or the right set of postings in provincial and central government, according to several experts and people who speak to senior officials.
However, the rising provincial leaders considered closest to him lack the experience to be taken seriously as the next national-leader-in-waiting.
Perhaps the biggest subject of speculation is that Xi is bent on staying in power after his second term ends in 2022. The Chinese Constitution requires that he retire after two terms as president, but there is no limit on the more powerful job, general-secretary of the party.
However, there is an informal limit, which, like collective rule by the party elite, was instituted by Deng to prevent another dictator-for-life like Mao.
Even if he delays picking a successor, that does not mean he is determined to stay on as leader past 2022, when he will be 69, said Christopher Johnson, a senior China analyst at the Center for Strategic and International Studies in Washington.
"The only thing he's focused on right now is next fall," Johnson said. "If he gets his way next fall, which I think would mean they don't signal the successor, that doesn't then mean he's already decided to stay on forever."
Comments will be moderated. Keep comments relevant to the article. Remarks containing abusive and obscene language, personal attacks of any kind or promotion will be removed and the user banned. Final decision will be at the discretion of the Taipei Times.