A bridge falls short, like other Russia-China ties
Russia has pledged to 'pivot' to Asia after its relations with the West soured over Ukraine, but despite grand promises of cooperation, its relations with China remain mired in inertia and mistrust
Trumpeted for the past decade as an emblem of Russia's destiny as an Asian, as well as a European, power, the huge steel bridge thrusts out from the Chinese side of the Amur River, stretching more than 1.6km across the turbid waters that divide the world's most populous nation from its biggest.
Then something strange happens: The bridge abruptly stops, hanging in the air high above the river just short of the Russian shore at Nizhneleninskoye, a remote frontier settlement nearly 6,437km from Moscow.
The gap between the bridge and the riverbank — left by Russia's failure to build its own, much shorter share of the project — exposes the reality behind the pledges of an ever closer Russian-Chinese partnership made when Russian President Vladimir Putin met in Beijing last month with Chinese President Xi Jinping (習近平). It was their 15th meeting.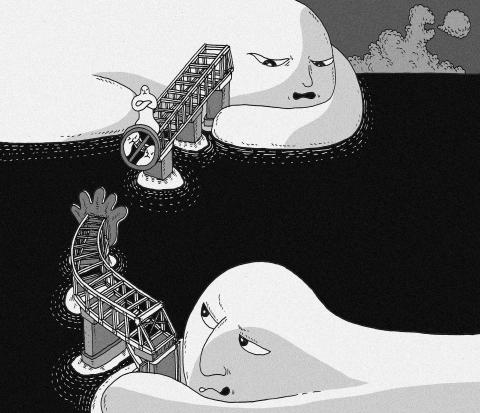 Illustration: Mountain people
United by a shared distaste for Western models of democracy, wariness of US power and eagerness to find new sources of growth, Russia and China have never been closer, at least at the leadership level. With each meeting, leaders produce numerous agreements for joint projects and pledges to support a Russian "pivot to Asia," an eastward shift in economic and political focus championed by Putin since his relations with the West soured over Ukraine in 2014.
However, the unfinished rail bridge across the Amur River offers a more realistic picture of the chasm separating what Russian Minister of Foreign Affairs Sergey Lavrov recently described as the "truly inexhaustible potential" of Moscow's "strategic partnership" with Beijing and the reality of unfulfilled promises and thwarted hopes.
Once completed, the bridge would slash the cost of transporting iron ore mined in Russia to China, cutting the journey to a big Chinese steel mill to just 233km, from 1,040km.
The only sign of construction in Nizhneleninskoye on a recent afternoon was a group of border guards from the Russian Federal Security Service, digging with their bare hands and a shovel near a security fence.
Russian officials insist that construction work is about to start and that the bridge will be ready to carry rail traffic within two years or so — a decade after the Russian and Chinese governments agreed to proceed on the project.
The gulf between expectation and reality has become a recurring feature of Russia's relationship with China. For example, after promises by leaders to increase trade between the two nations to US$100 billion by this year and US$200 billion by 2020, two-way trade volume slumped last year by 28 percent to just US$68 billion. It picked up a few percentage points in the first few months of this year.
The sheen has also dulled on a 30-year gas deal estimated to be worth US$400 billion when it was signed during a visit by Putin to China in May 2014. A pipeline that Russia needs to build to transport the gas has stalled.
At a conference in May in Moscow, Chinese speakers complained that Russia needed to improve its performance.
Former Chinese ambassador to Russia Li Fenglin (李鳳林) expressed dismay over the slow pace of construction on the Power of Siberia gas pipeline and other projects.
"Don't just drag your feet. You should start working energetically," Li said.
He added that China and Russia had "a single destiny," but would get their partnership into gear only if they moved away from mammoth state-sponsored ventures and shifted toward market-driven interaction between small and medium-sized companies.
There is also frustration on the Russian side, particularly among businesspeople whose dreams of tapping Chinese markets and pools of cash have mostly fizzled.
"What should be noted from the results of our work of the last year is that there has been a catastrophically low level of cooperation between the two countries," Viktor Vekselberg, a billionaire and the chairman of the Russian chapter of the Russian-Chinese Chamber for Commerce in Machinery and High Technology Products, said at the Moscow conference.
In the long run, China and Russia have too much of what the other badly needs — natural resources in Russia and a huge market and capital in China — not to lift their friendship beyond grand, but often hollow declarations by leaders.
That is certainly the hope of officials and mining executives in the Jewish Autonomous Oblast, a resource-rich, but cash-poor region in Russia that has long looked to the Amur River rail bridge as a way to tap into China's economic dynamism.
If ever completed, it would be the first year-round link between Russia and China along a stretch of frontier more than 3,219km long.
Valery Samkov, head of the district government in Leninskoye, a border area that includes Nizhneleninskoye, said he hoped the bridge and the business opportunities it would generate would revitalize a community whose population has shrunk to 18,000 from 30,000 since the collapse of the Soviet Union in late 1991.
Samkov said he was optimistic that progress was being made on the Russian side.
After years of visits by "men with ties and nice haircuts," he is now receiving tieless visitors from construction companies who ask where they can dump their garbage and find water when work actually starts.
Why it has taken so long is a study in how Russia, despite the concentration of immense power in the Kremlin under Putin, has carried forward many of the dysfunctions that characterized the chaotic rule of former Russian president Boris Yeltsin in the 1990s, an era that Putin has vowed to banish.
While the cacophony of the Yeltsin-era democracy has quieted, a thicket of competing bureaucratic, security and financial interests survives, stalling even strategic projects backed by the Kremlin.
Putin has strengthened and empowered the Russian state and disciplined it to speak with one voice in public, but its various agencies rarely move in lock step or swiftly, particularly when large sums of money are at stake for well-connected insiders.
Victor Larin, a leading Russian expert on China at the Far East branch of the Russian Academy of Sciences in Vladivostok, said that Russia's fumbling of the bridge showed that parts of the country's elite remained in the grip of "the China threat syndrome."
He was referring to a deep-seated wariness in Russia of a neighbor whose population is nearly 10 times bigger, an economy that is more than five times larger and military spending that is twice as large.
All the power that has accrued to Putin has left Russia "under manual control" by the Kremlin, meaning that little gets done on any issue unless the president intervenes directly and forcefully, he said.
So while the Kremlin has endorsed the bridge, others lower in the Russian government ranks have stalled, Larin said, with finance officials in Moscow complaining about the cost and military officers asking: "Why build a bridge over which Chinese tanks can come?"
The Kremlin, he said, has a clear vision of where it wants relations with China to go, but "the lower you go, the worse it gets."
Much of Russia's elite "has not made the turn psychologically" to viewing China as a reliable partner, rather than a potential enemy.
Though initially conceived as a private project, the Amur River bridge quickly evolved into a venture funded and carried out by the Russian and Chinese governments.
The arrangement allowed China to take the lead, said Valery Gurevich, a former vice governor of the Jewish autonomous region.
"Over there, one party decides everything," he said. "This makes things much easier."
Gurevich said that even the seemingly simple issue of where the bridge's pillars would stand stirred a hornet's nest of arguments between three state landowners in Nizhneleninskoye — the Federal Security Service, the state forestry fund and municipal authorities.
"At times, you just wanted to hang yourself," he said.
Tougher still was the question of who, on Russia's side, would get construction contracts potentially worth hundreds of millions of dollars.
The Chinese decided years ago to entrust the construction of their portion of the bridge to a state-owned engineering firm, which quickly got to work and, according to Chinese state television, finished the job two years ago.
However, in Russia, where state-funded projects invariably go far over budget and yield expansive opportunities for theft, it took until last month to choose among different construction companies, each with powerful backers in Moscow.
The winner was SK Most Group, a well-connected private Russian company known for its role in building a bridge in Vladivostok that ended up costing the state more than US$1 billion.
The recent arrival in Nizhneleninskoye of heavy construction equipment has raised hopes that the bridge to China might finally be finished.
The regional government, in response to written questions, said the delays were because "this project is unique with no analog in world practice and required the solving of a long list of questions."
The government said the Russian portion would cost 9 billion rubles (US$140 million) and would be finished by June 2018.
Chinese criticism has stung Russian pride.
In a recent interview with a local television station, Dmitri Astafyev, the head of Rubicon, a state-controlled company supervising the project, urged China to curb its criticism.
"We're being criticized because our partners in China have built 2km already, while we're not able to build as little as 309m," Astafyev said.
"While the Chinese are, of course, talented, they have, for starters, built the easy part," he said. "But the key point is the following: They say they've built the bridge. Good. But it's not suitable for traffic."
Additional reporting by Oleg Matsnev
Comments will be moderated. Keep comments relevant to the article. Remarks containing abusive and obscene language, personal attacks of any kind or promotion will be removed and the user banned. Final decision will be at the discretion of the Taipei Times.