Navigating the US presidential polls without being fooled
While polls are increasingly becoming an integral part of US presidential elections, they are often misread or misunderstood. Pay attention to them if you want, but do it smartly
The onslaught of US presidential polls has already begun. You may be tempted to avoid the polling deluge, but the results of these surveys do influence the campaign. That is why we want to show you how to read, or ignore, the polls like a professional.
TRUST POLLING AVERAGES
Polls with surprising or novel results can be irresistible to journalists and the public alike. It is newsworthy if public attitudes seem to have changed in some unexpected way. As a result, these findings tend to attract the most public attention and media coverage. Unfortunately, they are the most likely to be spurious.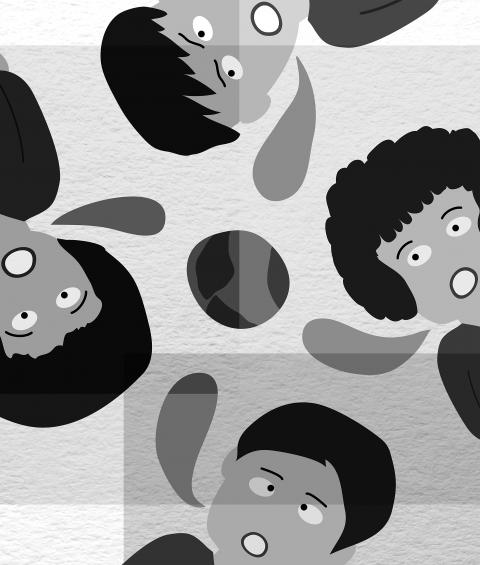 Illustration: Lance Liu
What looks like a shift in public opinion is often just random statistical variation. First, all polls should come with an associated margin of error or some other estimate of uncertainty. Take it seriously. With the sample sizes conventionally used in polling, changes in support of one or two percentage points can not be distinguished from random variation. Second, given the number of polls that are conducted, outliers are likely to be common. Approximately one in 20 polls of US President Barack Obama's approval rating, for instance, will produce a statistically significant change from the last estimate even if nothing changed.
BE SKEPTICAL
Instead of being seduced by potential outliers or statistical noise in individual polls, rely on polling averages like the ones provided by the Huffington Post's Pollster or Real Clear Politics, which better distinguish between genuine changes in public opinion and random noise. When an average picks up shifts in opinion across multiple polls, we can be more certain that the views of the public are changing.
When people ignore averages and focus on an individual poll with an extreme value, they are often led astray. For example, a Gallup article last year highlighted former US secretary of state Hillary Rodham Clinton as having by far the best net favorable ratings of the potential presidential candidates tested: +19 (55 percent favorable versus 36 percent unfavorable). However, the poll was an outlier compared with both Gallup's previous poll, which had her at +11 and other polls of Clinton's favorability conducted at about the same time. Sure enough, the next Gallup poll had her at, you guessed it, +11, suggesting that her advantage over the Republican candidates tested (many of whom had net favorables of +6 to +12) was less clear than the original articles suggested.
TRACK ENDORSEMENTS
At this stage in the campaign, approximately six months before the first primaries, eventual nominees have traditionally been among the top three or four candidates in the polls.
However, if it is usually important for a candidate to be among the leaders, it is virtually irrelevant who the actual leader is. Early polls often reflect name recognition more than anything else. Donald Trump, for instance, has come in first or second in a number of recent national polls of Republican candidates, but he is hardly a top-tier candidate.
What should you pay attention to instead of polls? Endorsements. Political science research suggests that endorsements from party elites are better predictors than polls. First, these officials can help candidates win by rallying supporters to their side and providing financial and organizational help. And party elites observe the contenders closely and can often anticipate which candidates are most likely to succeed.
Historically, front-runners start to pull away in the endorsement race at this point. Clinton is doing that; she stands out as the most dominant Democratic candidate in the contemporary era. By contrast, almost all the action is yet to come for Republicans.
BE MINDFUL OF GAFFES
Despite the media frenzies that often result, campaign "gaffes" like Obama saying "The private sector is doing fine," in 2012 rarely matter much.
Much of the news coverage that suggests otherwise is the result of what psychologists call confirmation bias: the tendency to believe evidence that supports our pre-existing views. For example, a recent Washington Post column suggested that Obama's approval ratings had improved because of a series of policy victories, but the argument relied on a single poll and neglected the fact that other polls showed no change.
Gaffes can matter, however, when they damage the prospects of a candidate among crucial party elites. Rick Perry's "oops" moment in the 2012 race was the capstone on a series of poor debate performances and other mistakes that helped doom his candidacy with party insiders and activists.
HEED THE RHYTHM
Presidential candidates' images and support levels tend to change in predictable ways. For instance, Clinton's poll numbers were always going to decline as she returned to the partisan fray after serving as the nation's chief diplomat, which removed her from day-to-day politics. It therefore should not be surprising that her public image became less favorable during the early stages of her campaign.
Correspondingly, when candidates announce their campaigns, their support almost invariably rises. As front-runners like former Florida governor Jeb Bush, US Senator Marco Rubio and Wisconsin Governor Scott Walker become better known, Republicans are more likely to tell pollsters that they view these candidates favorably, but these candidates are in turn subject to more scrutiny and criticism. As a result, the number of people who view them unfavorably might also grow and their numbers might correspondingly decline, especially for those who cannot survive the "scrutiny" phase of the campaign.
Few Democrats, for instance, know that US Senator Bernie Sanders has often opposed gun control measures supported by their party, but more are likely to learn about his record as campaign coverage intensifies and Clinton surrogates and press coverage become more critical. And many Republicans have not yet heard of Trump's numerous contributions to Democratic campaigns or the many positive statements he has made about prominent Democratic officials like Obama and Clinton. When primary voters learn more about the history of Sanders and Trump, their polling numbers are likely to decline.
THE BOTTOM LINE
Polls play an important role in presidential primaries, influencing the strategies of the candidates, the coverage they receive from the news media and the choices of voters who want to avoid wasting their vote. For political mavens they are also often an amusing way to follow the horse race.
So go ahead and pay attention to the polls if you want, but do it smartly. Do not overreact to individual polls or fall for weak pundit analysis. Instead, remember that campaigns have predictable rhythms and that endorsements might be a better predictor of who will ultimately prevail than who is up or who is down right now.
Comments will be moderated. Keep comments relevant to the article. Remarks containing abusive and obscene language, personal attacks of any kind or promotion will be removed and the user banned. Final decision will be at the discretion of the Taipei Times.