Baltic states are baited by Russian bear
Estonia and its neighbors fear that a battle of wits with Moscow could end badly
The 23rd floor of the Hotel Viru in Tallinn has been carefully preserved as a reminder of Estonia's past. Like much else in the Soviet era, it did not officially exist, even though everyone knew it was there. It was where the KGB sat every day and night to eavesdrop on the conversations of the hotel's mostly foreign guests. It remains today as it was when the Soviet spies hastily evacuated at Estonian independence 23 years ago, leaving their listening equipment behind them.
The tone of the guide is jaunty, joking that guests found it quicker to get the minibar replenished by talking loudly to the table lamp than by calling room service.
The clunky equipment and Cold War paranoia all seems absurd and dated now, but although the KGB fled the Viru, it never altogether left Estonia. Its successor, Russia's Federal Security Bureau (FSB), has remained highly active in Estonia and its Baltic neighbors, Latvia and Lithuania — increasingly so recently as Moscow seeks to reassert its sway over what it calls the "near abroad."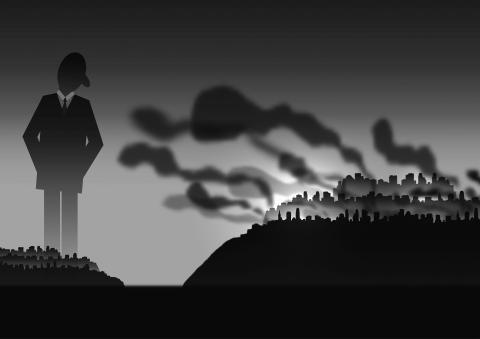 Illustration: Yusha
Few in Tallinn expect Russian intervention of the sort seen in Crimea and eastern Ukraine, but Baltic jitters have been aggravated by the FSB's apparent abduction this month of an Estonian security official from the border with Russia, a sign that what has thus far been a battle of wits now threatens to turn into something more dangerous.
The Latvian authorities believe the FSB is operating in partnership with organized crime, smuggling goods across the border and trying to buy local politicians.
Further south, Russia is seeking to revive the prosecution of Lithuanians who ducked military service in the Red Army in the last days of the Soviet Union, prompting the government in Vilnius to warn the 1,500 citizens affected not to travel to Russia or any non-NATO country.
Meanwhile, Russian rhetoric against the Baltic states has taken a more strident tone, reminiscent of the language Moscow customarily uses against Kiev. The Moscow line focuses on long-running grievances of Russian minorities in the Baltic states — the absence of any official status for the Russian language in Latvia and the requirement in Estonia for Russians born before independence to pass an Estonian language exam to get citizenship.
In a speech in the Latvian capital, Riga, on Sept. 13, senior Russian Ministry of Foreign Affairs official Konstantin Dolgov described such controversies as "a gross violation of fundamental, universal norms in the realm of human rights."
Dolgov said the treatment of the Russian minority was a symptom of the rise of "neo-Nazism and xenophobia in Europe," and referred to Moscow's longstanding complaints that veterans of SS units in Estonia and Latvia had been permitted to hold annual reunions.
"It is necessary to clearly recognize that such actions, carried out by many political forces, can have far-reaching, unfortunate consequences," Dolgov said.
Amid the steady escalation in rhetoric, intelligence infiltration and the legal maneuvering, the Estonian abduction incident raised alarms because it crossed a line to armed action.
Eston Kohver, an organized crime investigator in Estonia's internal security service (known by its Estonian acronym, KAPO), was grabbed on the morning of Sept. 5 from scrubland along the border with Russia. Along with his pistol, he carried a recording device and 5,000 euros (US$6,415) in cash. These were tools of espionage, Russian authorities said, claiming Kohver was arrested on the Russian side of the border.
KAPO says the money and recorder were intended for an informant in the Russian smuggling cartels. If so, the meeting was a set-up. Instead of the source, a group of armed men were waiting for Kohver. They detonated three flash grenades, which momentarily blinded and disoriented the Estonian's armed escorts. They heard the men threaten to shoot him if he did not drop to the ground, but by the time the smoke had cleared, Kohver was gone.
The Estonians published video footage and documents from a joint Estonian-Russian border guard investigation hours after the incident that seemed to support Tallinn's assertion Kohver was seized from Estonian territory.
It was a sophisticated operation, in which the Estonians' communications were jammed. KAPO officials say it is increasingly clear that it was carried out by an elite FSB or special forces snatch squad, on orders from Moscow.
"It's like a situation in which you're trying to play chess and the other side starts wrestling. Changing the game like that requires authority from the very top," said Kohver's boss, Eerik Heldna, KAPO's deputy director-general in charge of operations against organized crime.
What is less clear is Moscow's motive. One theory is that Kohver was captured as a bargaining counter to trade for one or more of a handful of Russian moles in Estonia, unmasked and jailed in the past few years.
A second theory is that he is a hapless symbol, taken in a bid to demonstrate Estonia's vulnerability and cast doubt on the pledges of collective defense offered by NATO and US President Barack Obama on his visit to Estonia a few days before the incident.
Estonian President Toomas Hendrik Ilves said that he had no idea why Kohver had been taken, saying: "We are trying to get him released. He was involved in a criminal investigation into cross-border smuggling. We are in the process of talking to them [the Russians]"
The Estonian president dismissed fears in Estonia and beyond that the incident might represent the first blow in some sort of Ukrainian-style attack on the country.
"That's all crap," he said. "We are a NATO ally, a member of the EU."
Ilves was confident NATO would come to Estonia's defense in the event of any military offensive, which he warned would be "a very foolish thing to do."
At this month's summit in Wales, NATO agreed to create a rapid reaction force to deploy to the Baltic states in the event of a military threat. The details were to be hammered out at a meeting over the weekend in Vilnius.
On Monday, NATO Supreme Commander General Philip Breedlove made it clear that if Russia tried the same tactics in the Baltic states as it had in Crimea and eastern Ukraine — infiltrating soldiers without insignia — the "little green men" as they came to be called — the alliance would consider it a military attack under Article 5 of the NATO charter, triggering a collective response.
"We have to look at those forces in our border nations where there are substantial Russian populations and how do we better prepare this initial onslaught of this hybrid war," Breedlove told the Atlantic Council. "How do we better prepare our allies to characterize, understand and survive the initial onslaught of the little green men scenario?"
The US general said that in Wales, "we had great acceptance among the NATO allies, though, that if you attribute this 'little green men' issue to an aggressor nation, it is an Article 5 action and then all of the assets of NATO come to bear."
The security services in the three Baltic states predict Russia will try to destabilize them and disrupt the assimilation of their ethnic Russian populations, in ways that stop short of triggering a NATO response.
Estonian security officials say the FSB is conniving with organized crime in the smuggling of cigarettes and other contraband, and point out that Russia used smuggling routes to supply arms to Ukrainian separatists.
"If you smuggle one thing over the border today, tomorrow it may be something else. We know the Russian services use corrupt border officials and organized crime to achieve their goals," Heldna said.
KAPO also says that there have been Russian intelligence efforts to buy local politicians and longstanding Moscow funding for political clubs in Estonia disseminating the Russian line, exaggerating the influence of the far-right and downplaying the suffering of the Soviet era.
However, Estonia's Russians, who represent just under one-quarter of the 1.3 million population, are much better off than their counterparts in Ukraine. Estonia is significantly more affluent than its Russian neighbor. Young Russians, born since independence, have automatic Estonian citizenship. Being bilingual, they have an edge in the labor market, and the chance to work elsewhere in the EU.
Elder residents in the predominantly Russian-speaking Tallinn suburb of Lasnamae complained they still felt like second-class citizens, but hardly any expected or welcomed the thought of Russian intervention.
Even Igor Teterin, cofounder of Impressum, one of the Russian political clubs that KAPO accuses of spreading propaganda, said a Ukrainian-style conflict was unthinkable.
"The Estonian government is nothing like the one in Kiev. It acts sensitively and correctly towards the Russians," he said.
However, the veteran journalist was skeptical about Tallinn's version of the Kohver affair, suspecting some kind of Estonian provocation.
"What was he doing in the woods anyway? Going for a pee?" Teterin said.
In Latvia, pro-Russian sentiment is a greater force. Pro-Moscow parties could even win a majority in parliamentary elections on Oct. 4.
"The majority of ethnic Russians in Latvia support [Russian President Vladimir] Putin," said Leonids Jakobsons, owner of an independent news Web site Kompromat.
He was attacked two years ago, having his face slashed with a knife in front of his nine-year-old son, after publishing e-mails suggesting Russian intelligence had bankrolled the campaign of a pro-Russian politician in Riga.
Jakobsons said the Russian influence remained pervasive with one party, the Russian Union of Latvia, distributing leaflets saying that Latgale, in eastern Latvia, where large numbers of ethnic Russians live, should form a union with Russia.
NATO's stance in the Baltics may have fended off the threat of "little green men" for now, but Moscow's battle for influence is far from over.
Comments will be moderated. Keep comments relevant to the article. Remarks containing abusive and obscene language, personal attacks of any kind or promotion will be removed and the user banned. Final decision will be at the discretion of the Taipei Times.