Kurds feel their destiny has arrived
Fighters say the country set up by Britain in the 1920s will once again be three provinces
On one side were Kurdish fighters, dug in behind a series of ramparts and trenches reminiscent of World War I. About 500m away, over a muddy canal and past a farm, were the jihadist fighters of the Islamic State group, formerly known as the Islamic State in Iraq and Syria (ISIS), or the Islamic State of Iraq and the Levant (ISIL).
Offering a pair of binoculars, Kurdish Peshmerga First Lieutenant Noman Osman pointed to the ISIS checkpoint. It was a canopied shed. A burned-out truck sat nearby on a deserted road. There was also a US Humvee, looted from Iraqi forces by the extremist fighters. Beyond that ranged a ridge of feathery trees from where ISIS snipers had been taking potshots at Kurdish positions.
"Our mission is defensive. We are defending our land from terrorists," Osman said. "We don't venture beyond the canal."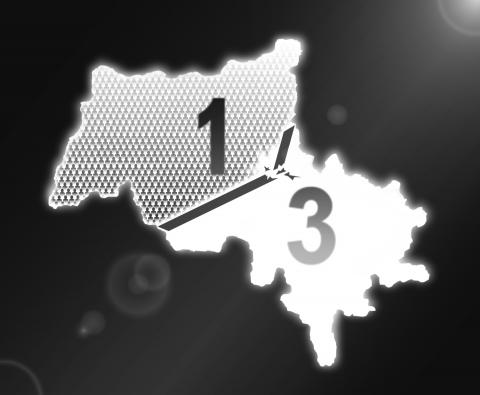 Illustration: Yusha
What did he think of his opponents, who now control much of Sunni Iraq?
"ISIS are traitors," he said. "No cars cross here. However, two days ago a Sunni sheik came to visit. He says he wants to fight ISIS, that locals are fed up with them."
From a Kurdish watchtower — reached via a metal ladder — a few civilian vehicles were visible in the far distance. The stillness was deceptive. Removing his hat, Osman showed off a bullet wound. An extremist shot him last month, he said.
"After two weeks in the hospital, I went back to the front," he added.
This front line at Mariam Bek marks the new 1,000km fault line along which Iraq is fracturing. On one side is the Islamic State, the new caliphate proclaimed by ISIS, across Syria and Iraq. On the other, a possible future state of Kurdistan.
"When the British set up this country in the 1920s, they didn't do a good job," said police Colonel Ghaleb Taha Ismail, the chief of police in Kirkuk's Kurdish Rahim Awa neighborhood. "Before, there were three provinces — Baghdad, Mosul and Basra. I think it will be three provinces again. History will go back to its original format."
Why?
"Iraq has been a country for 90 years. Throughout this period, these three provinces haven't been able to live together," Ismail said.
Kurdish efforts to peel away from Baghdad's rule are multiplying. They have announced a referendum, and last week said they were pulling out of Iraq's national government, no longer sitting in the cabinet or ministries.
Central to this new reality is Kirkuk, an oil-rich, mainly Kurdish city of about 1 million people, which lies outside the Kurdish autonomous region. However, the Kurds have largely controlled it since 2003.
Late last week, peshmerga seized two nearby oilfields, Kirkuk and Bai Hassan, turning out Arab workers and replacing them with their own staff. Baghdad's oil ministry was furious.
The move consolidates the Kurds' hold on Kirkuk and its huge oil reserves. It suggests that the Kurdish fighters who entered the city a month ago are not planning to leave.
They moved in after the Iraqi troops tasked with guarding it ran away. The alternative, the Kurds say, was an ISIS takeover, followed by a bloodbath. Elsewhere, peshmerga advanced somewhere between 20km and 40km beyond existing Kurdistan and deep into federal Iraqi territory.
As Kurdistan got bigger; so did its security headache.
Despite heavy security around the city, an ISIS suicide bomber last month managed to penetrate inside. The Kurdish security agency Asayish says the situation inside Kirkuk is now "relatively calm." However, it admits that ISIS remains a potent threat.
Spokesman Captain Farhad Hama Ali said fighting was going on in two areas south of the city: the sub-district of Mala Abdulla, which has a mixed population of Arabs and Turkmen, and the contested village of Besir.
"ISIS still wants to take Kirkuk. It wants to turn it into another Ramadi," Ali said.
According to Ali, politicians in Baghdad were to blame for the extraordinary rise of ISIS. Ali said the Kurds told Baghdad, five days before the fall of Mosul, that ISIS was on the march. The federal government ignored the tip and told the Kurds to stay out of the city, Iraq's second biggest. When ISIS did surge in, Baghdad called and desperately asked for assistance.
"By this point it was too late," Ali said.
In theory, Kirkuk is still under central Iraqi control. The Iraqi flag flies above the governor's heavily defended mansion together with the flag of Kurdistan. Photographs in the lobby show Kirkuk's development over the past century: a brief period of British occupation in 1918; the discovery of oil in the 1920s; modernization of what was once ancient Sumeria and Assyria.
The ethnic balance continues to change. In the 1980s, many Kurds fled Saddam's murderous Anfal campaign. Arab settlers arrived. Over the past decade, Kurds have come back.
Many feel the moment of Kurdish destiny has arrived. Recently, the Iraqi Kurdistan President Massoud Barzani called on the Kurdish parliament to hold a rapid referendum. It is likely to take place in two stages. The first will be a vote on whether Kirkuk and other disputed territories should join the autonomous Kurdish region. The second — expected to be held later this year, or possibly early next — will decide whether Kurdistan should break away from Baghdad.
Iraq's disintegration has affected the city in multifarious ways. It has, for example, touched on the fortunes of Kirkuk's soccer club. Nowzad Qader, the head of Kirkuk's soccer association, said Iraq was not able to complete its league this year, with players unable to travel to Baghdad. It was too dangerous, he said, since ISIS controlled the road.
"ISIS doesn't like humanity much, let alone football," he said. "If Iraq still exists next season, we'll resume."
Nearby, youths kicked a ball around in the early evening heat.
Qader said the local soccer association reflected Kirkuk's tradition of coexistence, at odds with the sectarian mayhem in the rest of the country. He was a Kurd, his deputy a Turkmen and the secretary an Arab.
"It's like a microcosm of Iraq," he said. "We work together in brotherhood."
Maureen Nikola, a volleyball coach, said girls who played on her team came from all of Kirkuk's ethnic groups. Some of her Christian players had emigrated with their families after 2003, she said.
"If the peshmerga weren't here, we would have had to flee, like Mosul," Nikola, a Christian, added.
Back at the front line, Osman said morale was high among his men, who were posted along sandbagged embrasures or who sheltered under tarpaulins from the afternoon sun. He declined to say how many of them had been killed.
"My request to Britain is to help the Kurds defeat terrorism," he said. "We have old weapons. We need new ones."
Osman said high-tech military equipment given by the US to the Iraqi Army had fallen into the hands of ISIS.
"We told them [the US] this would happen and it did," he said.
When asked whether Western military involvement in Iraq had been a disaster, Osman is circumspect.
"We're not talking about Iraq. We are talking about Kurds," he said. "Kurds have always been friends of the UK. When the US and Britain came to Iraq, the Kurds welcomed them with flowers. The rest of Iraq welcomed them with IEDs [improvised explosive devices]."
Either way, the rise of ISIS is now the West's problem, he said.
"They are a threat to the UK and other countries. There are 500 Brits fighting with Daash [ISIS] right now," he said.
On the ISIS side of the canal, nothing moved. The Islamist fighters appeared to be having a break. On the peshmerga side, it was quiet too — other than a love song by the Kurdish-British singer Mazhar Khaleqi.
"The Baathists want to set up their own region, their own fundamentalist state," Osman said. "We have our demands too: an independent country."
Additional reporting by Fazel Hawramy
Comments will be moderated. Keep comments relevant to the article. Remarks containing abusive and obscene language, personal attacks of any kind or promotion will be removed and the user banned. Final decision will be at the discretion of the Taipei Times.