Inspections roil garment industry in Bangladesh
Seemingly arbitrary shutdowns, questions over who should pay for repairs and idled workers as well as lawsuits are causing problems for the nation's US$22 billion garments industry, which accounts for 80 percent of the nation's exports
It took Western safety inspectors only about an hour to tour a factory the size of three football fields before ordering a partial shutdown of Sonia & Sweaters, a Bangladesh clothing supplier to Wal-Mart Stores and Debenhams.
Two weeks later, the group that the inspectors represented changed its mind and allowed the factory to stay open, even though none of the repairs they suggested had been carried out.
Such erratic decisionmaking poses a new set of problems for Bangladesh's US$22 billion garments industry, whose safety record has been under the microscope since the collapse of a factory near Dhaka that killed more than 1,100 workers last year.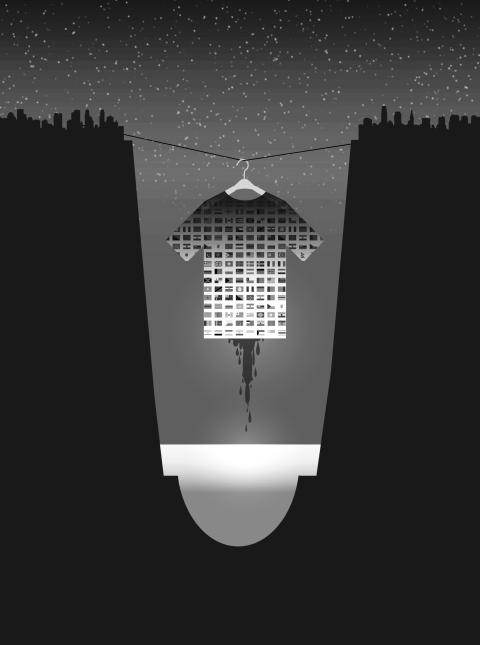 Illustration: Yusha
More than a year after the public outcry that spurred Western retailers into demanding better standards from the factories that make their clothes, it also highlights the practical complexities of improving the conditions of millions of poor workers while also safeguarding their jobs.
Export growth in the sector has slowed as buyers turn to India, Myanmar, Vietnam and Cambodia because of concerns over workshop safety, higher wages and political instability.
Now factory owners say they are concerned about arbitrary shutdowns and meeting the cost of demands for remedial work, while workers worry about who will pay their wages if their workplace is temporarily closed.
"We went through inexplicable harassment during this whole process, and I am sure they don't care about that," Sonia & Sweaters director Mahabubur Rahman said of his experience of the inspection.
"But with their trigger-happy attitude, I am left wondering if they at least care about the workers, who they are meant to protect, because nobody has to explain to them what the implication of one factory shutdown is," he said.
The garment industry accounts for 80 percent of Bangladesh's exports, and turmoil in the sector has put at risk the livelihoods of nearly 4 million garment workers, mostly women.
FACTORY INSPECTIONS
The collapse of the eight-story Rana Plaza building in April last year brutally exposed the inadequacy of the safety regime in Bangladesh, where 5,600 garment factories are inspected by different local agencies that often lack sufficient technical equipment and the required expertise.
The disaster led to the creation of the Accord on Fire and Building Safety, an inspection group led by European retailers, and the North American brands-led Alliance for Bangladesh Worker Safety, which together are scrutinizing about 2,100 factories.
The groups, which have a mandate to recommend the closure of dangerous factories and demand repairs, are now embroiled in a debate over the inspection process and the question of who pays for upgrades and wages while factories stand idle.
Making the situation worse, almost all global retail brands have opted to stay out of the arguments between inspection agencies and suppliers, according to industry officials.
When the inspection groups were set up, retailers did not commit to pay for improvements they demanded — some Bangladesh factory owners are very wealthy and politically connected — but agreed to discuss assistance with wages and improvements if owners could not afford them.
Wal-Mart spokesman Kevin Gardner sai that as a founding member of the alliance, the company's contributions have made funds available to help factory owners make necessary repairs and to support workers who may be temporarily displaced.
This includes an initial worker safety fund of nearly US$50 million and growing, and more than US$100 million in access to low-cost capital funding to improve fire and structural safety. Debenhams declined to comment.
SAFETY SHUTDOWNS
Reuters obtained copies of two inspection reports on Sonia & Sweaters that showed the factory's civil engineer tried to warn the accord's inspectors that their assessment that insufficient steel had been used in the building columns was inaccurate.
The steel was later found to be adequate for operations to continue.
Company managers said that documents on the building's load-bearing capacity sent to the inspectors after their assessment were overlooked. That oversight was only acknowledged after the factory's senior management physically carried the documents to the accord's Dhaka office.
The accord assessed the number of steel bars in each column as between 14 and 20, the lower range of which would be considered unsafe, whereas company officials said it was between 32 and 35.
"We advised them to close down the top floor immediately and go for a detailed engineering analysis," said Brad Loewen, the accord's head safety inspector.
Loewen said the owners returned and challenged the numbers with their own documents. The accord stuck with its findings, but decided to consider the steel strength of each column was 20 bars, at the top of its range, rather than 14, which meant operations could continue, he said.
Sonia & Sweaters had cleared a safety inspection by Wal-Mart last year, according to a report published by the US retailer in November last year.
The Western inspection groups, between them, have so far shut 14 factories and asked five factories to partially close, according to government data.
Senior advisor to the alliance Ian Spaulding said the group has been careful with the issue of factory shutdowns and has been working closely with the government on the issue. Five factories have been shut down as a result of their recommendations, he said.
FOREIGN VERSUS LOCAL
The legal authority to shut factories rests with the Bangladeshi government, and decisions to do so are reviewed by a government-appointed panel that includes one member each from the accord and alliance and two civil engineers from the Bangladesh University of Engineering and Technology (BUET).
That process has led to friction between local and foreign members.
Four Wings operated a factory that supplied clothes to Swedish fashion retailer Hennes & Mauritz (H&M) until March, when it was closed down on the recommendation of accord inspectors who feared the load-bearing capacity of the building was inadequate.
The two BUET engineers on the review panel opposed an immediate closure, but were stopped from making recommendations and asked instead for an opinion with either a "yes" or a "no," according to a senior official at Four Wings and a professor from BUET who had direct knowledge of events. Both spoke on condition of anonymity.
"Everybody appreciates the fact that they are working hard to make this industry safe, but everybody they are working with will agree they are extremely arrogant and have a high-handed attitude," the professor said.
Ananta Garments' Mirpur factory, which employs 1,600 workers, was also shut down by the accord on concerns over the buildings load-bearing capacity.
"They found problems, they shut it down and we realized the repairs they have suggested will take eight months," Ananta Garments managing director Inamul Haque Khan said. "Nobody had an answer to what happens to the workers, who pays their salaries."
He said he would pay workers' salaries for one more month before laying them off as he could not afford to pay more.
Several garment factory owners said they were already absorbing most of a 79 percent increase in the minimum monthly wage to US$68 that was imposed by the government in December last year, because global brands are baulking at paying higher prices.
WHO PAYS?
The alliance has decided to share wage costs for two months and is currently holding discussions to extend it to four months. It is in the final stages of making available low-cost loans for repairs at five to seven factories, Spaulding said.
The accord requires factory owners to pay for repairs and wages for six months. They are expected to discuss with their brands, who will ensure resources are available, Loewen said.
However, about a dozen garment factory owners said the Western brands they supplied had not got involved in talks over paying the bills. This was despite several rounds of discussions involving factory owners, government officials, unions and accord and alliance members.
The accord issued a statement on Thursday challenging the findings of Reuters and saying it would investigate further.
H&M, the first signatory to the accord, said it was actively participating in remediation processes involving its suppliers.
Spokeswoman Andrea Roos said H&M discussed resource availability with all involved parties on a case-by-case basis. Two of H&M's supplier factories have undergone minor construction work as a result of inspections, she said.
French retailer Auchan, which also sources garments in Bangladesh, did not immediately respond to a request for comment.
Softex Cotton, which supplies Auchan, was shut down by the accord due to doubts over the factory's load-carrying capacity, but later allowed to resume partial operations, even though no repairs had been made.
Softex is now suing the accord, challenging its legal right to close factories and demanding US$100 million in damages to business and reputation, according to a copy of a lawsuit filed in a Dhaka court.
Softex's factory was vandalized by workers after the sudden closure notice was issued and the company says it has been forced to take a loan to keep paying workers' salaries.
"When there is a problem, we are being notified, sometimes not even in a proper way, and then being left to our own devices, which is just not right," Softex Cotton managing director Rezwan Selim said.
Additional reporting by Clare Baldwin, James Davey, Dominique Vidalon and Anna Ringstrom
Comments will be moderated. Keep comments relevant to the article. Remarks containing abusive and obscene language, personal attacks of any kind or promotion will be removed and the user banned. Final decision will be at the discretion of the Taipei Times.