Crisis-bred austerity dulling EU's infrastructure edge
As the European bloc stringently tightens its belt, the transport sector is being starved of much-needed upkeep and development funds as emerging market-economies pour money into their systems, threating to supercede the continent's once-unparalleled infrastructure
Europe's carefully maintained autobahns, high-speed TGV trains and vast network of modern airports have long been the envy of the world.
However, thanks to austerity budgets that are slashing infrastructure spending just as other parts of the world are ramping it up, that may not be true for much longer.
European infrastructure spending rose just 1.5 percent last year to US$741 billion, compared with global growth of 4.5 percent and a 7.1 percent rise in the Asia-Pacific region, data compiled by Marketline, a business information provider, show.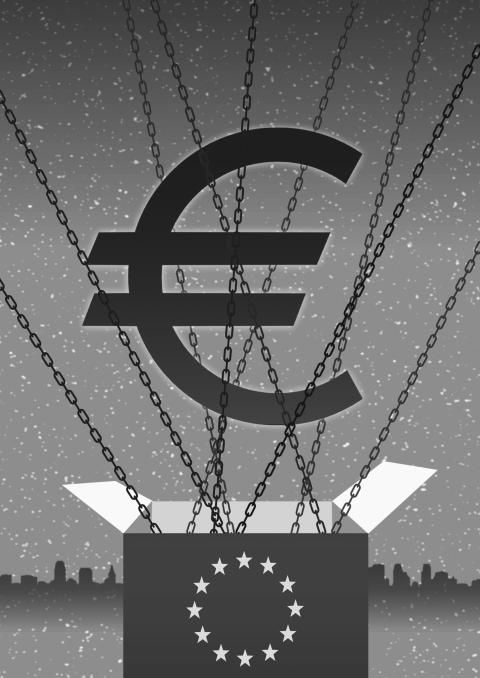 Illustration: Yusha
Spending in Europe will increase slightly over the next four years to 4.3 percent growth by 2016, Marketline said, but will continue to significantly underperform the world average. Only the US will do worse, with growth of just 1.8 percent expected in 2016.
Company executives, trade groups and even EU officials say the region is in danger of falling behind competitors, with possibly irreversible consequences.
"We are out of pace with other parts of the world. We are not rejoicing," said Harold Ruijters, who leads the EU Transport Commission's Trans-European Network unit, which aims to connect Europe's fragmented railways, roads and airports.
Brussels' main infrastructure funding budget, the Connecting Europe Facility, was cut in the latest EU budget announced in February, from an originally allocated 50 billion euros (US$64.11 billion) to 29.3 billion euros over the next seven years.
Broadband and digital infrastructure took the biggest hit, cut from 9.2 billion to 1 billion euros.
The budget for spending on major transportation through 2020 was cut by 38 percent from 21 billion to 13 billion euros, forcing the Transport Commission to drop air and road projects, which will instead need to seek uncertain sources of commercial funding.
"We are dealing with a severely reduced budget. At the same time, during a time of crisis we are acknowledging that this was perhaps the best deal we could get," Ruijters told reporters.
Several years of earlier austerity cuts in infrastructure have already started hurting Europe's competitive position, he said, citing railways and aviation as problem sectors.
Reduced budgets and the prospect of long-term weak economic growth in the bloc will make it virtually impossible to meet spending needs in the coming two decades, he said.
The financial reality is out of sync with the EU's long-term strategic goal of creating jobs, and increasing competitiveness and growth in a single European market, which the EU Commission had estimated would require 1.5 trillion euros of spending on transportation infrastructure by 2030.
"At the moment we have one of the best infrastructures in the world, but it is aging and we have to invest billions just to keep it up. We are far away from completing the internal market, in all transportation modes," said Jurgen Thumann, head of Business Europe, a Brussels-based industrial lobby group.
"As other world regions are launching ambitious transport modernization and infrastructure investment programs, it is crucial that European transport continues to develop and invest to maintain its competitive position," Thumann told reporters.
Currently, 12 of the top 20 nations in a ranking by the World Economic Forum for last year and this year are in Europe.
Yet this year China will for the first time spend more on infrastructure than Europe, though per capita it is still a small fraction of what is spent in the US and in Japan, Marketline said.
Pedro Rodrigues de Almeida, director of infrastructure studies at the World Economic Forum, concurred that even after the European economy recovers — which economists expect could happen as early as the second half of this year — essential spending will lag requirements for years to come.
"We will not recover the levels of construction expenditure that we had in 2007 to 2008, or just before the crisis, until around 2016. This is something that is going to take several years," he said.
A decades-long trend of falling global public expenditure on infrastructure, from about 9.5 percent of GDP in 1990 to 7 percent in 2005, has been driven by rising costs for pensions and healthcare, the Organisation for Economic Co-operation and Development said.
Until the global financial crisis hit, the private sector had increasingly filled that gap.
Now, while there are plenty of investors such as pension funds or insurance companies who have money available, they are restricted in how that money can be invested to avoid too much risk and meet targets, meaning that only a small percentage of their total funds may be allocated for infrastructure projects that often require billions over many years, if not decades.
The same applies for banks, which face tougher regulations over lending money.
The number of infrastructure projects to be financed fell 8 percent last year, the first decline in a decade, the organization said. Lending to European projects, including total debt and equity, slowed by nearly 39 percent to slightly more than US$49 billion.
"The cost of Europe's infrastructure needs are so great they go beyond what is imaginable," an infrastructure investor who asked not to be named told reporters. "This will hurt Europe in the long run. It is inevitable."
In Germany, which makes up 15 percent of total European infrastructure spending, projects worth 41.5 billion euros will be started, continued or finished between 2011 and 2015, down from an initially budgeted 57 billion euros.
A spokesperson for the German Ministry of Transport told reporters that the situation was one of "structural underinvestment."
"There are so many projects waiting to be carried out, but there's no money there. We have succeeded in getting some more funding, but more is needed. We need it because this investment is important for jobs, the economy and prosperity of Germany," the spokesperson said.
A high-profile plan that may be dropped is France's 4 billion euro Seine-Nord Eruope Canal, originally cited as one of 30 priority infrastructure projects backed by Brussels, which Paris has said it can now only afford if 30 percent is paid out of European funds.
The canal is a 106km, high-capacity waterway that would link the Seine River to Belgium, Germany and the Netherlands, relieving Europe's most congested transport corridor with more than 130 million tonnes of traffic per year.
Construction was supposed to start next year and expected to create 4,500 jobs, with about 25,000 new permanent jobs created between 2025 and 2030. However, its future is highly uncertain as the French government reviews 245 billion euros of costly projects.
A French Ministry of Transport spokesperson said two working groups were evaluating technical aspects, costs and financing options, with an outcome expected this month.
In Ireland, the transport budget for the period from 2010 to 2015 was reduced by almost 50 percent in just two years from 17.5 billion to 8 billion euros.
Plans to give Dublin its first underground rail services — one to connect Dublin Airport to the city center and another to link two existing rail lines — have been scrapped. The projects would have cost 2 billion euros, the Irish government estimated.
Italy's parliament in December last year froze a 3.9 billion euro contract to build a road and rail bridge connecting Sicily to Italy's mainland known as the Ponte sullo Stretto di Messina.
Spain is budgeting 9.6 billion euros in public infrastructures for this year, down 16 percent from a year earlier and down 36 percent from 2008, when 15 billion were targeted. Several major toll road projects were pulled after going bankrupt due to overspending. That led to the halt of the construction of 14 luxury stations along the high-speed rail network, saving 3.5 billion euros, and the cancelation of a railway from Madrid to Lisbon, Portugal.
Trade within Europe, which has a population of more than 730 million and represents roughly 22 percent of the world's cargo by value, is expected to double in the coming decade.
Brussels said in a policy paper released before the recent budget cuts that 550 billion euros in high-priority projects were needed through 2020 to create a core transportation network to meet the increased demand.
The investment would connect 120 major ports and airports to rail, upgrade 15,000km of rail tracks to high speed and remove 35 key cross-border bottlenecks. The region's railways use seven different gauges and only 20 major airports, and 35 major ports are directly connected to the rail network.
The upgrades would not only make the distribution of goods faster and cheaper, but also be required to meet EU targets to reduce carbon emissions by 60 percent, halve conventional car use and shift 50 percent of long distance freight onto trains and ships by 2050.
Airline executives have been among the most outspoken about concerns that Europe risks losing its competitive position if it fails to implement these plans.
For example, the Paris Charles de Gaulle Airport plans to spend 2.1 billion euros between 2011 and 2015 on new facilities, while Dubai last year planned to invest 6 billion euros in airport expansion by 2018 to boost capacity by 50 percent.
"Europe was a leader in terms of quality infrastructure," Air France-KLM chief executive Jean-Cyril Spinetta told reporters. "I am very concerned about the future, especially airports. The amount of investment in other regions is incredibly high."
Comments will be moderated. Keep comments relevant to the article. Remarks containing abusive and obscene language, personal attacks of any kind or promotion will be removed and the user banned. Final decision will be at the discretion of the Taipei Times.