In India, suicide of another rape victim puts spotlight on inaction
Many sexual assault victims have endured a poorly funded and gender-insensitive justice system, rights groups and lawyers said
On the evening of Dec. 26, last year, as an Indian govrnment-chartered jet was heading to Singapore with a critically injured New Delhi gang rape victim on board, the teenage survivor of another gang rape was taking her own life.
After writing a suicide note on a page torn from a notebook that named her alleged attackers and accused them of destroying her life, the 17-year-old schoolgirl drank pesticide typically used on the wheat fields surrounding her village in the northern state of Punjab.
By the time she was found, she was in agony and vomiting repeatedly, relatives said.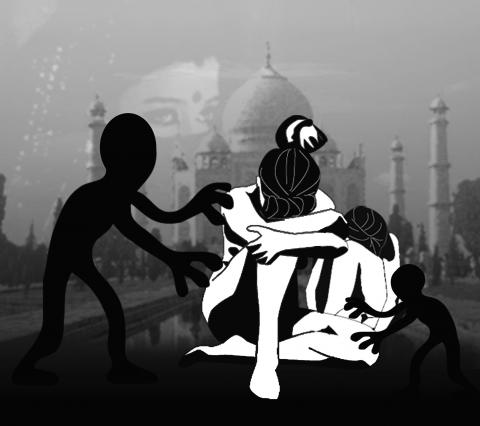 Illustration:Constance Chou
Little-seen television footage shows her arriving at a hospital wrapped in a red blanket, unconscious or already dead, as her weeping mother cradles her head.
The brutality of last month's gang rape in New Delhi, which led to the death of the woman, generated anger across the country.
However, the police handling of the Punjab assault has also sparked outrage and debate about how the police and judicial system often fail victims.
"Enough is enough," Punjab Chief Justice Arjan Kumar Sikri said in court as he demanded a full police account of their handling of a "very sordid state of affairs."
India's understaffed and overburdened courts can take years to process rape cases, sometimes up to 10 years, according to police and lawyers.
Just 26 percent of rape cases decided in 2011 led to convictions, the National Crime Records Bureau said.
The Punjab girl alleged that on Diwali, the biggest day in the Hindu religious calendar, she was abducted, drugged and raped by two men in an irrigation pump house in the middle of a field where nobody heard her screams, she said.
Four accused — two alleged attackers and two accomplices — are in custody awaiting trial for the rape of the schoolgirl, who cannot be identified for legal reasons.
Two policemen have been dismissed for dereliction of duty. One of them, Sub-Inspector Nasib Singh, is in custody and faces charges of "abetting" her suicide.
Singh, who headed the police post in the girl's village of Badshahpur, is accused of delays in registering the allegations and questioning and arresting the suspects, said Shashi Prabha Dwivedi, an inspector-general of police in Punjab who is a member of a special panel that has been set up to investigate the case.
Dwivedi said an initial investigation showed that Singh did not "handle the case properly" and it appeared he had also tried to broker an illegal, out-of-court settlement between the girl's family and the families of her alleged attackers.
Dwivedi would not say what the specific evidence was against Singh, citing the need to keep details of the inquiry confidential.
Singh's son, Gurinder Singh, said his father was innocent of the charges and was being made a scapegoat by politicians and government officials. His father had yet to get a lawyer, he said.
COMPROMISE
Some Indian Supreme Court lawyers say it is not atypical for the police to pressure victims and their families into out-of-court settlements. Most policemen are underpaid and over-worked and often have little interest in investigating a case that could take years to reach a judgement.
The girl first reported the rape to the police on Nov. 19 last year, according to relatives and the head of the village council, or panchayat, who accompanied them to the police post.
However, police waited a week before formally registering the case on Nov. 27 and ordering a medical examination to be performed, the family said.
Inspector-General Dwivedi said her committee's initial investigation also showed that police had delayed registering the case. She gave no reason for the delay, but the girl's family said they were told by police on Nov. 19 that they wanted to investigate before making a First Information Report.
Police arrested the four suspects only after the girl committed suicide on Dec. 26 and her death made national headlines.
The girl's family says several policemen repeatedly pressured them to reach the an out-of-court settlement with her alleged assailants, known in local parlance as a "compromise," a common practice even in murder cases in Punjab.They added that when they refused to do so, the policemen threatened to charge the mother and the girl with prostitution. The son of the policeman now in custody said his father denied this.
The second policeman dismissed from the service, Gurcharan Singh, who headed the area police station, is accused of failing to oversee the rape investigation and to make sure that the necessary steps were being taken, Dwivedi said.
Gurcharan Singh was not available for comment, but in a television interview last month he denied there was any delay in registering or investigating the case.
FEAR OF SHAME
For decades, many victims of sexual assault in India have endured a poorly funded, under-resourced and largely gender-insensitive criminal justice system that has failed to provide adequate care and justice, rights groups and lawyers said.
One woman is raped every 20 minutes in India, according to the National Crime Records Bureau, which reported 24,206 rapes in 2011. Many cases are never documented.
Police estimate only four out of 10 rapes are reported, largely due to deep-rooted beliefs in society that often mean victims are too scared to come forward for fear of being "shamed" by their families and communities.
In a conservative culture where a woman's perceived sexual behavior is often linked to so-called family honor, and where rape often leaves the victim stigmatized, parents can easily be pressured into marrying off their daughters to their rapists.
It was the fear of being shamed that initially drove the mother of the Punjab schoolgirl to try to marry her to one of her alleged attackers, who came from a nearby village, and delay reporting the Nov. 13 incident to the police for a week.
"I said if they are unmarried she could marry one of them. We had already lost our honor in the village," her mother explained, sitting on a bed outside the impoverished family's bare two-roomed dwelling in Badshahpur.
However, the council of the suspects' village told her the men were already married.
She said she was offered dowry money by the men's families instead, so the girl could marry someone else, which she rejected.
"I told them 'my daughter is not a cow or buffalo that can be sold off," she said.
The suicide note said by the family to have been written by the girl, and seen by reporters, says: "All should forgive me. I am fed up with my life so I am taking this step. Those who have raped me are responsible for my death."
The suicide note makes no mention of police inaction, but her older sister said the girl, who was sent to live with a cousin in the nearby town of Samana, would call home almost every day for weeks to find out whether the police had taken any action. The answer was always the same — no.
'REALLY SHODDY'
"One part of the problem is certainly attitudes [toward rape victims]," says Aruna Kashyap, women's rights researcher for Human Rights Watch. "A lot of government officials, especially police, allow negative ... stereotypes of rape survivors being promiscuous to interfere with their duties."
Advocates for victims of rape say the collection, transport and storage of forensic evidence by police — a key component in rape cases where the onus is on the prosecution to prove the crime has occurred — is also often poorly conducted, resulting in weak prosecutions, low convictions and lenient jail-terms.
"Indian investigative mechanisms are really, really shoddy and very basic investigations are often botched up," Supreme Court lawyer Rebecca Mammen John said.
An August 2012 study of 40 judgements of rape cases by district courts in Delhi where the accused was acquitted, found that more than half were due to police failure to perform adequate investigations.
The study, by the Delhi-based charity Shakti Vahini, cited examples where judges criticized investigating officers for not collecting evidence or finding witnesses to support the claims.
Legal experts say one of the biggest problems for rape victims seeking justice is the time it takes for a court verdict. An average case can take 5 to 10 years to reach judgement. The Delhi and Punjab rapes have fueled demands for special fast-track courts to deal with crimes against women.
However, India does not have enough courts and prosecutors — it has about a fifth of the number of judges per capita that the US has. More than 30 million cases are pending in courts, according to the National Bar Association of India.
"I want to get justice," the Punjab schoolgirl, her face hidden by a purple scarf, declared in a Nov. 21 interview with a television station in Punjab.
The interview was not broadcast until Dec. 27, the day after she committed suicide.
Comments will be moderated. Keep comments relevant to the article. Remarks containing abusive and obscene language, personal attacks of any kind or promotion will be removed and the user banned. Final decision will be at the discretion of the Taipei Times.