Another face of the US recession: homeless children
Since 2007, child homelessness has jumped by 38 percent in the US, a rise that one expert attributes to the country's recession and a surge in the number of extremely poor families headed by women
As her mother sat in a homeless shelter in downtown Miami, talking about her economic struggles and loss of faith in the US political system, three-year-old Aeisha Touray blurted out what sounded like a new slogan for the Occupy Wall Street protest movement.
"How dare you!" the girl said abruptly as she nudged a toy car across a conference room table at the Chapman Partnership shelter in Miami's tough and predominantly black Overtown neighborhood.
There was no telling what Aeisha was thinking as her 32-year-old mother, Nairkahe Touray, spoke of how she burned through her savings and wound up living in a car with five of her eight children earlier this year.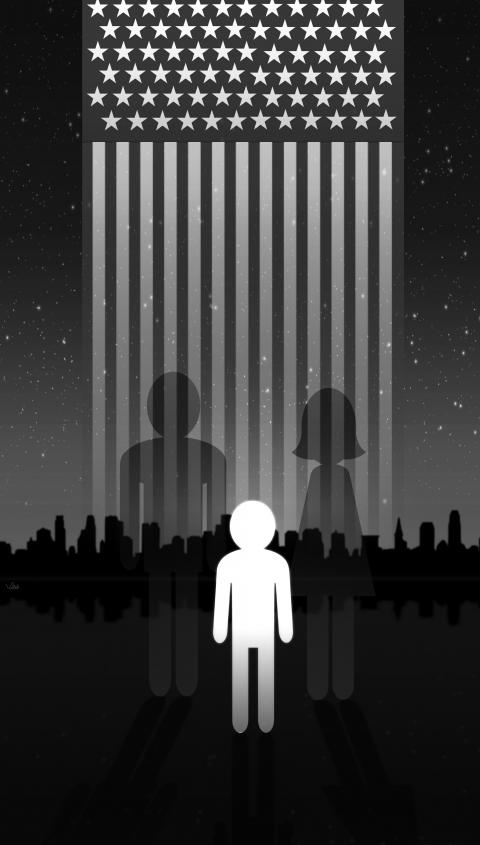 Illustration: Yusha
But how dare you indeed? How does anyone explain to kids like Aeisha and countless others how they wound up homeless in the world's richest nation?
In a report issued earlier this month, the National Center on Family Homelessness, based in Needham, Massachusetts, said 1.6 million children were living on the streets of the US last year or in shelters, motels and doubled-up with other families.
That marked a 38 percent jump in child homelessness since 2007 and Ellen Bassuk, the center's president, attributes the increase to fallout from the US recession and a surge in the number of extremely poor households headed by women.
Recent data from the US Census Bureau provided a sobering backdrop. Based on new or experimental methodology aimed at providing a fuller picture of poverty, the data showed that about 48 percent of Americans are living in poverty or on low incomes.
Under the bureau's so-called Supplemental Poverty Measure for last year, issued last month, the poverty level for a family of four was set at income anywhere below US$24,343 a year.
"I see it every day," said Alfredo Brown, 73, a retired army officer and deputy director of the non-profit Chapman Partnership, when asked about child homelessness.
The organization, funded largely by a 1 percent food and beverage tax on larger restaurants to bankroll homeless programs, operates two sprawling homeless shelters in Miami-Dade County.
"I see so many children and mothers that are homeless and sleeping in their car or an abandoned building, an old bus. It's a sad situation that we live in a country that has so much and many people have so little," Brown said.
Child homelessness is a relatively new social problem in the US, where being on the street and the stigma attached to it has long been associated with adults with alcohol or drug dependency issues.
Families accounted for less than 1 percent of the US homeless population in the middle of the 1980s, according to Bassuk, but they now comprise about a third of the homeless population. A lot of children are dependent on poverty-stricken single moms.
"There's sort of a Third World emerging right in our backyard. You know, we talk about developing countries, but look at what's going on here," Bassuk said.
To put a face to the breadth and depth of the homeless problem, a team of journalists fanned out across the country last week for interviews with parents and children who are down on their luck.
From Skid Row in Los Angeles to the South Bronx in New York, a common thread of economic devastation from the recession ran throughout many of the stories these people told.
However, there also was a common thread of hope running through their compressed life stories.
Little Aeisha in Miami got visibly upset as her mother spoke tearfully about the wear and tear on her children amid her struggles with a bad economy, severe depression, diabetes and chronic foot problems stemming from torn ligaments.
Touray sounded like an Occupy protester herself, as she complained about bailout money for banks, but not people.
"You get treated like an animal because you're homeless," said Touray, who said she lives on just US$583 a month in child support after going through a divorce last year.
Her parents, who live separately in Atlanta and Chicago, are also homeless.
"Just because I'm homeless it doesn't mean that I was like nothing yesterday," said Touray, who said four small businesses she owned in Atlanta only went bust because of the recession.
She also complained about the tone-deafness of many politicians, saying they were doing nothing to ease the unemployment and inequality that have come to dominate the national conversation.
"I'm living the real deal," Touray said. "I don't need for somebody to come up here and tell me what the economy's doing. They [the politicians] need to get out here and see these children, see these parents."
Across the country in Los Angeles, a journalist came across Luis Martinez, 34. A single parent, he lives with his three children at the Union Rescue Mission on a trash-strewn city block where homeless men and women stand vigil over plastic shopping carts.
However, the shelter is an improvement over the time when Martinez passed nights on the LA subway with his children, riding the rails to nowhere.
A junior high school dropout who became unemployed after he injured his back on construction site job about six years ago, Martinez spoke proudly about how well he said his kids were doing in school.
They have a laptop computer, which they use to help do homework through free wireless connections at McDonalds and Starbucks. They also have an Xbox video game system and Martinez, who wears a necklace that says "My Kids First," has a cellphone to stay in touch with family and potential employers.
"I mean, I'm homeless, but not hopeless," Martinez said.
"[It] gets easier as you go," said Jesse, Martinez's eight-year-old son.
Highlighting the shrinking middle class in the US, a reporter found Tracy and Elizabeth Burger and their eight-year-old son, Dylan. The Burgers said they once earned almost US$100,000 a year combined, but saw their middle-class lifestyle evaporate when Tracy lost his job in audiovisual system sales.
Unable to pay rent, they were evicted from their apartment in early 2009 and had to move into a motel. In March, they moved into a cramped converted garage at Elizabeth's mother's house in Los Angeles.
Elizabeth, a former medical assistant, said she has less than six weeks left on her unemployment insurance and was anxiously watching last week's standoff in Congress over extending those payments, along with the payroll tax cut for 160 million Americans.
A bill to extend the unemployment insurance and the payroll tax cut by two months was finally signed late last week.
The congressional debate highlighted the partisan bickering that has made this a tumultuous year in US politics, while throwing Washington's ability to make sound economic policy into doubt.
In central Florida, Justin Santiago, 15, said he was not surprised when he, his parents and three younger siblings landed in a downtown Orlando shelter in September last year.
Since the national economic collapse in 2008, his out-of-work family bounced from one relative's home to another and left California in search of employment and stability.
"I wasn't shocked. When the economy's going down and it just drops, it's out of control," Justin said.
In 16 years of marriage, his parents, Theresa and Timothy Santiago, managed to provide for their family by working multiple jobs, earning about US$20,000 in their best year. However, work dried up and the family set out for Florida last spring in search of cheaper living expenses.
After a run of more bad luck, they found their way to the Coalition for the Homeless of Central Florida shelter. However, Justin is taking eighth-grade honors classes now and says his family's recent experience will not keep him from pursuing his dream career in video game production and becoming an Internet success story.
"It will get better for me and my family," he said. "I'll be making billions, I know that."
Antonio Dixon, 26, knows all about things getting better. His mother, Corenthia, said he bounced between at least a dozen homeless shelters growing up in Miami and Atlanta.
He eventually won a football scholarship at the University of Miami and fought dyslexia to become the first person in his family to graduate college.
"They had me study hard every hour," Dixon said.
He has since gone on to play defensive tackle for the National Football League's Philadelphia Eagles, making good on his boyhood dream.
Dixon has been sidelined by a torn tricep since early October, but he seems confident about overcoming adversity yet again and plans on being in the starting lineup next season.
His advice to homeless kids is to stay in school and get focused on whatever it is they really want to do in life.
"Just keep on doing something you like and don't give up," Dixon said. "I had to work myself up from the bottom to the top. I did that. Don't let nobody stand in your way. You just got to go and get it. You can't be afraid to take a chance on life."
Bassuk, a psychiatrist and Harvard Medical School professor, said medical problems and under-achievement in school were among the things that often go hand in hand with childhood homelessness.
"These are kids who don't have any opportunities," she said. "If you look at some of the educational variables, they're doing really poorly. And they're kids who can do OK. They just don't have appropriate support."
"It just seems that on every front this is a very vulnerable group of kids," she said.
Comments will be moderated. Keep comments relevant to the article. Remarks containing abusive and obscene language, personal attacks of any kind or promotion will be removed and the user banned. Final decision will be at the discretion of the Taipei Times.