Quiet epitaph to German industry
A huge drop in births after reunification and lack of job prospects has led to empty estates and silent streets
It is the silence that hits you first. On one side of the center of Hoyerswerda is a stereotypically east German high-rise estate, whose car park is no more than a quarter full. Concrete brutalism apart, the atmosphere is weirdly akin to that perfect stillness you get in the countryside.
Eventually, the silence is punctured by the sound of a domestic argument in a nearby apartment. They are actually rowing up on the 10th or 11th floor, but in a town this quiet even the faintest noise carries.
Hoyerswerda is about 145km south of Berlin and 65km from the Polish border. About one in five of the local population are Sorbs, who speak a language related to Polish and Czech which is used on bilingual road signs.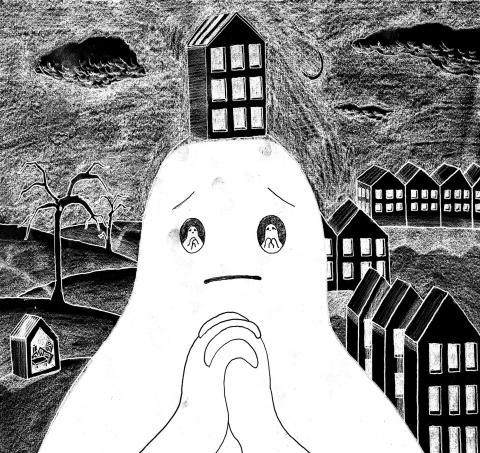 Illustration: Mountain People
This was once the communist equivalent of a boomtown, with the highest birth rate in the German Democratic Republic (GDR) and more than 70,000 inhabitants. However, in the great bonfire of east German industry that followed reunification, the local economy — centered on the mining and processing of lignite, the soft brown fuel halfway between coal and peat — was devastated. On the face of it, this is a case study in deindustrialization familiar to anyone from the more blighted parts of Britain — but here, there are very German peculiarities that take things into the realm of the surreal.
Hoyerswerda's peak population has dropped by about 40 percent, emptying out vast residential leviathans that are still being demolished. In the short-term, the results of the town's decline were in keeping with that time-honored symbiosis between shrinking prospects and the politics of hate: Hoyerswerda remains a byword for a deeply ugly episode in 1991 when local neo-Nazis besieged a hostel for refugees, cheered on by hundreds of locals.
Meanwhile, one of the most sobering aspects of Germany's recent history was drastically altering life here. In the east, as the uncertainty that followed reunification spread at speed, a huge drop in births created what is known as "the kink," whereby the number of children fell to an extent only usually seen during wartime. Walking around former East German towns, you instantly see the result: a striking lack of teens and twentysomethings, compounded by the fact that as they have come of age, thousands of the comparatively few newborns have either got out, or are preparing to do so.
Those who remain are faced with one cast-iron legacy of the east-west split. Of late, Germany has been praised for comparatively low youth unemployment, put at only 6.5 percent. However, in the east, in keeping with the unemployment figure for the workforce as a whole — 10.8 percent, twice the rate in the west — it's reckoned to be at least double that number.
This, then, is hardly the greatest place to be young. Ask anyone under 30 to describe life in Hoyerswerda, and out it all comes: It's a "pensioner town" where young people are too often sidelined.
"If there are youth clubs, teenagers hang around there, but at the weekend they just walk around town mucking about and getting pissed," says Falko Ebeling, 25. "There's just less and less stuff being provided for kids."
Ebeling is an embodiment of Hoyerswerda's predicament: He has been through two traineeships in the retail trade, but remains unemployed, with vague plans to go to either Dresden or Leipzig, east German cities held up as examples of post-reunification success.
His fate also shines light on the alleged failings of the German education system. The GDR had its own kind of comprehensive schools but, post-1990, the logic of the selective West German model was extended to the east. In most west German lander there remain three tiers: the gymnasien aimed at those deemed to have academic talent; supposedly vocational hauptschulen; and realschulen, which fall somewhere in the middle.
On the whole, East Germany opted for a two-tier system, built around gymnasien-plus schools that combined the lower two levels. However, the west's model was carried over into the central fact of all German secondary education: that too many people's life chances are crudely decided at one moment — somewhere between the ages of nine and 10 in the west, and a couple of years later in most of the east.
To its critics, this is not just unfair but anachronistic. Where, for example, do you put the child with a gift for IT? Moreover, the paths of children follow those of their parents closely enough for reformers to malign it as a de facto caste system. Certainly, among millions of middle-class Germans, the sanctity of gymnasien is non-negotiable and the idea of changing the system unthinkable. Most pertinently in the case of Hoyerswerda, there is the fact that thousands of pupils who don't make it to a gymnasium are readied for the so-called "dual system": An enduring example of German corporatism whereby school leads to a wage-paying apprenticeship. This staple of German industry is praised for its role in the lid the country has kept on youth unemployment. In the deindustrialized east, however, it presents a big problem: What if a whole swath of the school system is built around a vision of work that simply doesn't exist?
In Hoyerswerda, worthwhile apprenticeships are pathetically thin on the ground. Schemes in what passes for the local service sector offer only flimsy prospects and are often hard to find. Non-gymnasium students often complain of a dead-end education, the most likely outcome of which is a life spent in low-wage employment or on benefits.
So, in a town like this, if you don't make it into a gymnasium, the rest of your life may well have been decided: You will be in danger of getting stuck, both professionally and geographically. To quote 29-year-old Cordula Drautz, a prominent young activist from the Social Democrats, this is why the school system "triples the disadvantages of young people in the east."
On a half-empty industrial estate on the edge of Hoyerswerda is the local Euro-schule. It's one of a chain of German institutions that has a two-sided mission: to familiarize high-achieving young Germans with the rest of Europe, and to assist the prospects of people much further down the educational hierarchy. Here, it's all about the latter: encouraging young people with no qualifications, or learning difficulties, to recover lost time and get some vocational training — and, ideally, a job.
By and large, the twentysomethings here are sparky and articulate. All of them smoke: the de rigeur brand is a faux-American variety called Route 66. Set against the dead streets just down the road, they seem like virtual prisoners, itching to leave, but still stranded.
"There are no opportunities here," says Sophia Mark, 21, after a flurry of conversation about the local presence of "Nazis" and "delinquents."
"Well, there are opportunities," offers Stefanie Nauge, a 26-year-old mother of one, now being trained at a local shoe shop. "But early in your life, you need to focus and get into a gymnasium."
"If I'd known how important that actually was — well, definitely, I would have worked harder," says 25-year-old Daniel Heidemeier, who has found a traineeship in the building trade.
Out of his secondary school class of about 25, only three people are still in Hoyerswerda.
"I'd love to stay if there were any opportunities, but maybe I've now got the opportunity to leave. And soon, I'll be out of here," he said.
On the other side of town is an after-school youth club called Ossi. Through the week, up to 40 teenagers come and go; according to the people in charge, only one of them goes to a gymnasium. Breakdance classes are a weekly fixture and, inside and out, there are huge, graffitied murals that capture a seemingly unanimous dedication to the culture of urban black America. When I ask why, the answer sounds like it came from some spoof youth TV documentary.
"It reflects reality," says Riccardo Danz, 16. "It gives us something to relate to."
Both his parents, he says, are on benefits — they want him out of Hoyerswerda, and fast.
"My mom is already getting me worked up about leaving this place. She says: 'There's nothing here for you.' Even if there is work, it's just odd jobs for a couple of euros. And look at all those empty blocks of flats. Even now, they're still knocking them down," he said.
I leave at dusk. On the edge of Hoyerswerda's main park, six or seven adolescents — all hooded tops, beer bottles and cigarette smoke — seem to be readying themselves for a night of getting pissed and mucking about. The odd pensioner is walking home, along roads hardly troubled by end-of-day traffic. As ever, the quiet is overwhelming.
Comments will be moderated. Keep comments relevant to the article. Remarks containing abusive and obscene language, personal attacks of any kind or promotion will be removed and the user banned. Final decision will be at the discretion of the Taipei Times.