A town says 'yes, in our backyard' to nuclear waste
In most countries, people would sooner allow a garbage incinerator in their backyards than a nuclear waste dump. But not in Sweden
Twelve years ago, fearing for her health, Inger Nordholm quit her job as a hairdresser in this seaside Swedish community, one of several that have been competing for the right to become the country's permanent storage site for radioactive waste.
"I was sick of the chemicals" for the hair treatments, said Nordholm, 45.
She now works for the company that wants to build the storage facility, guiding visitors through a temporary warehouse for nuclear waste, hoping to reassure them that it poses no dangers to their health.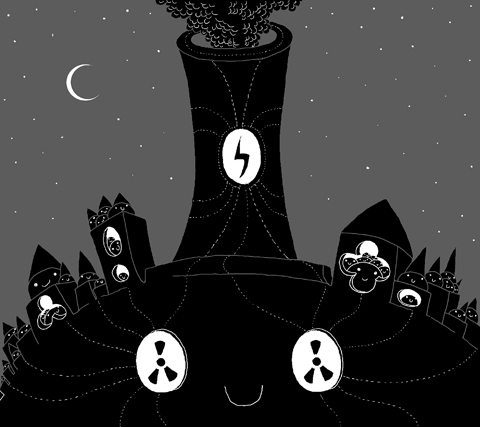 ILLUSTRATION: MOUNTAIN PEOPLE
Monica Jakobsson took the opposite track. After working for two years as a security guard at the warehouse, she retired but continues to live here and has some misgivings.
"I'm a bit scared," said Jakobsson, 63, while shopping at a local market. "Everything is so clean there, and yet if you bring anything in, a newspaper — anything — you cannot bring it out again. That says a lot."
The two women reflect a debate, albeit a one-sided one, in Osthammar, where as many as 80 percent of the 21,000 inhabitants are in favor of the nuclear waste dump. The town is now one of two finalists among the communities in Sweden that vied for the right to host the dump.
Sweden, which swore off nuclear power after fewer than 20 percent of Swedes approved of it in a referendum in the 1980s, would seem an unlikely place for such a competition. But it has reversed course recently and plans to begin building new nuclear reactors, adding to the 10 it already operates.
But legislation requires that before any new plants can be built, the Swedish Nuclear Fuel and Waste Management Co, better known by the initials SKB, must first create permanent storage space for the radioactive waste the reactors produce.
In most countries, of course, people would sooner allow a factory hog farm or garbage incinerator in their backyards than a nuclear waste dump. But in Sweden, SKB found 18 of 20 possible towns near proposed sites intrigued by its proposition. Then it had to whittle the list down to two, Osthammar and Oskarshamn, both already the site of nuclear plants.
SKB recently said it would ask the Swedish government later this year for permission to build the storage depot in Osthammar. If the government gives the green light to Osthammar over Oskarshamn, construction could begin some time after 2015, officials said.
Claes Thegerstrom, a nuclear physicist who is the chief executive of SKB, attributed the new attitude of Swedes toward nuclear energy to fears of global warming.
"In the 1980s nobody was mentioning CO2," or carbon dioxide, considered the major cause of global warming, he said. "Now, it's on the top of the list of environmental issues."
Since they burn no fossil fuels, nuclear power plants do not produce carbon dioxide.
He said the main criteria for choosing the sites were proper geology — meaning an abundance of solid rock — and public acceptance. Osthammar, he said, had the rock, but even there SKB found some popular resistance.
SKB plans an elaborate, expensive system for storing the spent fuel, encasing it in solid steel blocks that would then be covered by solid copper and deposited in caves carved into bedrock about 450m under the Baltic Sea.
While a strong majority of Osthammar's voters now support the dump, that consensus had to be built over time, a task that fell to Thegerstrom.
"We're a goal-oriented organization," he said. "We had to find a good way to interact with the political and social arena, try to be transparent."
SKB "acceptance officers" like Nordholm held town meetings to explain the project; the company financed local groups, like soccer clubs and senior citizen circles; and it brought in school classes and other groups to visit the temporary site.
"We bring in more visitors than nuclear waste," said Nordholm, with a laugh.
The final decision to build or not lies with the town.
"We have a great deal of independence," said Jacob Spangenberg, 56, a trained agronomist who has been mayor for four years.
In television and newspaper interviews, Spangenberg has welcomed the storage site. Receiving a visitor in his farmhouse 8km from the town center, he seems somewhat less sure.
He questioned the value of opinion surveys that recorded a high level of acceptance among the town's residents.
"The question was extremely abstract; it was a simplistic question," he said, adding that many people gave a positive response because they were unaware what the decision implied.
"If you have an agenda, it's easy to get the response that you want," he said. "At the same time, the respondents had no clue about the consequences, what the system looks like."
He appeared more upset by the potential for political activism than the prospect of a nuclear accident, like ones at Three Mile Island.
"There's the possibility of Greenpeace and Greens activists blocking roads," he said. "That is a situation that could happen, though the average Osthammarer hasn't thought about it."
Many people say they believe it was the prospect of jobs, rather than fears of global warming, that ultimately swayed public opinion. Though unemployment in Sweden, around 2 percent, is low, youth joblessness is higher. Young people desert towns like Osthammar for cities like Stockholm or Uppsala in search of work.
"It can be great for business," said Mikael Jansson, 38, an employee at a local supermarket, though he hedged, adding: "It might make people move back in — maybe."
The dump's opponents, Osthammar residents like Mats Tornqvist, a retired chemist who returned to his native Osthammar from Stockholm, have conceded the fight, if not the argument.
"I'm a chemical engineer, I've worked with waste problems since 1985, I've read all the papers" on the long-term storage of nuclear waste, he said. "They can say all they want, they have no solution."
He agreed with Jansson that the prospect of jobs brought people around.
"We have a community here that is very dependent on this industry," he said. "For every person working at the power plant, possibly five more have jobs that depend on it."
Jakobsson, for all her discomfort over radioactive waste, offered another reason the town should accept the dump. Osthammar, she said, already has a nuclear power plant.
"We must take care of the waste," she said. "It cannot be shipped to some other country."
Comments will be moderated. Keep comments relevant to the article. Remarks containing abusive and obscene language, personal attacks of any kind or promotion will be removed and the user banned. Final decision will be at the discretion of the Taipei Times.