EDITORIAL : Baby steps in cross-strait access
The much-awaited set of new regulations governing cross-strait market access for the banking, securities brokerage and insurance sectors announced by the Financial Supervisory Commission on Tuesday showed that the financial regulator has taken public concerns to heart.
However, as any market-access deal takes two to tango, there is bound to be uncertainty over whether President Ma Ying-jeou's (馬英九) administration will stick to its bottom line and refrain from making concessions in the upcoming negotiations over a proposed economic cooperation framework agreement (ECFA) with China, during which further relaxations of financial rules may be agreed upon.
From the Taiwanese side, to ease concerns that the Taiwanese banking sector may use local deposits to fund its loan businesses in China, the commission's new regulations stipulate that half of the loans to be granted by the banks' to-be-established outlets in China will have to come from Chinese depositors. The commission has also placed a cap on each Taiwanese bank's China-bound investment at less than 15 percent of a bank's net worth or 10 percent of a financial service provider's net worth.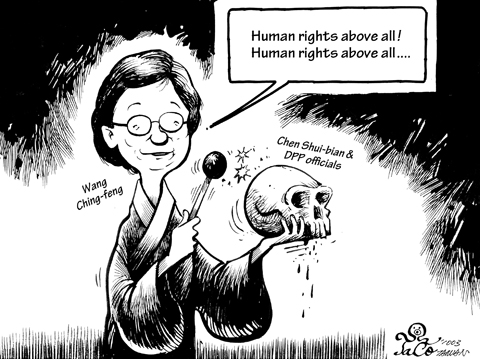 All of this means that the capital outflow of 14 Taiwanese banks to China will be capped at NT$25 billion (US$785 million), while that of 13 financial service providers will not exceed NT$50 billion.
To a certain degree, both rules aim to put a brake on the acceleration of China-bound capital flight within the banking sector, which was previously barred from branching into China.
This contrasts with earlier estimates by China Development Industrial Bank president Simon Dzeng (曾垂紀), at the time executive vice president at Mega Financial Holding Co, that once the government gave the green light, most domestic banks would move into the Chinese market "within three months," resulting in a fund outflow of as much as NT$300 billion.
However, we shouldn't expect the banking sector to be satisfied with the new regulations. It is very likely that it will push for more open policies before the government sits down with its Chinese counterparts.
Meanwhile, the commission has opened the door just a little for Chinese banks wishing to branch into Taiwan. Chinese banks will remain barred from setting up subsidiaries here and will have to wait two years before they can upgrade their representative offices into branches.
In terms of share investments, Chinese financial institutions will not be allowed to own more than 10 percent of a Taiwanese rival's stock, although the regulator has said it would further relax, "in a progressive manner," such rules after — and if — an ECFA is signed.
Many Chinese banks have made it clear they have no interest in single-digit holdings in Taiwanese banks, as Taiwanese banks are already allowed to take up stakes of up to 20 percent in Chinese banks via overseas outlets.
It does appear that the new regulations were baby steps that will please nobody. This said, we must hope the government will remain steadfast and refrain from making careless moves when it negotiates with the Chinese government on further market access. When dealing with Beijing, baby steps might just be advisable.
Comments will be moderated. Keep comments relevant to the article. Remarks containing abusive and obscene language, personal attacks of any kind or promotion will be removed and the user banned. Final decision will be at the discretion of the Taipei Times.