Chile offers dose of water sanity
Twelve years ago only 17 percent of sewage in Chilean urban areas was treated, but that figure jumped to more than 82 percent as of 2007. Putting water rights and management in the hands of the people made all the difference
The World Water Forum saw riots, water cannon and big headlines, but little progress. Beyond the triennial meeting last week in Istanbul, 2 million people a year die from dirty water and bad sanitation systems run by governments: It is time for a sober look at a real solution that really works.
Nearly 30 years ago, Chile's water management was much like it is in most poor countries today. A central, ill-informed authority controlled water, leading to high leakage, waste, untreated sewage and corruption. The poor got the worst supplies, just like the 1 billion people in the world who still lack clean drinking water.
Yet today Chile boasts near universal supply in towns and 72 percent in the countryside — one of the highest rates in South America — with an increasingly sustainable use of water by industry.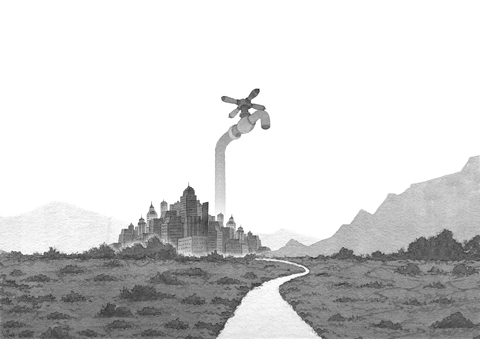 That success is the result of empowering people and entrepreneurs to own and manage water. Unfortunately, about 95 percent of the world's water management is still in the hands of public authorities, often incompetent or downright corrupt. Yet public ownership is what the Istanbul rioters and activists were demanding.
Until 1981, Chile gave some water users priority and ignored others. Central authorities did not possess enough information about availability or scarcity in any particular area. So water was used unsustainably and was highly politicized.
Chile's 1981 Water Law changed all this, creating property rights for water, so owners can trade their water rights independently of the land associated with it. Water rights are defined as "consumptive" (30 percent), where water is extracted and taken away, or "non-consumptive" (70 percent), where water is used but returned to its source.
Since 1981, evidence shows more sustainable use of water. In the arid north, such as the Limari Basin, there is an active market both for temporary use of water and for permanent water rights. Prices fluctuate to reflect availability and this encourages rational use. Here, farmers have shifted away from pasture in favor of cash crops such as fruit and are adopting new technologies (such as drip devices) which squeeze the most value out of every drop of water. Agriculture has improved water efficiency by around 25 percent, while industries (such as pulp or mining) have made similar gains.
Property rights for water also caused better management in towns. Water and sanitation companies became some of the biggest buyers of water rights throughout the 1980s and 1990s. As more people were connected and demand increased, companies invested heavily in infrastructure and stopping leaks. The state companies had not charged the full cost of water, so users consumed more.
As a result, Chile's government put the 13 water companies up for sale in 1998. Five were sold in the first three years, serving more than 75 percent of Chilean households.
Private companies rapidly improved efficiency and ­services, while public companies got worse. Private companies invested 70 percent more in 2001 than in 1998 but public companies almost 70 percent less. This investment, primarily in infrastructure and sewerage, meant private companies' water rates increased more than public rates but they were still on average 40 percent lower. Private companies are expected to lower their prices in the future.
Because the rates reflected the real cost, consumers reduced water use by some 10 percent in about three years. More houses were connected, nearing 100 percent coverage for drinking water and 95 percent for sewage in urban areas. As of late 2007, more than 82 percent of sewage was treated, compared to only 17 percent just a decade earlier.
This success came from a comprehensive step-by-step approach by policymakers.
First, government slowly increased water rates before selling the companies. Second, to address potential adverse effects on poorer consumers, the government introduced an individual water consumption subsidy in 1989. The subsidy aimed at poor households pays for a fixed quantity of water (15m³ a month). The household must pay a portion of the bill and for consumption above the fixed quantity. Unlike water subsidies in other countries, Chile's encourages rational use and ensures that the household (rather than other users) benefits directly.
The success of Chile's water management lies in empowering its citizens. Property rights for water mean they can both defend and exchange their rights, with judicial and executive enforcement. At the same time, households, including the poorest, have seen dramatic improvements in service while industry pays prices that reflect the true cost.
The system is still evolving and still has problems, like any large system, but it is making life better. Policy-makers at the World Water Forum could help their poor by following Chile's lead in water management — and ignoring the agitators.
Maria de la Luz Domper is a researcher at Libertad y Desarrollo, a think tank in Santiago, Chile.
Comments will be moderated. Keep comments relevant to the article. Remarks containing abusive and obscene language, personal attacks of any kind or promotion will be removed and the user banned. Final decision will be at the discretion of the Taipei Times.