Shiver me timbers, pirates are a real threat
The pirates we know from stories are picturesque adventurers and colorful rogues. But with a new type of buccaneer taking to the high seas, the modern reality of piracy is a good deal less romantic
The sun had set as a large container ship, the Australian Star, ploughed sedately across the South China Sea, its cargo bound for New Zealand. Relieved that his vessel had safely navigated the dangerous Straits of Singapore, Captain Peter Newton left the bridge for his cabin, where he began unpacking his bags. As the ship passed the Indonesian island of Bintan, the curtain at his open door twitched.
Nine armed men burst in. A machete was held to his neck; his hands were bound with rope. In a clipped English accent, the gang leader told him that if he didn't open the ship's safe -- or if he triggered its alarm -- he would be killed.
Once the pirates had pocketed the US$20,000 they found in the safe, Newton was led out on deck. He feared he would be pushed over the side. With the rest of the crew unaware of the stealthy raid, the pirates descended to their small craft using a rope they had slung over the stern of the ship. The last man turned to shove the captain, who fled to safety.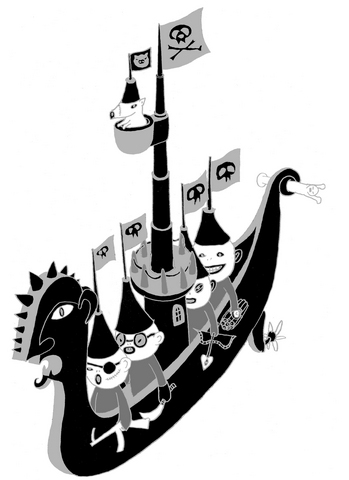 Portrayed as swashbuckling outlaws, pirates have basked in a certain rough glamour ever since the days of Robert Louis Stevenson.
Pirate myths are adored by Hollywood and favored at fancy-dress parties, but as Pirates of the Caribbean: Dead Man's Chest sets box-office records this summer, the real-life heirs of Jack Sparrow are profiting from their plunder on the high seas as never before.
Attacks by all-too-real modern pirates have increased by 168 percent in the past 10 years. Armed with ship tracking systems, speedboats and rocket-propelled grenades (RPGs), these seagoing bandits are enjoying an unlikely renaissance.
Since Captain Newton was attacked in 1992, there have been 3,583 attacks by pirates worldwide, causing 340 deaths. In November last year, a ship called Seabourn Spirit was ambushed off the coast of Somalia. Pirates with RPGs in two boats were repelled when the crew directed a "sonic blaster" at their attackers.
A British parliamentary transport select committee report on piracy this month was damning. Practical government action is "woefully lacking," concluded Gwyneth Dunwoody, the chair of the committee.
"The government does not even know the scale of the problem. That is failure by any measure," she said.
Robbery at sea entered a golden age during the 17th century, when European powers jostled to colonize the Caribbean. Pirates such as Edward "Blackbeard" Teach, "Calico" Jack Rackham, Mary Read and Cofresi attacked heavily laden trading ships, taking advantage of the political vacuum and a secluded coastline perfect for ambushes.
As the age of empire took hold and naval forces were deployed to impose order on the high seas, piracy lost its vigor; now, with imperial decline, it is regaining strength. A new configuration of conditions -- from the cost-cutting of the modern shipping industry to the absence of international arrangements to tackle piracy -- is aiding modern pirates. The annual cost of reported incidents is estimated to be US$16 billion.
The center of modern-day piracy is the South China Sea, scene of more than a third of last year's 266 reported raids. The Malacca Strait between Malaysia and Sumatra, one of the busiest shipping lanes in the world, is also a favoured haunt. Waters around failing states are particularly dangerous. The Indian Ocean off Somalia is home to a special brand of piracy, in which ships are hijacked and crews are kidnapped and ransomed.
Intelligence
Modern pirates use intelligence (often tip-offs from corrupt port officials), satellite phones and tracking technology to plan attacks on valuable cargo, but one tool of modern pirates remains the same: the rope and grappling hook. Storming a ship in motion requires special forces-style skills and many in the shipping industry believe some of the more sophisticated modern pirates are rogue military units. A relative absence of risk is also behind the rise in piracy, according to Newton.
"We don't carry armed guards and nobody is going to pursue you because it is international waters and no one has jurisdiction," he says. "Once they get on board, there is nothing you can do if they are armed and you are not. As captain, the last thing I want is for my crew to get hurt."
Another reason why piracy is so risk-free is that many victims fail to report the crime. Shipping companies would rather bear the loss of US$20,000 stolen from a safe than report it to their insurers and face a hike in premiums. Insurance premiums rose by 300 percent for vessels entering Yemeni waters after a suicide boat rammed into the Limburg, a French oil tanker, in October 2002.
Ships sometimes do not report piracy because they fear that no country will bother to investigate crimes in international waters.
With the under-reporting, Britain's Department of Transport estimates the actual amount of pirate attacks may be as much as 25 percent above current figures. And even this may be an underestimate: a survey by the Nippon Foundation showed that Japanese vessels were caught in 10 times as many incidents of piracy as had been officially recorded.
"The response to piracy should remain with the law enforcement agencies of the relevant states," says Captain Pottengal Mukundan, director of the International Maritime Bureau. "We would like to put pressure on coastal states to ensure their waters are safe."
When Newton first went to sea in 1967, pirate attacks were far less common. But the traditional maritime "police force" is no longer around.
"The Royal Navy is not really trained in hand-to-hand combat, which is what would be required to tackle a pirate attack," he says. "They don't perceive that to be part of their duties. Three hundred years ago, fighting pirates was one of the navy's main tasks."
International waters
According to Mukundan, naval vessels are willing to discourage pirates with a show of force, but rarely want to capture and detain pirates in international waters. The US navy recently caught and detained pirates who attacked a Thai fishing vessel near Somalia, but eventually had to release the men because neither the Thai government nor any other would put them on trial. Where ships have been seized and crews kidnapped off Somalia, shipping companies simply pay the ransom demands of pirate militia.
Just as traditional pirates can symbolize the inequalities of the early imperial era, so modern pirate activity is founded upon economics. About 90 percent of world trade is carried by sea. Cost-cutting has made modern cargo ships more vulnerable than ever to attack, according to Numast, the ship officers' union in London's East End.
There are only 20-24 crew members on modern container ships. Usually, just two crew patrol the bridge at night. The union says it knows of several instances where cargo ships have propped up shop dummies in key positions to fool pirates into thinking that the vessel is well guarded.
"You can have ships the size of a couple of football pitches and at any one time you will have half a dozen people up and working," says Andrew Linington of Numast. "It's just not feasible to comply with recommendations on extra watches and extra patrols."
Few companies are willing to pay for security measures such as non-lethal electric fences or sonic weapons -- as deployed by Seabourn Spirit. (In the wake of the 2000 attack on the USS Cole, off Yemen, the US military has developed a long-range acoustic device, or LRAD, which fires concentrated sound waves to deter small boats.) While some companies operating in west African ports employ security guards in high-risk areas, crews fear they would merely be endangered if they were permitted to carry weapons on board.
"Ship companies are reluctant to invest in security," Linington says. "If they can find an excuse not to spend the money, they will. Shipping is very competitive. Everyone is looking to minimize costs."
As well as being small in number, modern multinational crews are poorly paid (and paid in cash, which explains why most cargo ships carry an alluring US$20,000-plus in their safes). Many boats use Filipino crew members, who take home US$400 a month. For that money, few captains expect their crew to risk their lives by defending their ship. Low wages also lead to the occasional inside job: crew members can be tempted to provide pirates with information on freight and opportune times to strike.
Even oceans swamped with warships have witnessed an increase. There were no attacks in Iraqi waters in 2004, yet last year there were 10 opportunistic assaults on oil tankers and cargo vessels near Basra. Piracy provides a juicy example of soft targets for terrorists, Linington argues. It would only take couple of major incidents in a key area -- such as the Suez canal -- to cause chaos.
"Half a dozen people armed with knives or guns can take over a ship. If it contains hazardous material, it can be used like a floating bomb," he says.
The Jolly Rogers, Long John Silvers and Pieces of Eight we will be seeing at the box office this summer only infuriate the shipping industry.
"Piracy isn't fantasy," Linington says. "It is happening on a weekly basis. It is an advertisement to terrorists that it is easy to attack something that is so crucial to world trade."
Comments will be moderated. Keep comments relevant to the article. Remarks containing abusive and obscene language, personal attacks of any kind or promotion will be removed and the user banned. Final decision will be at the discretion of the Taipei Times.